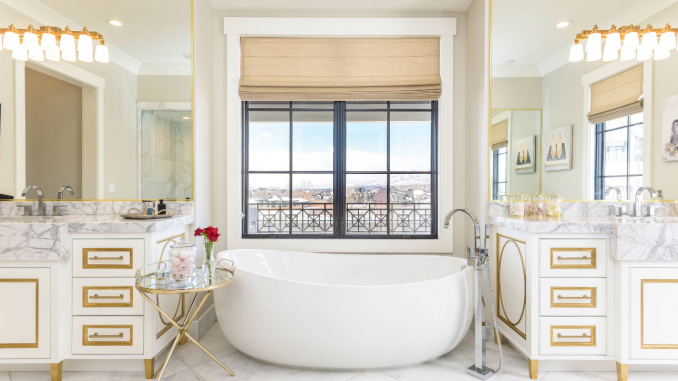 Give your bathroom a little glitz and glam with these 4 must-have bathroom essentials!
Do you follow your celebrity crush on Instagram and drool over their luxurious bathrooms? And do you always make a point of staying in expensive boutique hotels, just so you can soak in a decadent cast-iron claw-footed bath? Keep reading! Bathrooms are often the smallest room in the house, but this doesn't mean they should be the boring one. Sadly, a lot of homeowners pour care and attention into a kitchen renovation but look to save money on the bathroom. Instead of splashing out on premium fixtures and fittings, they stick to plain bathroom suites and budget extras, but this is a huge mistake!
A luxurious bathroom can add value to your home. It is also a selling point when you come to move. If your bathroom has seen better days, here are some tips to help you add the bling factor.
Standalone Bath
A standalone bath is the epitome of luxury living. Whatever style of home you have, there is a standalone bath to suit. Cast-iron claw-footed baths are perfect for period homes whereas sleek, sexy standalone baths are ideal for a modern bathroom. If you really want to push the boat out, look for a beautiful copper tub – it's guaranteed to transform your bathroom into an A-Lister oasis.
Walk-in Shower
Most of us love having a daily shower. It's quick, easy, and good for the environment. Shower cubicles do the job, but they lack the bling factor and are also cramped if you like to share your daily shower with a partner. The best way to add the 'wow' factor is to fit a walk-in shower. The clean, minimalist lines of a walk-in shower are far more appealing than a small shower cubicle, or even worse, a grubby curtain over the tub.
For extra bling, turn your bathroom into a wet room.
Fitted Storage Units
Does your bathroom lack storage? If so, you are not alone. Storage is often inadequate in a bathroom, yet it's essential if you want your bathroom to look minimalist. Nothing looks worse than dozens of bottles sitting on a shelf or on the floor. And where on earth are you supposed to store clean towels?
Adding built-in storage is a great way to bling your bathroom. Go for premium fixtures and fittings, such as solid wood units with granite countertops. Don't let the thought of cleaning natural stone put you off – cleaning granite countertops in the bathroom is easy with the right products. And as an extra-added bonus, granite is a super attractive surface for all your bottles of perfume.
Blingtastic Accessories
A cheap and cheerful way to add extra bling to your bathroom is to get creative with your accessories. Decant lotions and potions into matching glass jars and add small gemstones to your mirror. Pour mouthwash into a cut-glass crystal decanter and add a couple of pieces of original art to the walls.
Lastly, keep your bathroom spotlessly clean, as nothing says low-rent than a dirty bathroom.