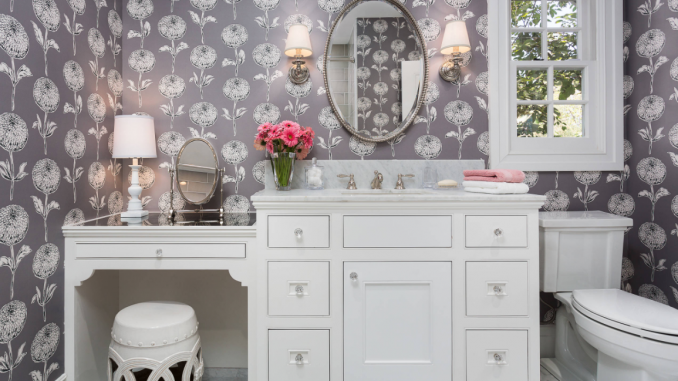 Deciding to renovate your bathroom is a big decision, but it doesn't have to be a big job. In fact, if you keep your current bathroom suite, the process can be quite straightforward and make quite the impression on your room.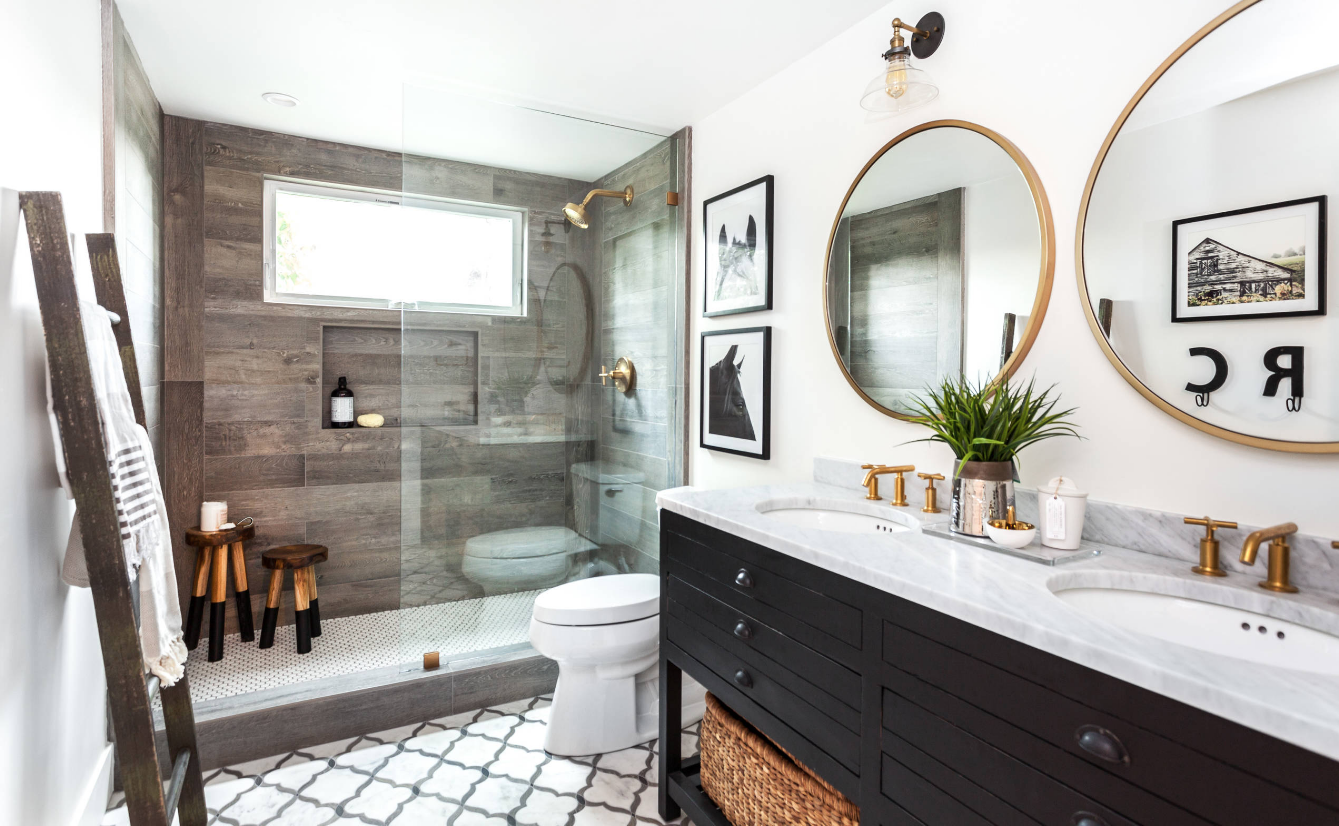 Photo: Juxtaposted Interiors
You might think that taking on such a project is going to empty your bank account, but that doesn't have to be the case! Here are a few ways you can get the bathroom you want, on the budget you have:
Increase Space and Light with the Right Tools
If you're faced with a windowless bathroom, you don't need to be stuck in the dark. Consider installing spotlights or downlighting in strategic places around your bathroom. This will increase the light exactly where you need it, such as around the sink and bath. As well as the added brightness, if you use LED bulbs, you'll have a whole range of colours to choose from, allowing you to achieve that spa feeling at home. You can also increase the lighting in your bathroom using clever placement of mirrors. If the area is small, try installing a large mirror on one side of the room, to increase the appearance of space. The spotlights can also be positioned to reflect off any mirrors in the room, allowing any light to be intensified.
Renovate Your Walls
A great way to make a big impact on the design of your room, without changing the toilet, vanity unit or bathtub, is to renovate your walls. If this has crossed your mind, your first thought was probably to use tiles, but these can be very expensive. You may need extra budget for preparing your walls and professional installation if you don't feel confident to tackle them yourself. Another reason to ditch tiles is how they can affect your bathroom hygiene. The grout in between each tile is a hotbed for mould, as the warm and humid environment causes it to thrive. If the mould is not targeted during weekly cleaning, you may require a professional to remove it.
A great alternative to tiles is waterproof shower panels. Also known as plastic wall cladding, these can be easily installed as they don't require grout. This will eliminate any chances of bacteria breeding in the crevices of your walls. These PVC panels are also great at retaining heat, which means that you can save money on your heating bill, while keeping warm when you step out of the shower.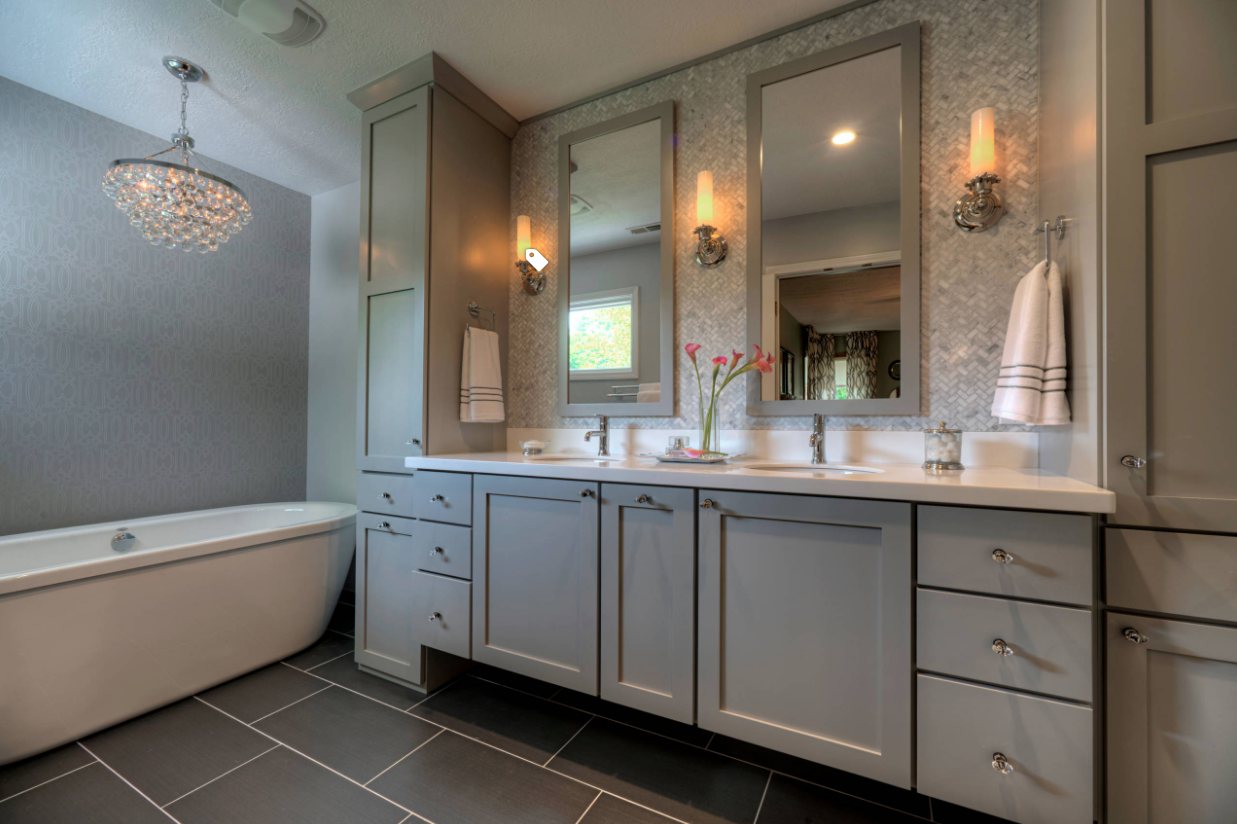 Photo: Yasmini Designs LLC
Make Small Improvements
Your lighting and wall choices are big design changes but making small improvements around your bathroom can have a huge effect. Changing the door handles, hanging art on the walls and even buying a few different plants can completely change the theme of your bathroom. Make sure to really focus on the details, such as bath mats and toothbrush holders to ensure they help bring your theme together.
Photo: Yasmini Designs LLC
Upgrade Your Flooring
Now you've redecorated your walls, you shouldn't shy away from changing the floor because you have a small budget. Waterproof bathroom flooring is a fantastic choice for a bathroom, as the PVC panels ensure that all condensation and humidity doesn't affect the flooring foundation. As with wet wall shower panels, cleaning is scrubbed down to a minimum, as no grout is required. Don't be afraid of updating your bathroom if you're working with a small budget. There are lots of little changes which will make a whole load of difference to your room, without breaking the bank!