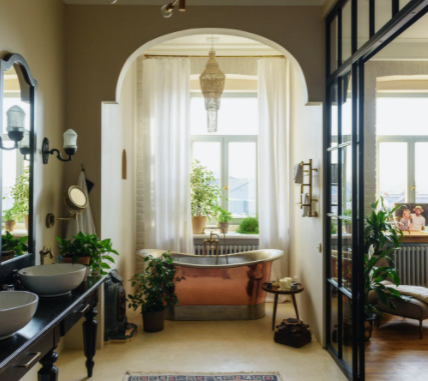 Gone are the days where the bathroom was the least interesting room in your house!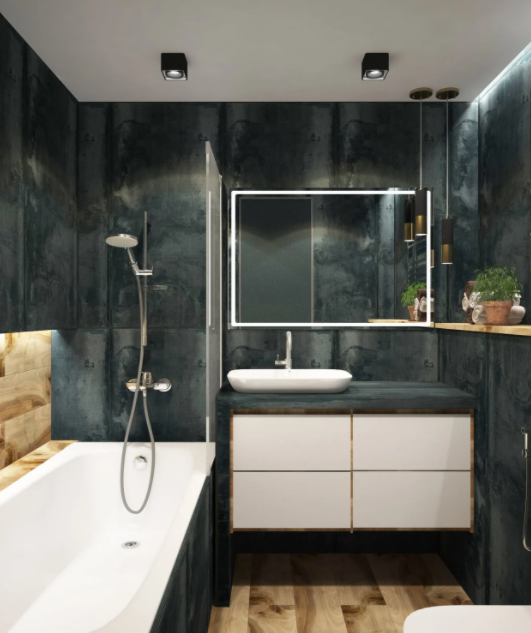 Today, with all sorts of design styles and aesthetics to choose from, your bathroom can truly become a sight for sore eyes, wowing your guests at every turn. Regardless of what aesthetic you prefer, be it industrial, urban or luxury, there are plenty of ways to customise. At victoriaplum.com/blog/bathroom-ideas, you'll see that creativity in design can go a long way in bathrooms! In fact, here are nine simple ways to up the ante on your bathroom design that you can consider doing today. 
1. Use the Colour Black
Most people don't realise how timeless and effortlessly charming the colour black can be, even in bathrooms. It brings an unconventional chic that is both eye-catching and easy to achieve in several ways, such as including black fixtures like taps and toilet covers for a modern look. If you're feeling adventurous, you can even get a black bathtub! This immediately elevates your bathroom from boring to banger. For an industrial feel, opt for greyish-black or matte black instead. The colour goes very well with metal and wooden fixtures as well for an interesting and unique finish. 
2. Utilise the Ceiling 
When it comes to painting the bathroom, many people paint the walls and decide on gorgeous tiles, but forget entirely about the ceiling. This is a huge waste, given that the ceiling has the potential to be a showstopper. For a contemporary vibe, go for ceiling colours like black, grey or cream white. If you're more inclined towards having fun energy, you can even choose eye-popping pastel colours like green, blue or pink. That said, this tip works best in bathrooms with high ceilings. If you have a low ceiling, leaving it white will work well to keep the bathroom feeling airy and spacious.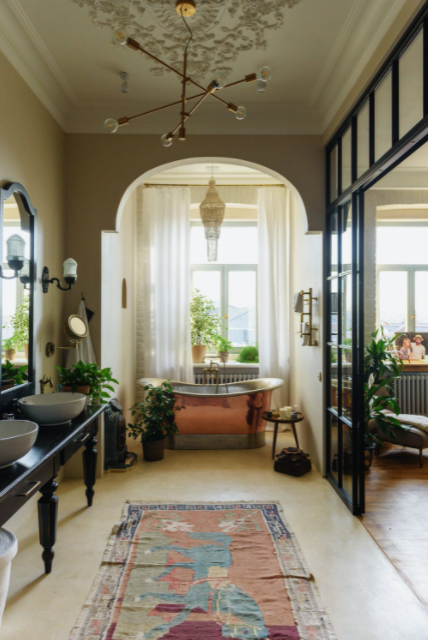 3. Go for Glass Doors
Instead of using opaque materials, going for glass in shower screens and doors can help the bathroom look much more vast and spacious. It also allows for much more light to filter through the bathroom, while at the same time helping to separate your shower and toilet space. Large sheets of glass also have a luxe feel and work well with other elements like metals, stone, marble and wood. Note that glass is prone to water stains, so do remember to add a glass cleaner to your cart too. Wiping and washing your glass doors frequently can make a huge difference.
4. Brick in the Bathroom
Exposed brick has been making a comeback lately with the resurgence of industrial loft designs. While its use has been kept largely in living rooms and bedrooms, the statement wall can also be included in your bathroom design. For a full industrial look, complement the brick wall with some fluorescent lighting, or grey tiles that mimic concrete. Alternatively, to retain a homely feel, you may also pair the brick wall with dark, flowy textures in your shower curtain and towels. Navy blue works remarkably well, but if that's not your colour of choice, other options like black and dark maroon will also work just fine. 
5. Choose Cement
If all else fails, cement is a simple go-to for a modern, industrial look. Cement tiles for one, bring a very modern and clean feel to the bathroom. If you can afford it, get textured cement tiles for an instant win in terms of luxury. In addition, cement also makes for great walls that you can accessorise with lights and mirrors. The best part about this material is that cement is generally built to last, and will only require basic cleaning with water to maintain.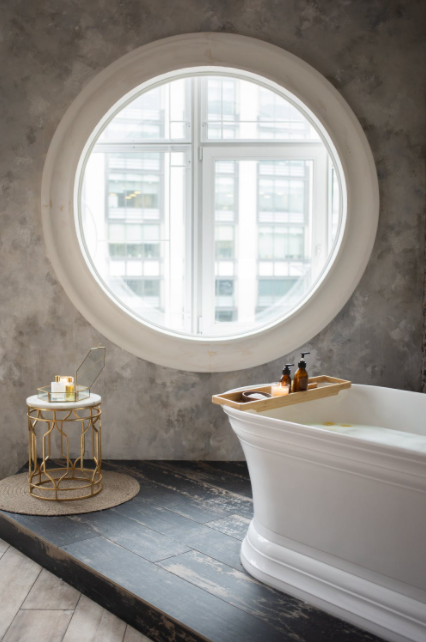 6. Get some Greenery
If you love plants, here's some good news — your little green friends will fit in so well in your bathroom. Not only do they add a touch of colour, but they also add lots of life to your bathroom. If your bathroom allows, bigger plants like ferns and monstera plants can also add a luxurious feel. You can also choose low-maintenance houseplants like cacti and shrubs that don't require much light to avoid any droopiness. Flowering plants like the spirea and hydrangeas are also beautiful touches. Even if you don't have a green thumb, you can tap on this hot tip by getting artificial plants or a vase of dried flowers to add to your bathroom. 
7. Tap on Graphic Tiles
There's no better way to add some vibrancy into your bathroom than with graphic tiles. You can get all sorts of prints, from zig-zags to floral patterns, to match your preferred aesthetic. Go for bolder prints for eccentric energy, or subtle prints for a more intricate look and feel. With graphic tiles, you can also plan your other fixtures to match. For instance, a monochromatic tile will go well with black taps and pipes, while a marble print may go well with a white tub. Another popular look is to fit geometric patterns with other geometric fixtures, such as diamond chandeliers and mirrors. Depending on your likes and dislikes, your imagination is truly the limit with graphic tiles! 
8. Install Vanity Mirrors 
Lighted mirrors are simple additions, but they can make a whole world of difference and bring your bathroom from ordinary to extraordinary. With the right mirror, your bathroom will have a classic contemporary feel that is reminiscent of bathrooms you might find at expensive hotel rooms, especially when paired with the right colour palette. A protip is to opt for vanity mirrors that come with LED lights as they are brighter and safer for use in the bathroom. 
9. Fit wood in the Washroom 
Wood in the bathroom is often frowned upon because of issues with moulding and moisture, but there are ways to get around that and still achieve the look you want with wooden panels, countertops and frames. Laminating concrete, for one, gives you the look of wood without the problems that come with it. Alternatively, you can also go for painted fixtures or tiles. Floating shelves and mirrors framed with wood, for instance, are common choices. In any case, a touch of wood will help to spruce up your bathroom, especially when installed alongside similarly industrial features and colour palette. Grey and white go best with wooden features, and you can easily include these colours as tiles or paint.
Conclusion
With these tips, you are all ready to get designing your dream bathroom. It can be a big project like installing glass doors or be as simple as adding some greenery. Whichever you decide, you can be sure that these will elevate the space and give you a bathroom you won't want to leave.