Important Issues to Take into Account When re-designing Your Kitchen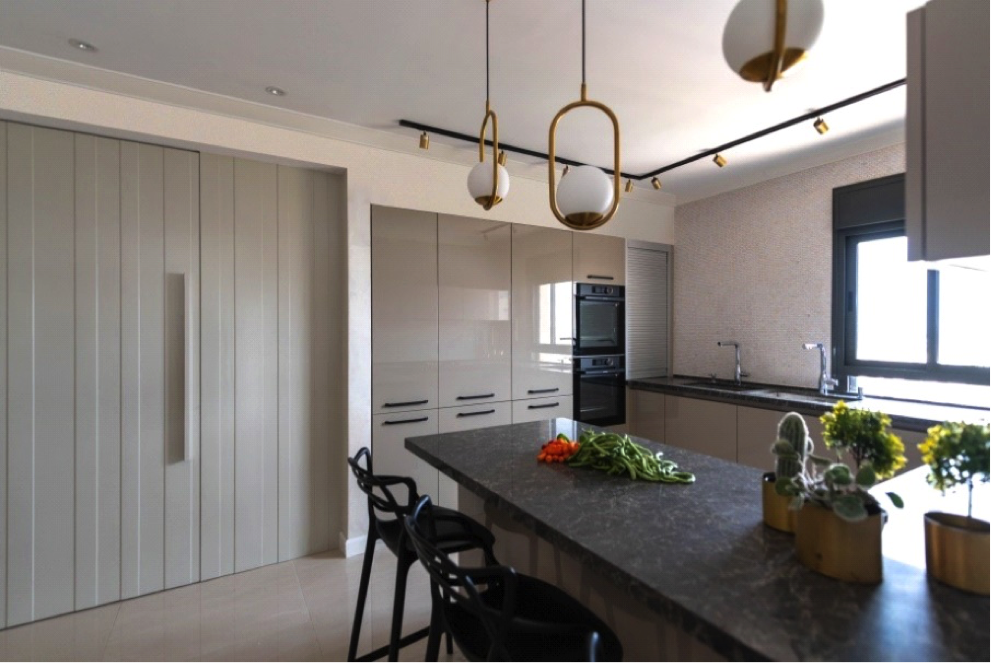 There is something about kitchens. Most people you talk to today will agree that kitchens are the soul of their home. It is where we sit with family and friends to chat over coffee, it is where of-course we prepare and now eat our meals!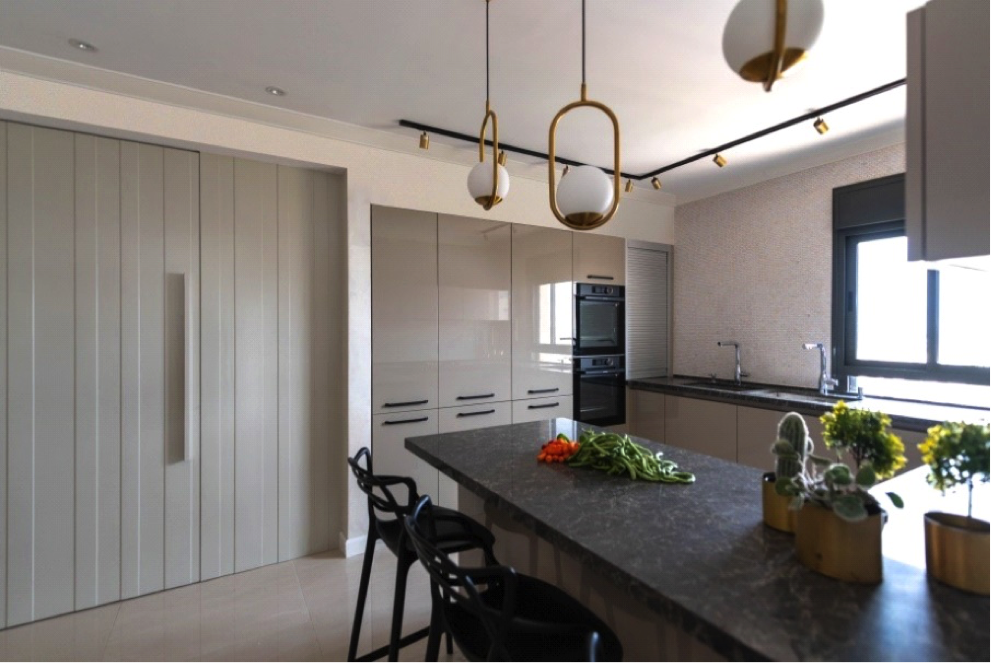 Great counter to lay your laptop on and work!     Photo: Judith Hoffman
Since COVID has forced everyone to stay home more than usual, today the kitchen has categorically become the epicenter of our living space. COVID has taught the world that interior design is important since we are spending almost all our time in our homes.
Today, we often bring our laptops to the kitchen table and work from there while we prepare endless home meals. The children use the kitchen table not only for eating, but as their own little playground area for playing, drawing, painting, building, and an endless array of other activities. The kitchen is not a sealed off room where guests are not allowed to enter in order not to see the mess. On the contrary, the kitchen is now open and part of the general living space, having evolved and become the principal area for entertainment.
Since the kitchen is a must-have space, (you must eat right?!) and since today the kitchen serves so many varied purposes it is crucial to make your kitchen space beautiful, comfortable, welcoming, and functional. In a nutshell, your kitchen needs to fulfill your needs in the best possible way.
So, what should you consider when remodeling your kitchen? According to interior designer Annette Frommer "When considering a kitchen remodeling, the first thing a person must ask themselves is – what do I want to accomplish? what am I lacking in my current kitchen that I wish to have in my new kitchen?"
In order to answer this, Frommer suggests that you ask yourself the following 10 questions:
How many people cook or prepare food simultaneously?
How many people are in the household?
How often do I cook?
How often do I entertain?
What other activities take place in the kitchen (children's homework, arts, and crafts, paying bills, working on your computer?
What appliances do I need that I do not have?
What do I want but can live without if I have to?
How would I design my kitchen if I did not have a budget limit?
What is the style of the kitchen I envision?
What is my all – inclusive budget?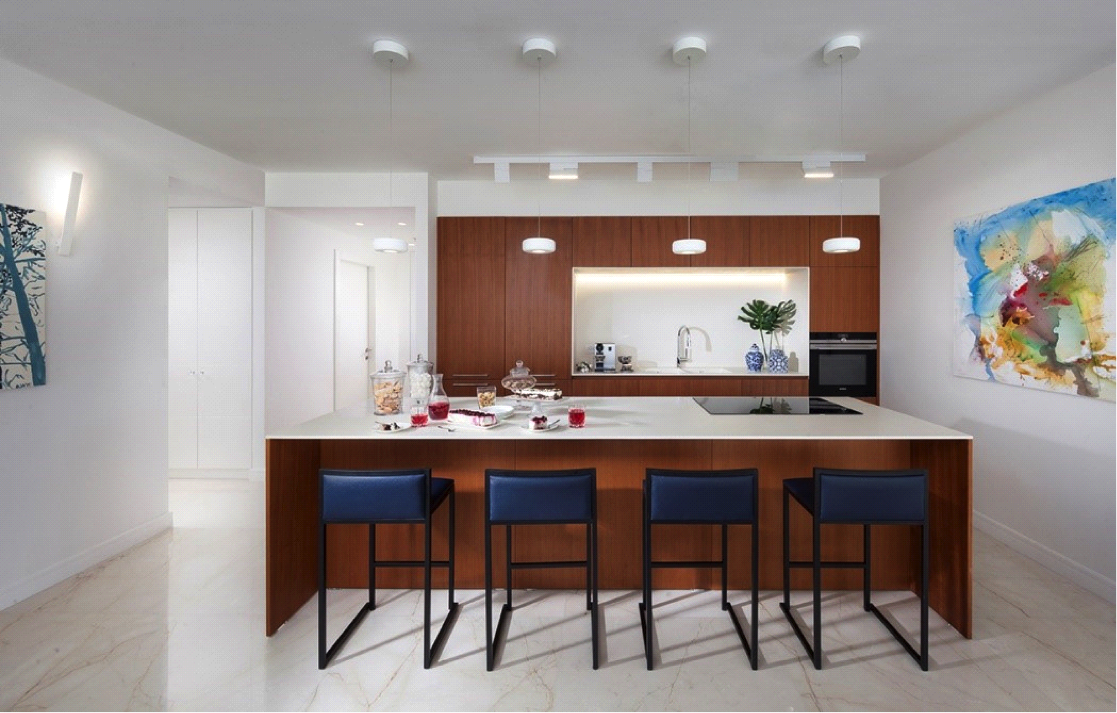 Modern kitchen that is versatile and beautiful   Photo: Elad Gonen
We can spend a lot of money on a kitchen makeover and can go really upscale with floors, cabinets, counters, and appliances. It is therefore especially important to understand for yourself what is a must for you, and what you are willing to compromise on. A statistic to remember – approximately 30% of the budget will go on cabinetry. The rest will go on floors, faucets and plumbing, counters, lighting and of course design fees.
Cabinetry
Since cabinetry is of the utmost importance the following must be considered:
New cabinets will enable you to set the storage capacity that you need – particularly important. As for finishes, there is a plethora to choose from- paint, stainless steel, wood, Formica and more. There are roll-out trays, magic corner units, soft close glides. The trick is to find the proper balance between style, appearance, and functionality. There is of course an alternative. If you are on a tight budget you can have your old cabinets refaced ; that is just change the outer cabinet doors and the hardware (handles/knobs). Even something small like that can make a big impact on the overall look of the kitchen.
Countertops
Choosing countertops is one of Annette Frommer's favorite elements to work on, since as she says "Countertops have an immense impact visually on your kitchen. They are the unifying element that ties the kitchen together and there are so many spectacular options to choose from."
Frommer loves to work with quartz countertops since they are aesthetically stunning. Another favorite are granite countertops. They are strong and come in a vast array of colors and veining. Of course, there are the durable Caesarstone countertops, patterned concrete countertops, wood and butcher block countertops, and now also porcelain countertops. She points out "Each counter possibility comes with advantages and disadvantages that need to be considered when making a choice".
One emerging countertop material is glass fiber reinforced concrete (GFRC). This material provides excellent flexibility and tensile strength, which can help reduce cracking. Here are the benefits of GFRC countertops: 
GFRC castings are made thinner and weigh less than ordinary concrete.

  

There's no need for steel reinforcement.

 

Only a mold surface is needed for one casting side.

 

Mechanical vibration isn't necessary.

 
Are you thinking of installing a GFRC concrete countertop in your do-it-yourself (DIY) kitchen project? If yes, you must learn how to make concrete countertops.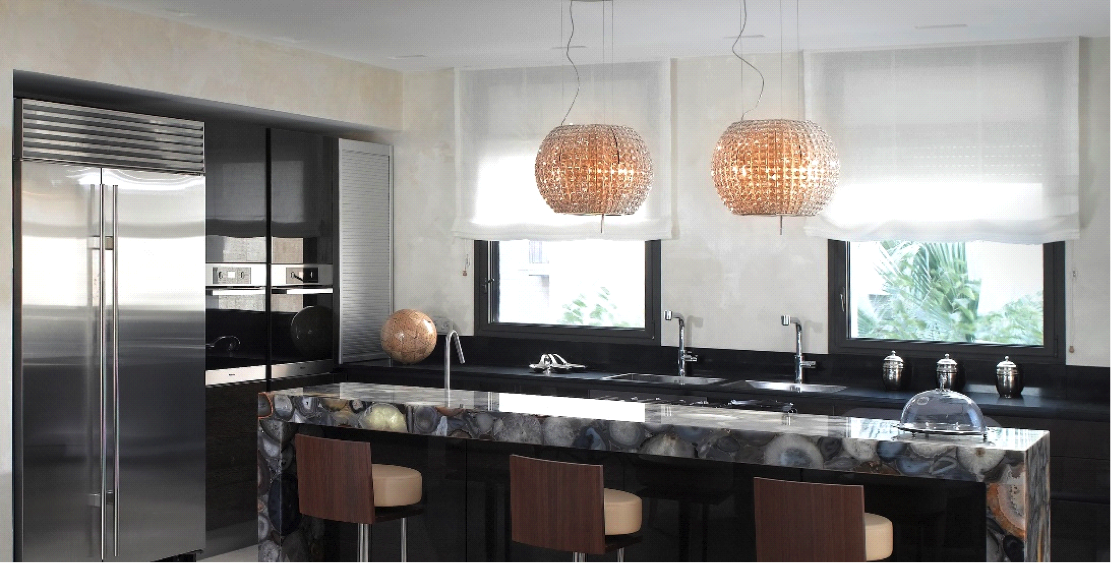 Stylish quartz backlit countertop
Appliances
It is important to accurately measure the space allotted for your appliances when mapping out your kitchen. Appliances come in a wide array of prices and designs and a seasoned interior designer can provide creative solutions when certain limitations arise. For example, when installing a regular hood is not an option a pop-up vent can be especially useful.
When positioning kitchen appliances, you have to remember important points. Aside from the space and appliances, you must consider the frequency of use and activities you do in your kitchen. Moreover, consider the technicalities in kitchen layout planning. For instance, the sink, stove, and refrigerator should have a space of four feet up to nine feet in between for excellent maneuvering and easy food access and preparation.
Lighting
Lighting is often not given the proper attention it deserves. Obviously you have to see what you are cooking but lighting not is not only functional – but lighting can also be decorative in so many ways and really influences the ambience of your kitchen.
So, what lighting types are perfect for a kitchen? When choosing lights for a great kitchen, interior designers follow a general rule. A kitchen should have ambient or general lighting. You can install flush mounts or recessed kitchen ceiling lights. Moreover, pendant lighting is suitable for a breakfast counter or kitchen island.
To Conclude
People invest a lot into kitchen upgrades for many reasons, the main one being that nowadays the kitchen has become the center and soul of most homes. Kitchens today are not only used for cooking, but for living. They are part of today's lifestyle experience. A kitchen really sets the tone for the entire home, especially when it is an open kitchen as most are nowadays. Thus, kitchens influence our general quality of home life so never underestimate the importance of your choices in all the parameters of a kitchen.