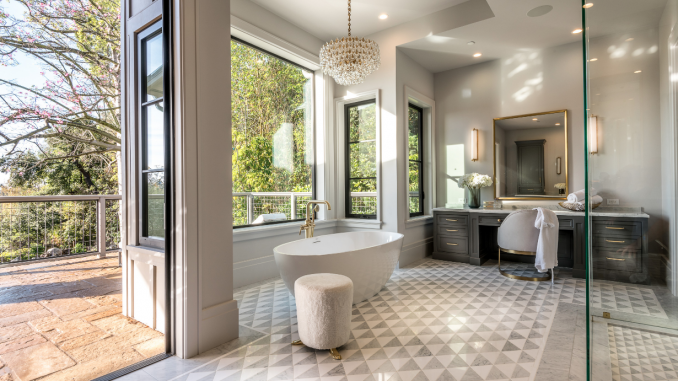 Remodelling your bathroom for 2020? Here are some popular bathroom remodelling trends!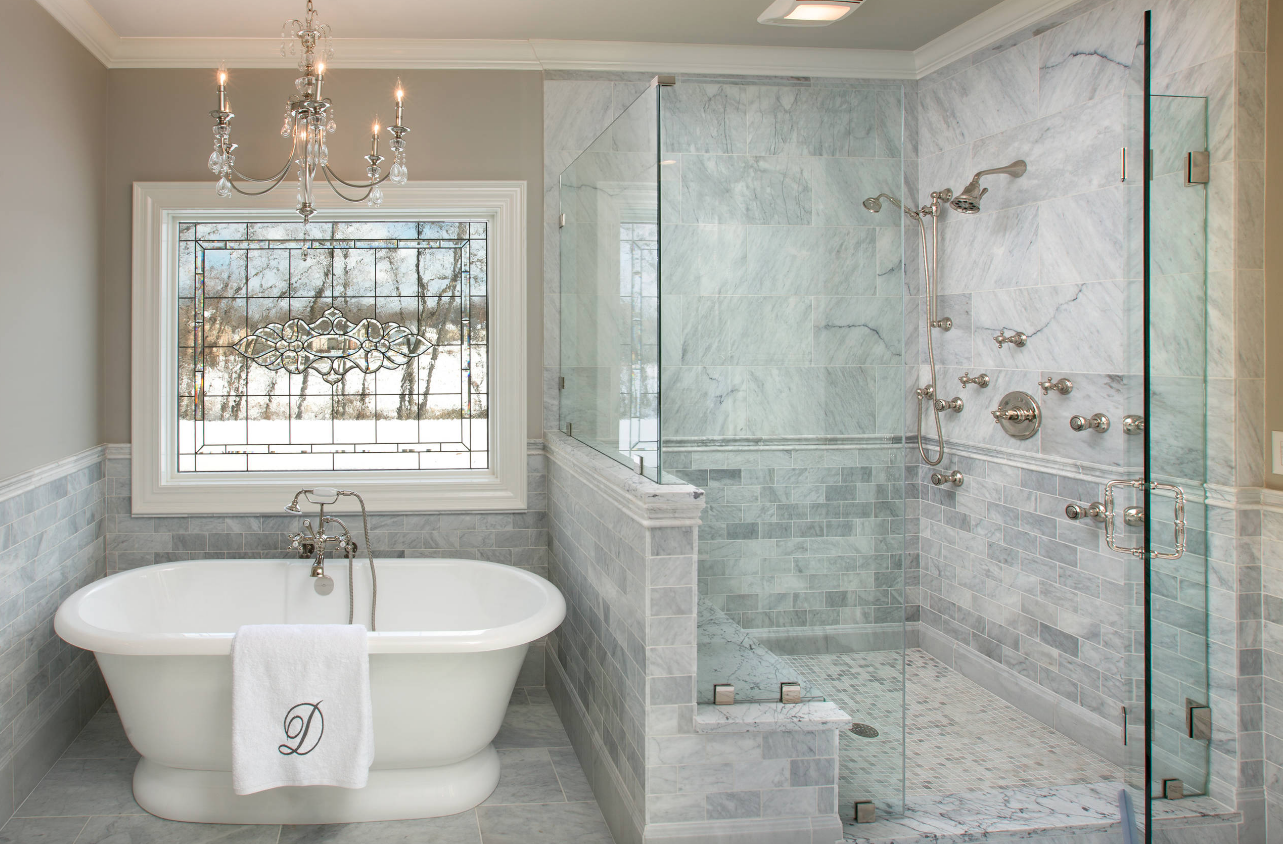 Photo By: Jim Deen/Kitchen Kraft
As 2020 brings in the new decade, it's time to move away from what's bad and embrace what's new and good. Whether you're finally ready to go for bolder, darker colours, or have finally convinced yourself to bid adieu to that horribly leaky faucet, there's endless design inspiration to kick-start your bathroom remodel in 2020. From compact storage space to advanced smart technologies, these are 7 bathroom remodelling trends you should look out for in 2020.
Shaped Tiles
Rectangular subway tiles have had their moment and is now moving over for funkier shapes like hexagons and scallops. Be sure to opt for a shaped tile pattern that's guaranteed to make an impact and catch the eyes of guests, even if you aren't willing to commit to a big, bold colour.
Industrial Styled Vanities
We understand that this style may not be for everyone, however, it's very current and there's expected to be an increase in popularity for this type of design. With a wide range of metal finish possibilities, wooden accents, and funky tile patterns, it only makes sense that the industrial vanity is on its way up in 2020. The sleek and modern look fits in perfectly with this edgy, yet classy remodelling trend.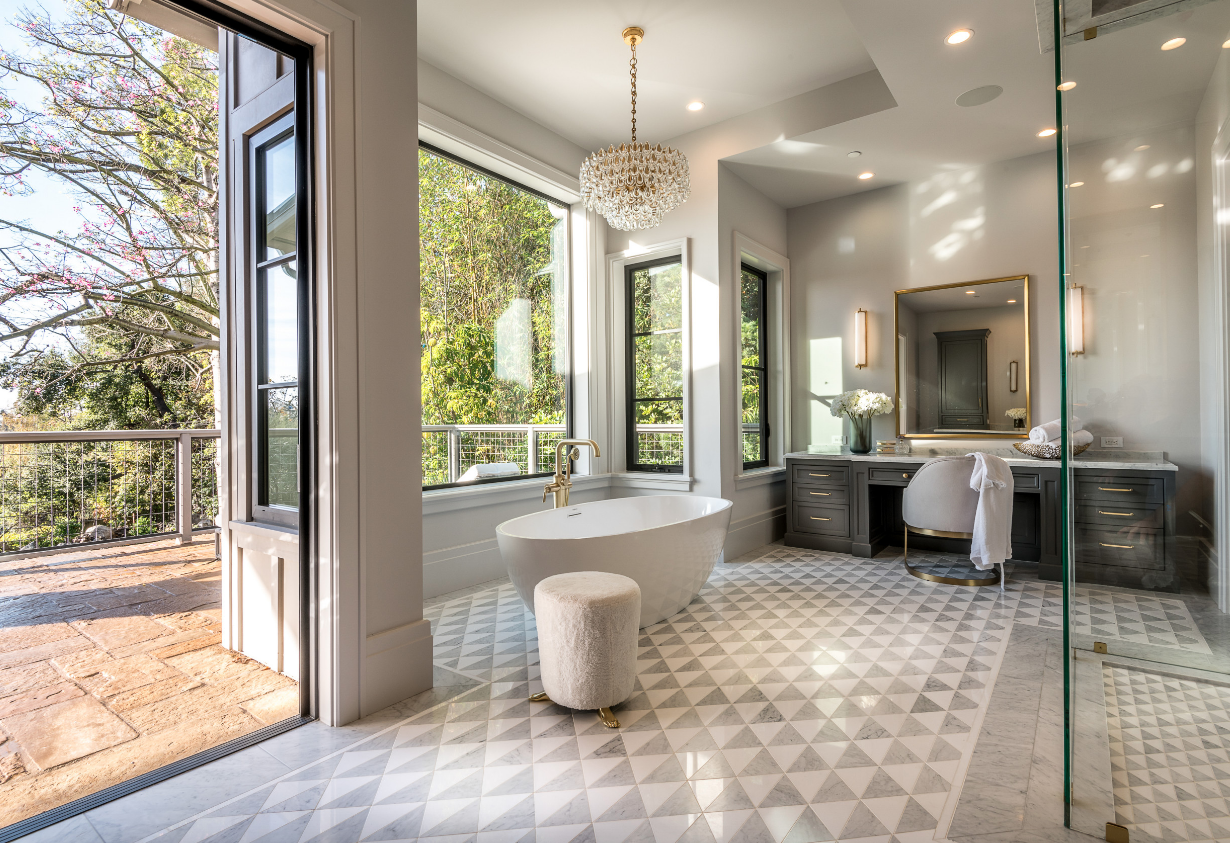 Photo By: Blue Label Construction
Compact Storage
People are sick of crammed storage spaces. The bathroom is a sanctuary and it's about time to expect a simpler aesthetic by minimising item storage and the space required. Compacted storage areas such as cabinets and shelves will be presented in a simplified manner that promotes minimalist habits. Said to relieve stress and keep you organised, the use of hidden cabinets, modern wall shelving and vanity under space storage will help you get rid of clutter for a more open and stress-free vibe.
Go Pink
Blush is one of the most popular wall colour choices for modern bathroom walls. Different shades of blush have been predominant for a notable period of time but rose gold is slowly and surely coming to the fore. Expect faucets, drawer pulls and even bathtubs to go a lush colour of pink.
Brass & Gold
Shades of brass and gold are great for sinks, toilets and everything else in your bathroom. Forget about dated designs and choose warm toned gold plumbing fixtures that add depth, dimension and luxury to your bathroom space. Be sure to look out for brass and gold toned bathrooms with warmer accents, rather than traditional shiny polished chrome fixtures. Finish options such as satin, matte and spun gold offer a subtle difference that exudes comfort and elegance, while keeping fingerprints and water spots hidden. Another reason for this timely comeback is that it simply looks great in so many different style settings, so you can't go wrong with it.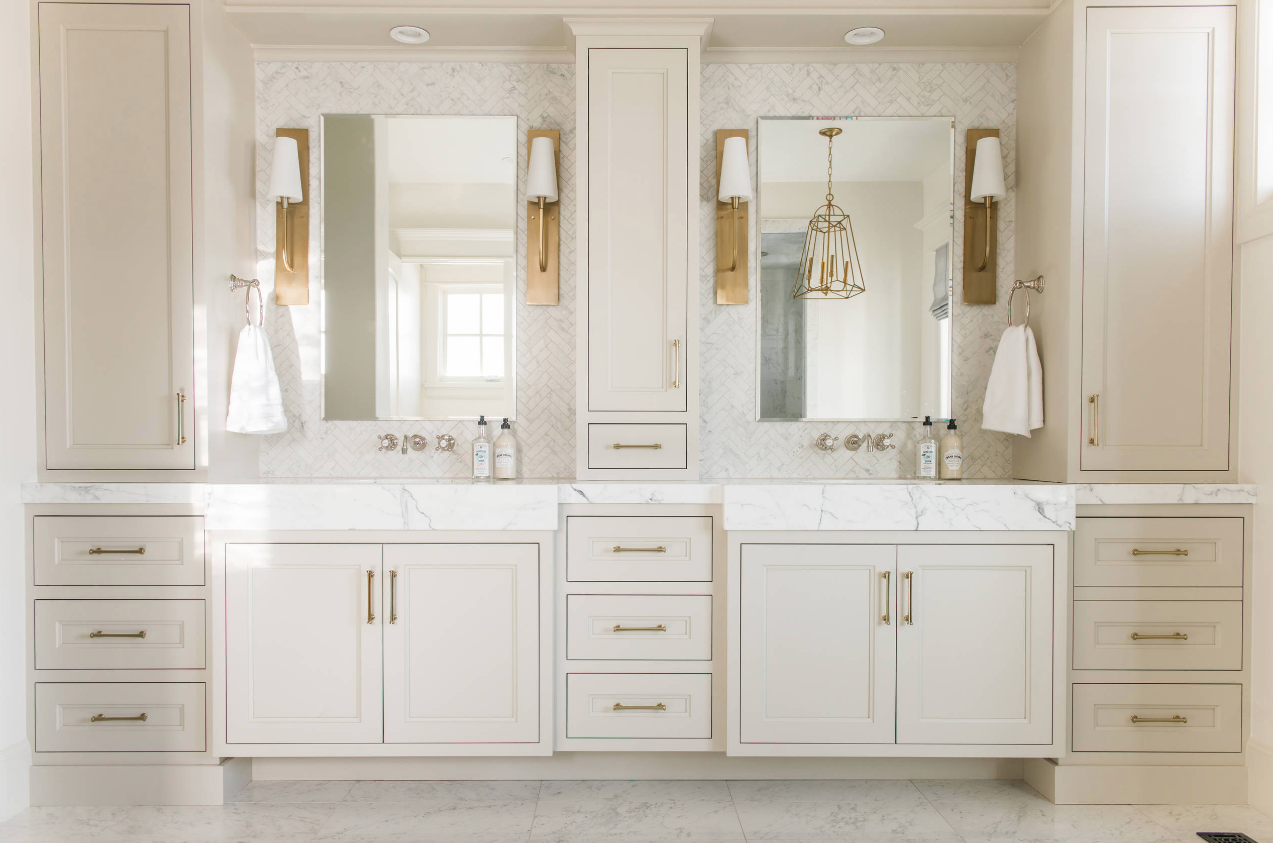 Photo By: JCD Custom Home Design
Black Instead of Grey
2018 and 2019 may have seen grey making waves in bathroom remodelling projects. 2020 on the other hand, will see bolder, darker styles become more popular. Black and darker tones with matte finishes will be most popular for light fixtures, vanities, mirror and other fixtures.
Advanced Smart Technologies
Smart toilets were a huge talking point in the last year. Smart technologies like seat warmers, automatic lid openers, adjustable wire dryers and built-in deodorisers made a huge splash in bathrooms everywhere. In 2020, you can expect to see innovations to spread to the rest of the bathroom. Smart showers, mini fridges and automatic sinks are going to bring convenience to new levels this year. Another new trend that's set to become more common in households, is the built-in bluetooth speaker system. Now you can jam or wind down to your favourite songs in the comfort of your shower or bathtub with ease.
Voice activated features for lighting and temperature, smart mirrors that talk to you, as well as installed TVs are just a few other examples of fun trends you can expect to see in remodelled bathrooms for this year. Modern bathrooms are transforming into personalised spaces with innovative technologies that make relaxing more convenient than ever before. There's no better time for bathroom renovations in Adelaide than the beginning of a new decade. What's more is that there's an endless list of fantastic possibilities and ideas that you could incorporate into your bathroom in 2020. From chic and modern, to industrial and vintage, whatever your personal style may be – 2020 is your year for your bathroom renovation.