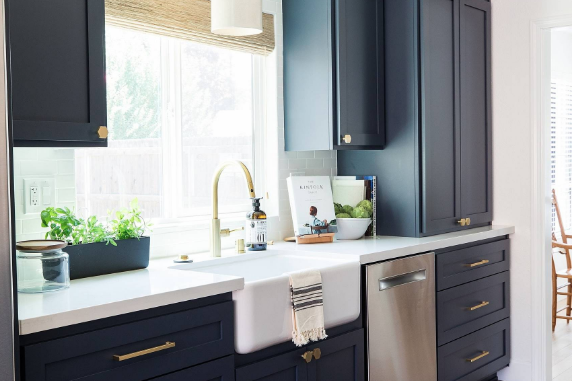 Updating your kitchen can add beauty and value to your home by giving one of its most-used spaces some much needed attention!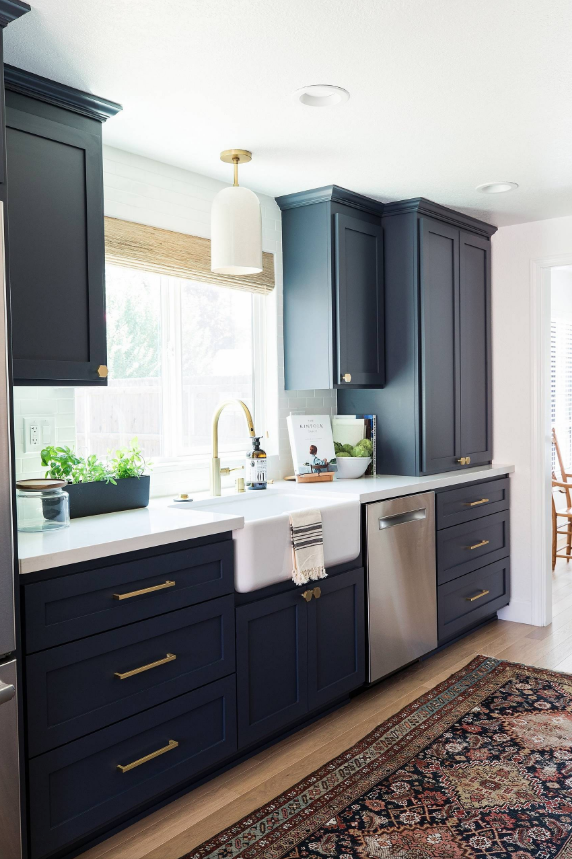 Photo by Design Shop Interiors
But many kitchen fixtures and appliances are downright expensive, and making over the space can become costly in no time. Fortunately, there are plenty of ways to give your kitchen a whole new look while sticking to a tight budget. If you're looking for affordable ideas, here are five ways to get started in giving this room the attention it deserves.
1. Add a New Backsplash
A tile backsplash is a great way to give your kitchen a completely different look. Whether you choose a solid color, a bold pattern or a mosaic style, adding a new backsplash makes your kitchen more beautiful and easier to clean. While there are plenty of pricey options out there, installing a new backsplash can actually be an economical project with a major wow factor. It's especially cheaper for you to install it yourself. A simple white subway tile is usually the least expensive option, but still creates a clean, updated look in the kitchen.
2. Incorporate Fresh Pops of Color
A new hue can do wonders for any space, especially your kitchen. Consider a bright contrasting color on the wall that compliments your countertops and fixtures. Bring life to the room and add some gorgeous green plants to your decor, placing them on top of the fridge, hanging them in the window and positioning them on top of counters and shelves. Choose dishes, cookware and serving pieces in bold colors and display them in the open for a finishing touch.
3. Upgrade With Self-Installed Kitchen Cabinets
As this website shows, a new set of cabinets can completely revamp your kitchen and make it look like an entirely different room. In addition, it can help you maximize your space and upgrade your storage options to meet your actual needs. However, having custom made cabinets professionally installed can take a huge chunk out of your budget. Instead, purchase ready-to-install kits from companies like cabinetselect.com and install them yourself. By purchasing at a discounted rate and turning it into a DIY project, new cabinets can be affordable at virtually any budget.
4. Install Some Floating Shelves
Wall space is often underutilized in many kitchens, so shelving is a great way to open up counter space while still giving you the room to add fresh decor. Floating shelves are a sleek and seamless option that works well against the natural busyness of a kitchen layout. Use them to display photos and artwork or decorative knickknacks to add interest and personality to the space. You can also turn them into practical storage solutions for your kitchen essentials and gadgets, your mug collection or your favorite serving pieces.
5. Decorate With Stylish Rugs
A well-placed rug with a smart pattern can add both interest and a sense of comfort to your kitchen instantly. Choose the largest size that works well with your layout, or multiple sizes in the same pattern and position them throughout the room. This is a great way to incorporate a new color or pattern without making such a permanent commitment. Be sure to treat the rug with a protective spray to help prevent stains and water damage.
You don't have to completely gut your kitchen to give it a fantastic makeover. You can achieve amazing results on almost any budget with a creative plan and a willingness to try things yourself. Research styles and looks you love, create your own design and give your kitchen a much-needed update while keeping a little extra cash in your pocket.