Know About these Popular Kitchen Benchtop Surfaces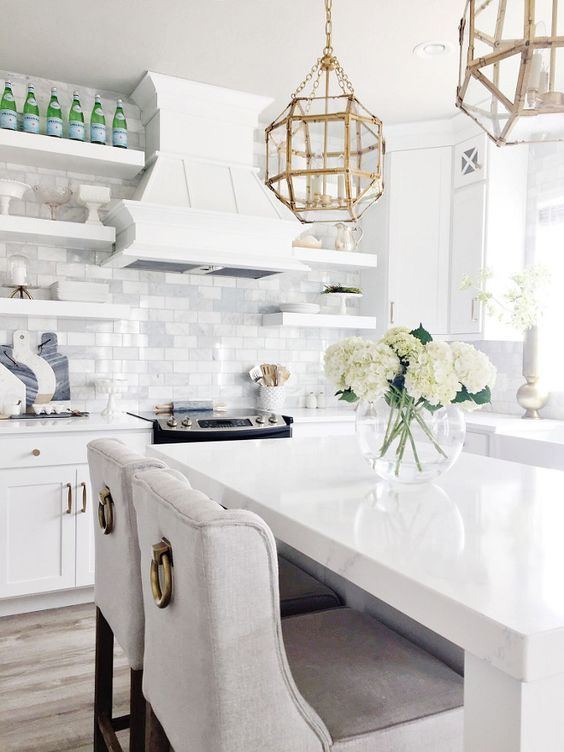 There are a lot of trusted companies that can provide you with excellent quality

stone kitchen benchtops

in Melbourne

and several other cities around the world. Following are some of our top tips for renovating your kitchen with a new benchtop surface!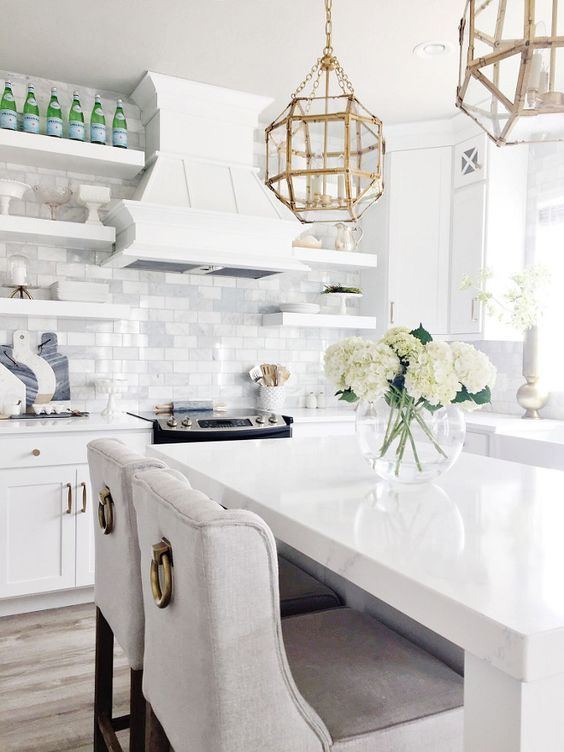 Photo: Home Bunch
Natural Stone
Granite and marble are the two most sought after options in this category. Both of them provide a timeless elegance that is just unmatched when compared to other options. Granite is highly durable and can bear rough and tough usage. It is stylish and even promises to last for the life of your home. However, it needs to be sealed and frequently resealed to ensure it stays resistant to stains. It is heavy and hence, difficult to install. Also, it is quite expensive.
Marble looks great and can add a touch of eliteness to any kitchen. It is strong, durable and will stand the test of time. Also, it is available in a number of colour options. Just like granite, even marble needs frequent sealing and is quite heavy that results in difficulties during installations. If you are looking for a top-of-the-line benchtop, you can't go past granite or marble.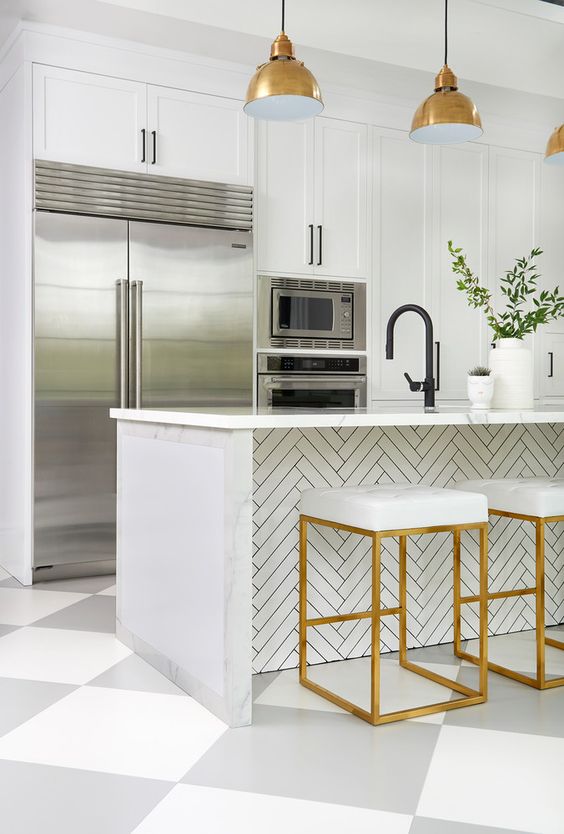 Photo: Domino Magazine
Synthetic Solid Surface
Also known as acrylic benchtops, solid surface benchtops are becoming an increasingly popular choice among home builders and renovators in a number of countries. They are designed from an acrylic resin, and these covers are versatile enough to be moulded into just any possible shape to suit your space. They are available in an extensive range of colours and textures that allow you to create a look that is just perfect.
They are hard wearing and stand up quite well to day-to-day use. As synthetic solid surface are non-porous, they don't stain and prove to be quite hygienic. It is easy to clean them, and they require less maintenance. If damaged, they can be repaired quickly.
They have poor resistance to heat, and hence, you need to protect them from hot pots and pans. Plus, they are not as affordable as some other options.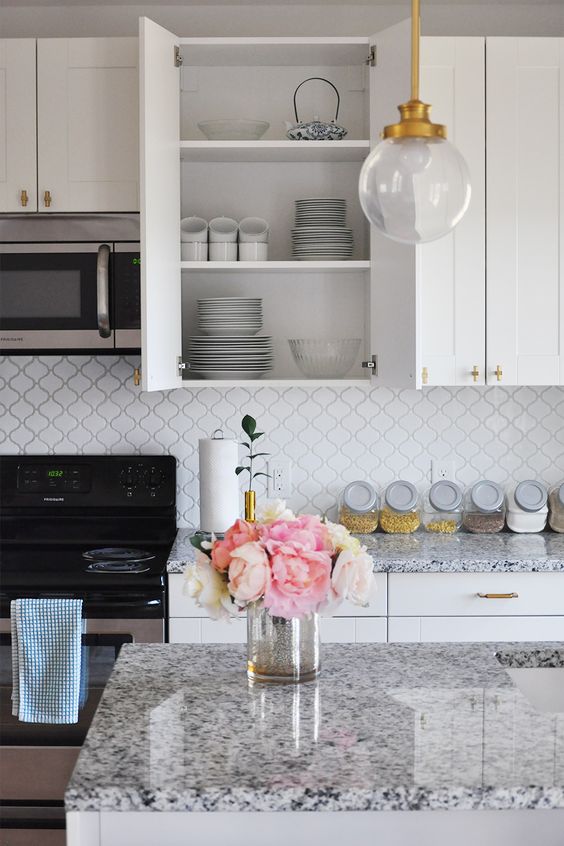 Photo: Foxie Oxie
Polished Concrete
This is one of the easiest kitchen makeover ideas that you can actually do yourself! They are a low-maintenance benchtop featuring a distinctive industrial look. This increasingly popular option can be designed and finished in a range of different ways that allow you to mimic a marble or granite look or even showcase concrete itself as a design feature. Other than its striking good looks, polished concrete is fairly hard wearing and will stand up to the rough day-to-day use for years to come.
On the downside, concrete is porous and therefore, it needs to be frequently sealed to protect against stains and heat damage. The labour costs involved in producing a polished concrete benchtop means it will usually cost more than an engineered stone surface.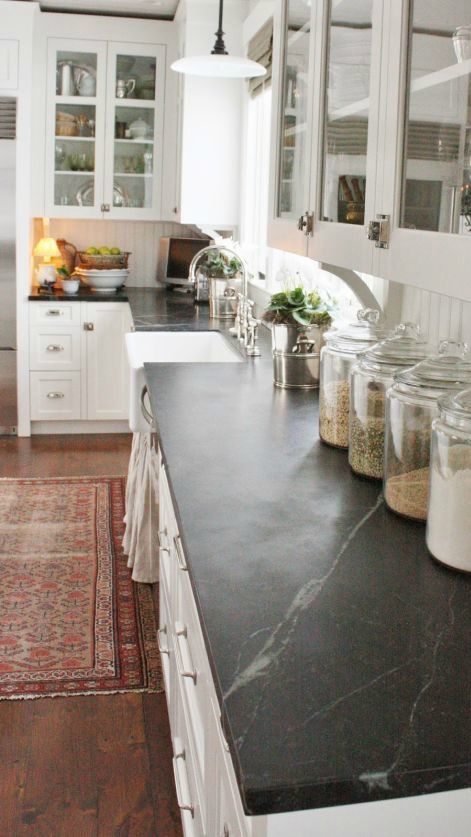 Photo: Decoist
Bamboo
It is an eco-friendly benchtop surface option and even offers a unique, and rustic decorating look to any kitchen. Bamboo benches can be sealed with oil or polyurethane and can add warmth and character to your space. It stands up well to heat damage and is also one of the most affordable options available. The fact that this type of benchtop is made from an entirely renewable source will even increase its appeal to environmentally conscious renovators.
Scratching can be an issue when it comes to bamboo benchtops, and you will need to deal with the spills right away so that they don't cause any lasting damage.
Tile
Tiled benchtops are not as popular as other options, but they do provide with a number of advantages. The vast range of tiles available means you can create a unique look and pattern that suits your design preferences down to the ground. They even resist well to heat damage and scratching. This option can go easy on the budget.
Unfortunately, you may find it hard to clean tiled benchtops. Especially, grout cleaning can eat up a lot of your precious time, and you will need to have it sealed to keep the elbow required to a minimum.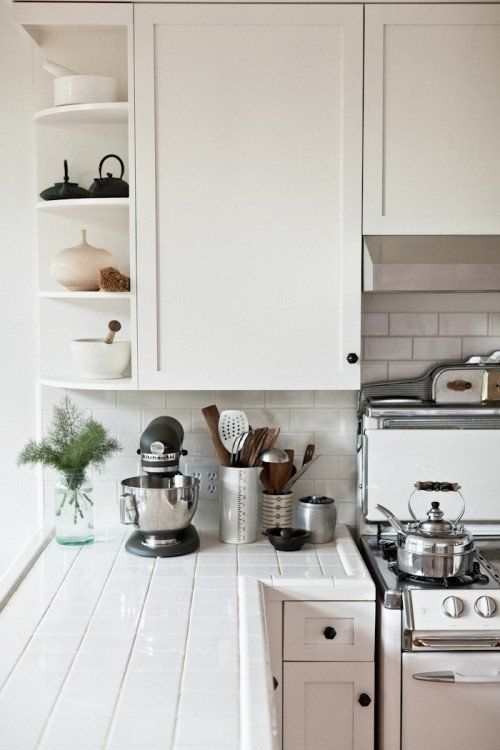 Photo: Apartment Therapy
Porcelain
They are also known as sintered compact surfaces and are extremely popular and very trendy in the decorating world. Porcelain benchtops are designed from a blend of natural raw materials and are as hard-wearing as they come. They are easily able to resist heat damage, scratching and stains. As they are non-porous, porcelain surfaces are considered as a hygienic option. They are easily available in a wide range of shapes, sizes and looks to help you create the feel and atmosphere you want.
However, porcelain is heavy and hence, tough to install. Also, it is a bit costly. It can also be hard to repair chipped edges and other damages.
These were some of the options for kitchen benchtop surfaces. Hope you find this article informative and helpful.