Homemade Always Tastes Best: Creamy Shiitake Mushroom Soup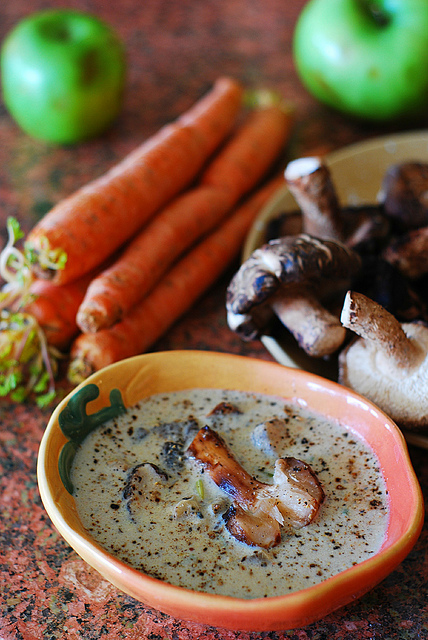 Ditch those canned soups and opt for homemade! We've got the recipe for the tastiest, creamiest shiitake mushroom soup!
Canned soups are overloaded with artificial flavors and too much sodium. Toss them out and try making your own homemade mushroom soup! It's easier than you think, and you'll soon wonder why you've never tried it before! This soup is made from tasty shiitake mushrooms, carrots, half-and-half, and green onions. Grab that apron and let's get started!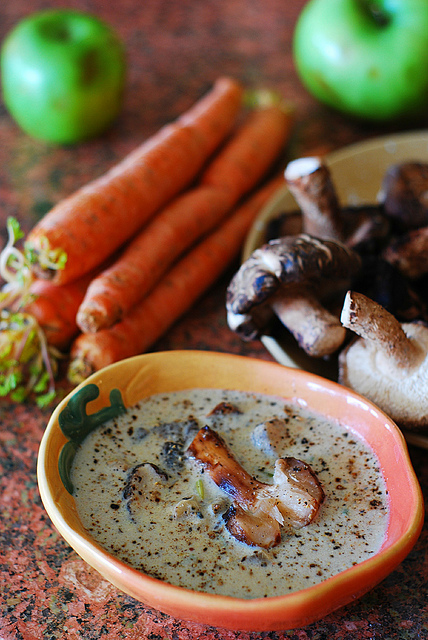 Homemade Always Tastes Best: Creamy Shiitake Mushroom Soup
A delicious and creamy shiitake mushroom soup that beats any canned version!
15 large whole shiitake mushrooms
1 tablespoon olive oil
1 tablespoon butter
1 onion, chopped
1 carrot, chopped
1 teaspoon thyme
1 teaspoon salt
more salt to taste
pepper to taste
2.5 cups water
1.5 cups half and half
3 green onions
Slice the mushrooms into small pieces.
Heat up 1 tbsp of olive oil and 1 tbsp butter in a large pan. Add mushrooms and cook for 10 minutes until the mushrooms have softened. Take out half of the mushrooms and place them on a plate.
For the other half of the mushrooms that are in the pan, add onion, carrots, thyme, 1 tsp salt, and pepper to taste. Cook for 10 minutes until the onions and carrots have softened.
Add in water to the vegetables and bring to a boil. Boil on medium heat for 20 minutes. Don't allow all the water to evaporate.
Take off the heat and add the stock you made into a food processor. Puree until smooth.
Place the blended stock into the same cooking pan. Add the reserved mushrooms and add 1.5 cups of half and half. Bring to a boil, then reduce the heat to low. Cook covered for 5 minutes, Stir constantly. Add more salt and pepper if needed.
Add green onions at the end of the cooking time or use them as garnish.
 Photos: Julia's Album.