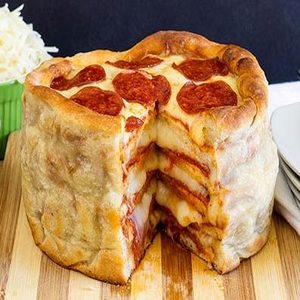 This pizza cake takes pizza at birthday parties to a whole new level! We'll take you through the process, step by step, so keep reading for the delicious recipe!
Make this pizza cake for your next birthday party and we're sure that you will amaze your guests! The pizza cake won't be forgotten, and we bet you've never had anything like this! Follow along with these simple steps to make the ultimate pizza cake for your next birthday party!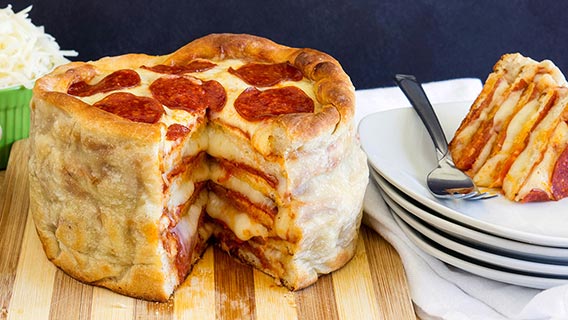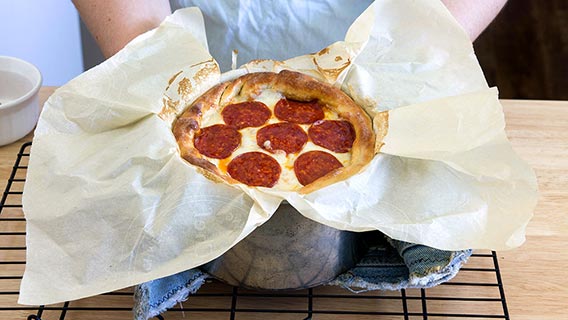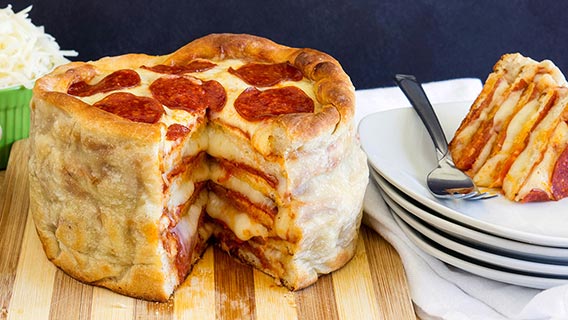 Ultimate Pizza Birthday Layer Cake
2014-11-03 15:52:47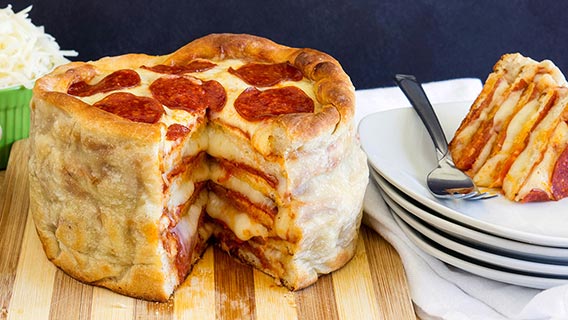 Serves 6
Make this pizza cake for your next birthday party!
Ingredients
2 cans Pillsbury refrigerated classic pizza crust
1 1/2 cups pizza sauce of your choice
3 cups shredded mozzarella cheese
1 cup sliced pepperoni
1 tbsp butter (optional)
Instructions
Heat your oven to 400°F. Spray a large cookie sheet with cooking spray.
Measure the diameter of your tall-sided pan. The pan used here is 6" x 4".
Unroll 1 can of dough onto a floured surface and press it out into a thin layer.
Cut out three 6" rounds and place on the cookie sheet. Bake for 8 minutes.
Remove rounds from the cookie sheet onto a cooling rack. Allow them to cool completely.
Unroll the last can of dough and cut out two 6" rounds from long edge of dough, and leave the opposite side untouched.
Place the rounds on cooled cookie sheet.
Bake for 8 minutes and remove from the cookie sheet to cool.
Line your tall pan with parchment paper, and allow the ends of the paper to stick up and out.
Cut out a long strip of dough that's at least 1/2" wider than the height of your pan.
Drape the long strip of dough around the inside edge of the pan to line it, and leave a 1/2" part hanging over the outside edge of pan and bottom of pan open.
Pinch to seal.
Place 1 partially baked crust round in the bottom of your pan. Spread pizza sauce over the crust. Top with pepperoni and mozzarella. Repeat with other 3 layers.
For the top layer, place the last crust over the cheese and sprinkle with remaining cheese. Arrange pepperoni on top.
Fold the overhanging dough over the top layer of pizza cake to make a raised crust edge.
Bake the pizza cake for 20-25 minutes, or until the dough around the edges is fully cooked.
Cool in the pan for 5 minutes.
Remove the pizza from the pan and brush with butter.
Cut out slices like you would a cake.
Better HouseKeeper https://betterhousekeeper.com/
Photos: Pillsbury