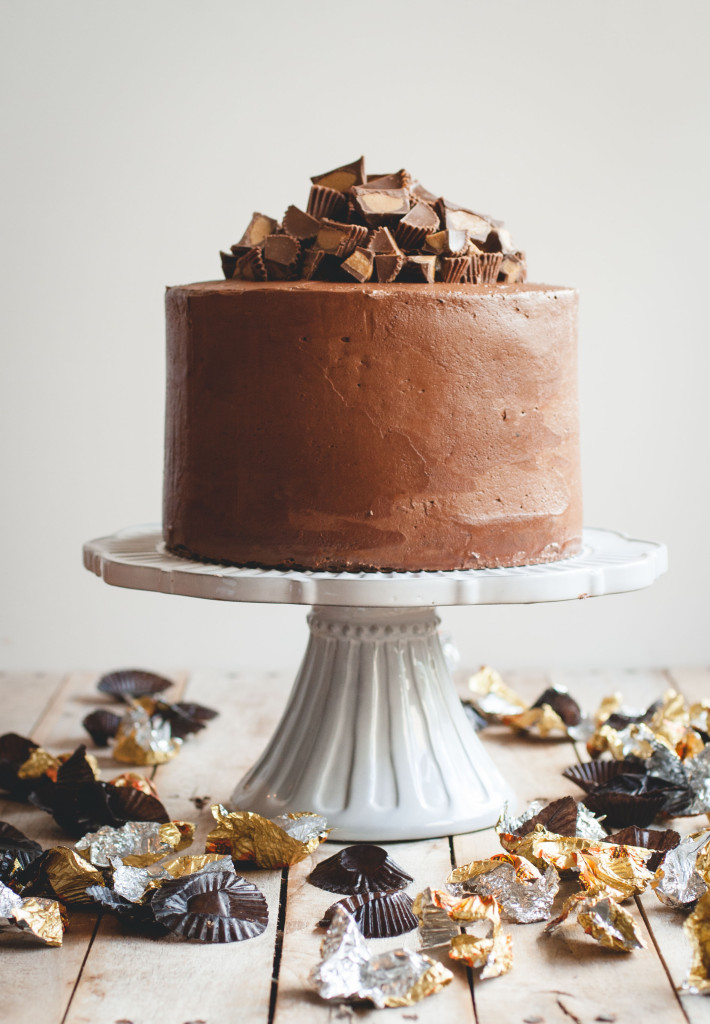 This peanut butter cup cake is perfect for the kid in all of us. Make it for your next party to wow your guests!
Who doesn't love peanut butter cups? This cake has chocolate on the outside, and peanut butter deliciousness on the inside! Although the cake is labor intensive, and needs to be made over 2 days, it's worth it! Take a look at the gorgeous cake below!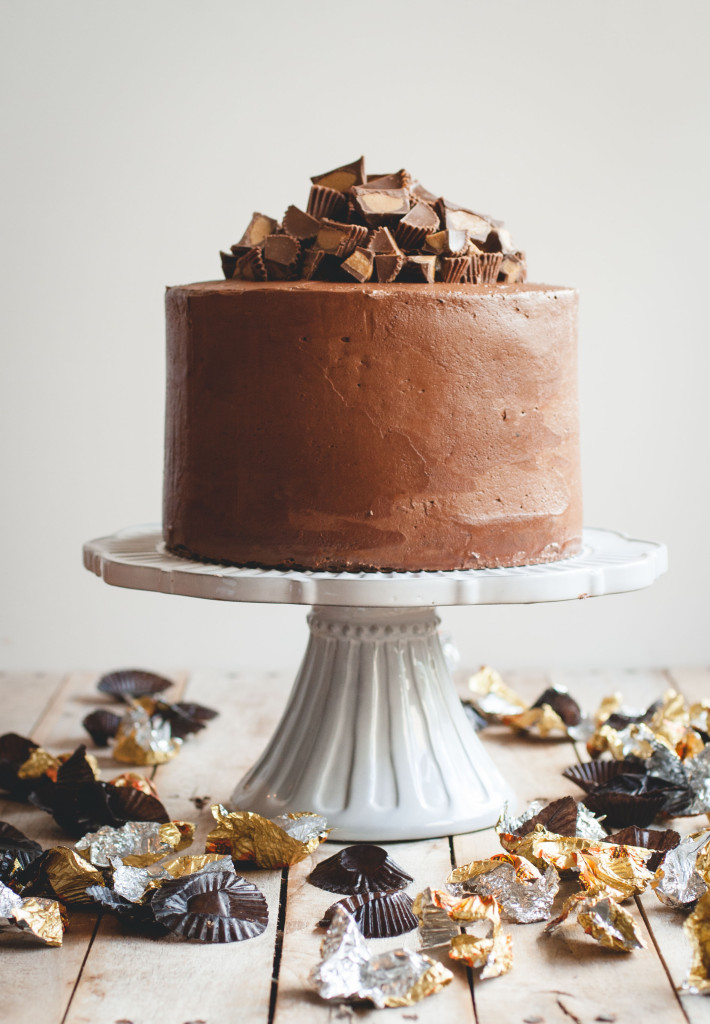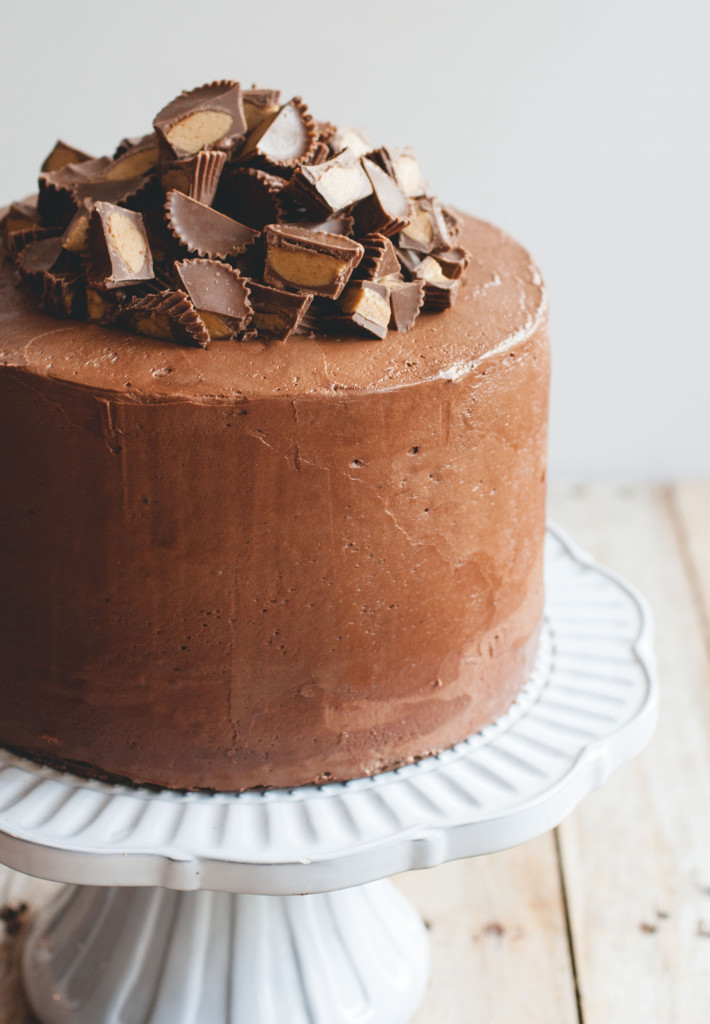 Scrumptious Peanut Butter Cup Cake
2014-09-15 13:13:23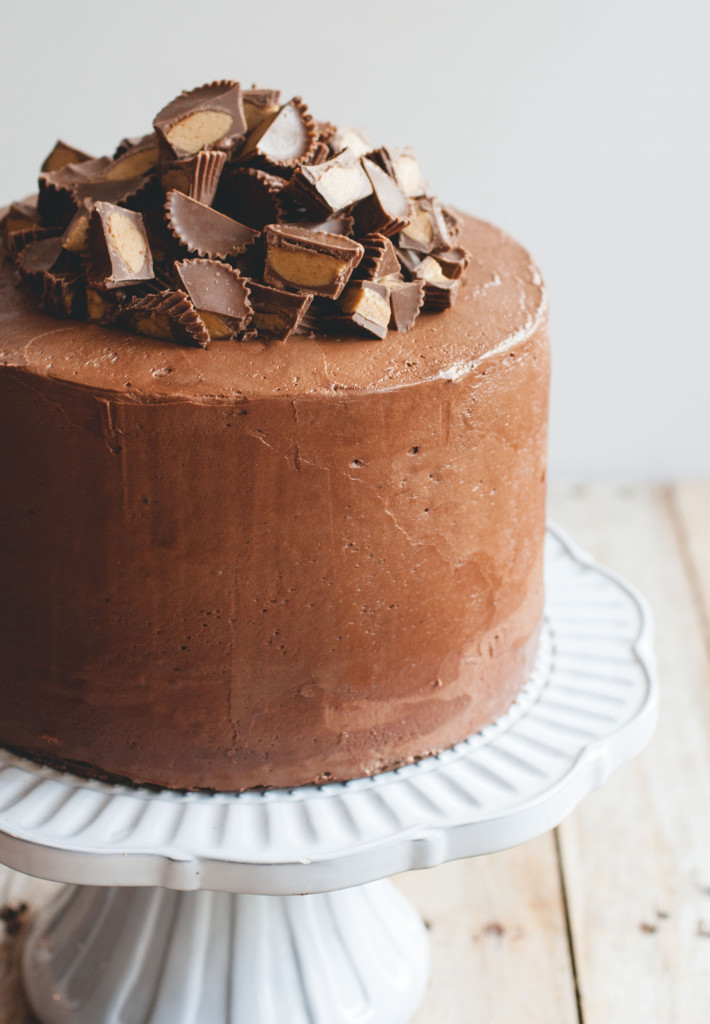 For the chocolate cake
butter, for greasing the pans
1 3/4 cups flour, plus more for pans
2 cups sugar
3/4 cups cocoa powder
2 tsp baking soda
1 tsp baking powder
1 tsp salt
1 cup buttermilk
1/2 cup vegetable oil
2 large eggs, at room temperature
1 tsp pure vanilla extract
1 cup freshly brewed hot coffee
For the peanut butter cake
1 cup flour
1 cup sugar
1/4 tsp salt
1/2 tsp baking soda
1/2 cup butter
3 tbsp peanut butter
2 tsp PB2 (optional)
6 tbsp milk
1 large egg
1/3 cup buttermilk
1 scant tsp vanilla extract
For the peanut butter filling
4 cups powdered sugar
1 1/3 cups creamy peanut butter
5 tbsp melted butter
1/4 cup heavy cream
For the chocolate icing
1 1/2 cups butter, softened
1 cup cocoa powder
4-5 cups powdered sugar
1/2 cup whipping cream (or milk)
2 tsp vanilla extract
1/2 tsp espresso powder
Garnish
3/4 of a bag of mini Reese's Peanut Butter Cups, roughly chopped
For the chocolate cake
Preheat oven to 350F. Butter two 8-inch round cake pans and line with parchment paper. Butter and flour the pans.
Sift flour, sugar, cocoa, baking soda, baking powder, and salt into a bowl and mix on low speed until combined.
In another bowl, combine the buttermilk, oil, eggs, and vanilla.
Mixing on low speed, slowly add the wet ingredients to the dry. Add coffee and stir just to combine.
Pour the batter into the prepared pans and bake for 35 to 40 minutes, until a toothpick or knife put into the middle comes out clean.
Cool in the pans for 30 minutes, then turn them out onto a cooling rack and cool completely.
For the peanut butter cake
Heat oven to 350°. Grease and flour an 8-inch round cake pan.
In a large bowl, combine the flour, sugar, salt, and soda.
In a saucepan, heat the butter, peanut butter, and milk until the butter has melted and mixture is hot. Stir the hot mixture into the flour mixture until blended.
Whisk eggs, buttermilk, and vanilla. Slowly beat into the first mixture until smooth and well blended.
Pour into prepared pan. Bake for 30 to 35 minutes or until a toothpick inserted into the middle comes out clean.
For the peanut butter filling layer
Mix powdered sugar, peanut butter and melted butter with a mixer (it will be crumbly). Add cream 1 tablespoon at a time until the mixture becomes a consistent workable dough. It should not be crumbly or stick to your fingers. The mixture should hold together easily when a small amount is squeezed tight in the palm of your hand.
Divide the dough into two even portions. Line two 8-inch cake pans with parchment paper. Press peanut butter dough into the bottom of the pans evenly, forming the peanut butter layers. Place in freezer until frozen, about 6 hours.
For the chocolate frosting
Add cocoa to a bowl and whisk through to remove any lumps.
Cream together butter and cocoa powder until well-combined.
Add powdered sugar and milk to cocoa mixture by adding 1 cup of powdered sugar followed by about a tablespoon of cream. After each addition has been combined, turn mixer onto a high speed for 1 minute. Repeat until all sugar and cream have been added.
Add vanilla extract and espresso powder and combine well.
If frosting appears too dry, add more cream, a tablespoon at a time until it reaches the right consistency. If it appears to wet and does not hold its form, add more sugar, a tablespoon at a time.
Assembling the cake
Level your cakes to remove domed tops.
Place 1 layer of chocolate cake on a cardboard round and top with 1/4 cup of chocolate frosting. Top with a layer of frozen peanut butter filling and add another layer of frosting. Follow with the peanut butter cake layer, a layer of frosting, the second peanut butter filling layer, a layer of frosting, then top off with the second chocolate cake layer.
Once all your layers are stacked, frost the cake with a very thin crumb coat layer of icing and refrigerate until icing is set (about 30 minutes).
Use the remaining icing to frost the outside of the cake then top with a mountain of chopped Reese's Cups.
Better HouseKeeper https://betterhousekeeper.com/
Photos and recipe: Butter Lust Blog.