Weeknight Dessert: Chocolate Strawberry Crepes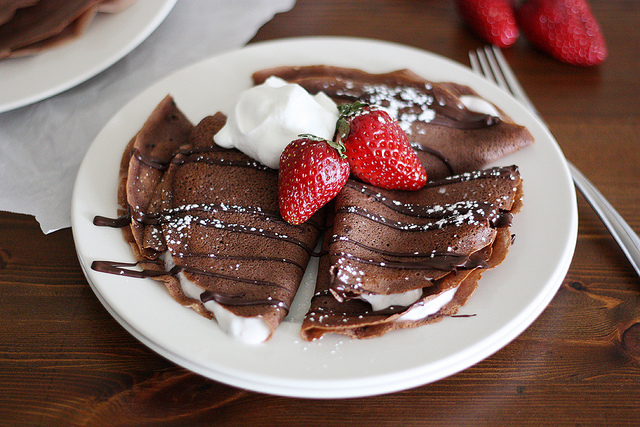 Crepes are a staple dessert in Europe, and they're eaten any day of the week! They're easy to make, and can be done in less than half an hour! Great for a weeknight dessert, these crepes will guaranteed become a favorite in your home!
Crepes are just like classic pancakes, only thinner. The best part about that is you can eat more than you would with traditional pancakes! That's a good thing, since they're so delicious. Crepes can be made with sweet or salty filling, and almost anything goes well with them. Nutella, mascarpone, and strawberries were used in this recipe that is sure to become a family favorite!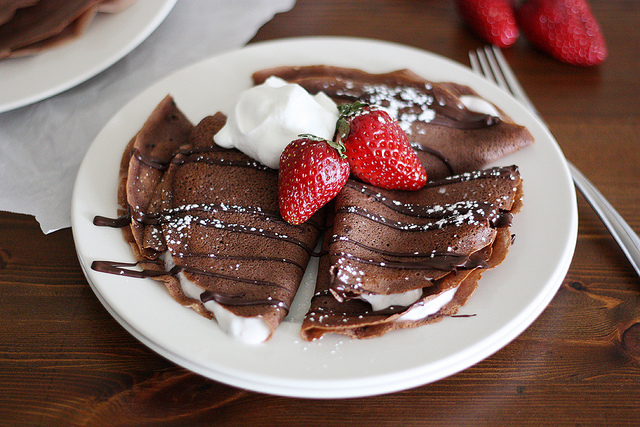 Chocolate Strawberry Crepes
These crepes are so moist and delicious, they'll be gone in seconds! Easy to make, they're great for weeknight desserts.
Ingredients
Crepes
4 eggs
1 cup milk (room temperature)
1/2 cup all-purpose flour
1/4 cup cocoa
2 tbsp sugar
1/8 tsp fine sea salt
3 tbsp unsalted butter, cut into 12 cubes
Filling
1 cup strawberries (chopped)
1 cup mascarpone (room temperature)
3/4 cup Nutella
Instructions
For the crepes, combine eggs, milk, flour, cocoa, sugar, and salt in a bowl. Whisk until the mixture forms a smooth batter.
Preheat a skillet over medium-low heat. Melt 1 cube of butter in the pan and add 1/4 cup of batter. Quickly tilt the pan to form an even coating of batter. Cook until set, about one minute. Carefully flip the crepe over. Cook for another 1 minute. Repeat with the remaining batter and butter.
Spread each crepe with 3 tbsp of mascarpone and top with chopped strawberries.
Fold the two opposite ends of the crepe inward and roll into a tube. Repeat with all the crepes and mascarpone and strawberries. Arrange the crepes on a large plate or platter.
Heat Nutella over low heat in a saucepan until warm. Spoon or drizzle over the crepes and serve immediately.
Photos: Timothy Nguyen, How Many Grams in a Cup.