7 Clever Ways to Make your Small Bedroom Feel More Spacious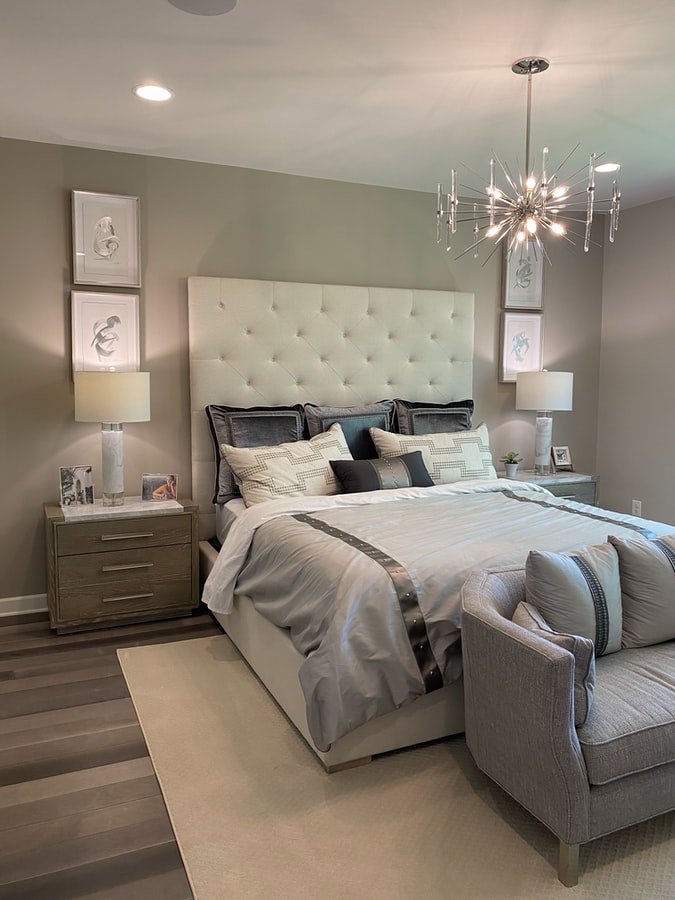 Make your small bedroom feel bigger look super stylish this season. Here's how to get started!
In theory, a small bedroom sounds like a cosy place to unwind at the end of a hard day. However, sometimes a tight space can feel more like a cave than an intimate refuge. 
While it isn't ideal, your bedroom doesn't need tall ceilings or a lot of floor space to have a calming, spacious feel. In fact, there are plenty of ways you can make the most of that precious square footage. 
You might need to get a little creative, but with a bit of strategic organisation and furniture placement, you can make your small bedroom feel equal parts functional and aesthetically pleasing. Here are 7 clever ways to help make your bedroom feel more spacious. 
1. Start with decluttering
There's nothing that will make you feel more claustrophobic than clutter. Our bedrooms are often the worst offender, becoming a dumping ground for all our clothes and things that just don't have a place. 
To start, go through your belongings and decide what you love and what you can live without. After you sort your things, make sure you organise what's left and decide where it will go. Having a home for everything will help keep your room neat and tidy. You might even want to invest in some handy storage options, like tubs or drawer organisers, to make sure it stays that way!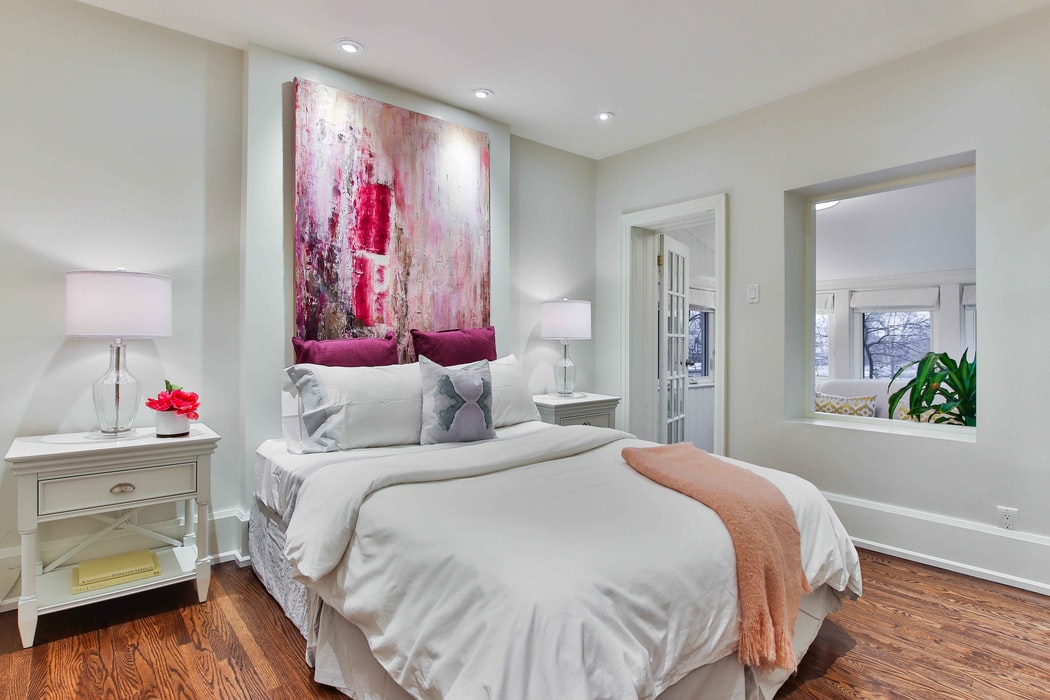 2.  Go minimalist – keep the furniture to a minimum
Less is more when it comes to making a bedroom feel more spacious. It's easy to get caught up with adding a statement chair or shelves. However, our bedrooms are primarily for sleeping getting dressed – so why not keep it that way?
Using the space just for these primary functions makes it easy to cut down on furniture. All you need is abed, nightstand, cupboard (if you don't have a built-in) or a set of drawers. The less furniture in your bedroom, the more wall and floor space you have, which will make your bedroom look and feel more open. 
3. Utilise your bed – use it to store as well as sleep
There are some clever furniture options out there for your bedroom. From stylish bed heads with built-in shelves to beautiful bed frames with floor storage, think about how you can use your furniture for storage. 
Look for bed frames with drawers or buy a frame that is high enough that you can easily slide some storage boxes under. Either way, you can store things and save on space, so it's a win-win.
4. Pick a colour scheme – use softer shades
We're sure you've heard this one before, but if your space is limited, opt for a lighter colour palette. Darker colours tend to absorb light, making a room feel smaller. A lighter palette, like whites, creams and light pastels, is great for making a room feel bigger. 
You don't have to use paint or wallpaper to deck out your bedroom in soft shades. You can incorporate a softer colour scheme through your bed linen, curtains, a rug, and even hanging art or tapestry on the walls. This way, you're not making expensive and drastic permanent changes to your bedroom, and you can easily change the colour scheme down the line.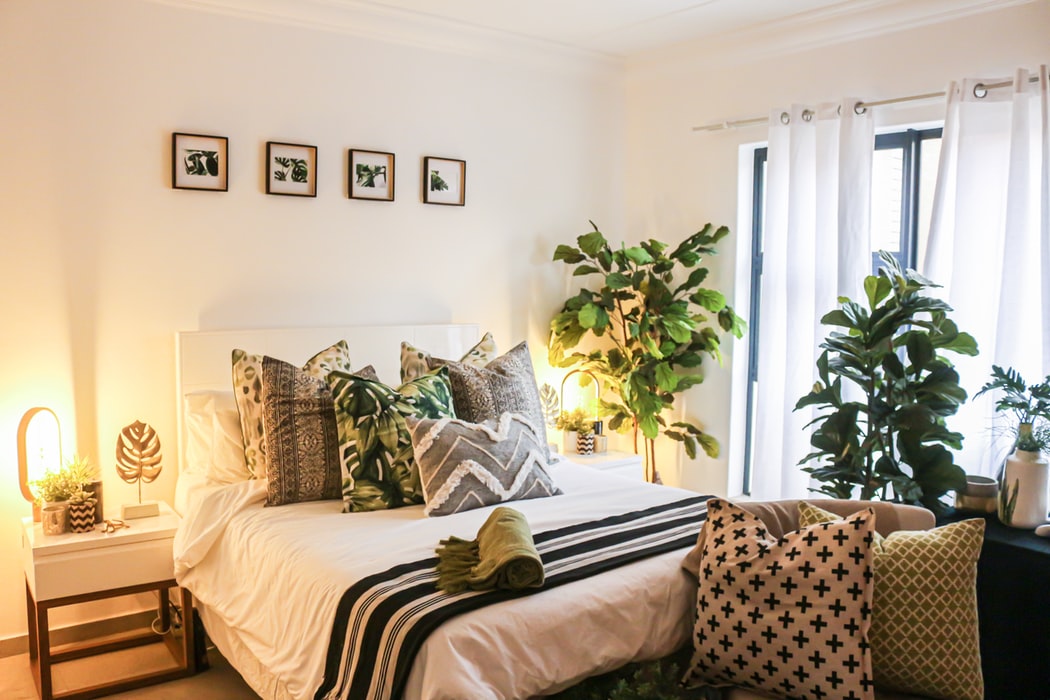 5. Let there be light – let outdoor light in and be creative indoors
Lighting, both natural and artificial, is another way to make a bedroom feel bigger. Open the blinds and/or curtains during the day to let as much natural light as possible into your bedroom, and be creative with your indoor lighting at night.
While you'll already have a ceiling light and perhaps a lamp for your nightstand, you can have some fun with a string of fairy lights to hang up on your headboard or a jar of lights to put on top of your cupboard or nightstand. These lights can provide a warm glow to really make your space cosy.  
6. Trick the eye – use mirrors to give the illusion of more space
Mirrors are a decorating-must for small spaces. A strategically placed mirror will reflect the surfaces and lights in the room, giving the illusion of more space. 
The best mirror to use to achieve this effect is a full-length one leaning against a wall. However, you can also trick the eye with a smaller mirror by hanging it on the wall or leaning it on top of a set of drawers.
7. Finishing touches – add a plant
Plants are a great way to add a touch of decor without cluttering up your space. Whether you opt for a larger plant in the corner, or a small potted plant on your nightstand, a little bit of greenery can add life into your space. 
If you find it hard to keep a plant alive (no shame, many of us have been there), a faux plant can still look good in your bedroom and easily adds a small pop of colour.
Through these seven ways, you can easily make your bedroom feel big, open and spacious with so much ease and style that you'll forget how small it really is. It will become the master bedroom of your dreams.