Things That you Need to Know About a Farmhouse Sink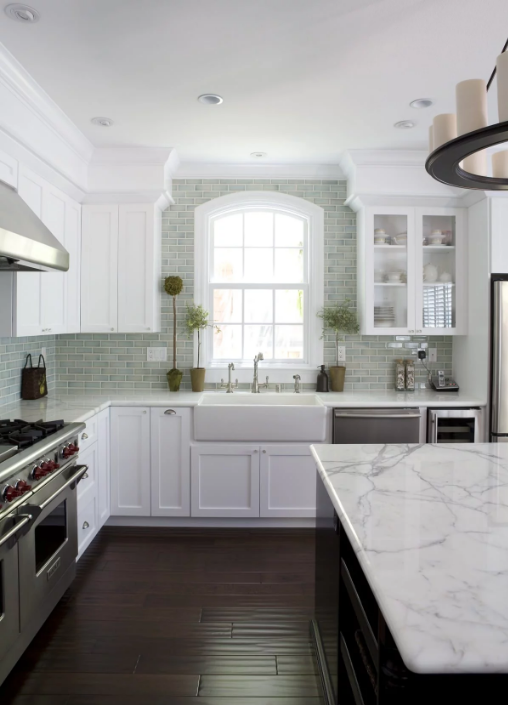 Interested in installing a farmhouse sink? You should read this first!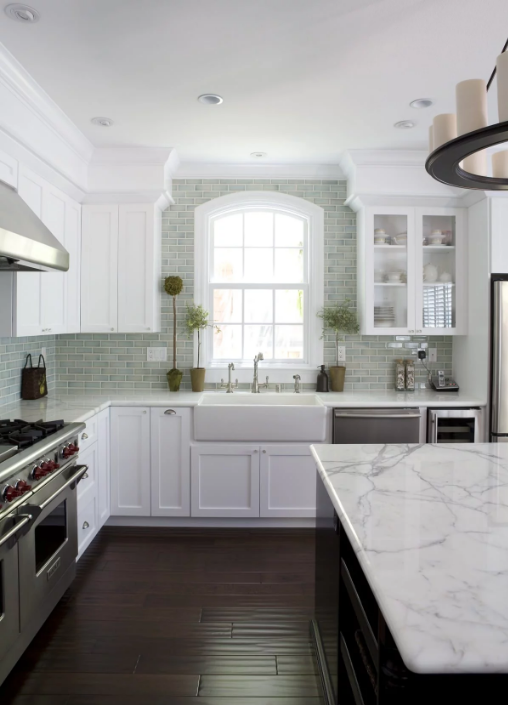 Photo: Fiorella Design
A kitchen sink is an integral and highly utility-driven part, and hence, you have to be careful with its choice. If you have observed, apron-front or farmhouse designs form a standard fixture in many kitchens recently. And, kitchens which combine modern and traditional charms tend to include it more than any other style. That's why even you may want to add an apron sink in your kitchen. Although it can be a perfect decision, it makes sense to have complete or fair awareness about the choice. So, let's explore first.
What is an Apron-front Sink?
Apron-front sink is a new name for farmhouse sink. The front edge of the basin remains exposed when you fit it into the countertop. It can comfortably sit into space carved out of the kitchen counter. Since the traditional designs are large, you can use it for numerous functions and serve the needs of a big family with ease. One of the key benefits of this type of sink is that it is easy to replace. When the basin gets damaged, you can remove the drain pipe and replace the whole sink with the new model.
However, these sinks don't feature any holes for fixtures and faucets. This arrangement guarantees easy replacement for it. Hence, you would need to route the water faucet through another location for permanent fitting on the counter to extend it over the sink. It removes the need for attaching the faucet to the sink. It also increases the performance of farmhouse sinks in busy kitchens. Nowadays, people are showing an inclination towards this type of basin for its rural feel and high utility. There are a couple of other reasons too behind its ascending popularity, though.
Why Choose Apron Front Sink for your Kitchen?
Ergonomics
The traditional design with the jutted front edge of the sink ensures that women can spend long hours at it without feeling tired. It removes a need for them to lean over the countertop and strain their muscles unnecessarily because of its forward orientation. If you compare it with recessed sinks, you will realize that farmhouse sink's jutted edge is an advantage. It doesn't allow water or foam to store on the countertop wood of the cabinet. Instead, these will spill to the floor.
In this context, another practical feature of the apron front kitchen sink is its deep bowl. In large families, you need larger pots to cook meals. If the basin is small in size, cleaning could be an enormous headache. But these basins allow you to soak and clean many pots and pans at the same time. Hence, you don't need to worry about dirty dishes.
However, taller people might complain about the depth of the bowl. Since the sink is deeper, the bottom will be even lower by a few inches than a traditional sink, making it slightly difficult for a tall person to do the job.
Materials
You can find almost every type of material for this sink, right from cast iron, porcelain, marble, stainless steel, copper, brass, and fireclay. Since each option has its merit and demerit, you need to be wise with your decision. For that, you can consider your daily needs and requirements. As such, stainless steel is the most common choice, while marble makes an expensive investment. Those who eye unusual designs tend to choose wood. If you want to buy any one of these, make sure to do an intensive investigation on the different materials and their pros and cons. The prices and maintenance can be vastly different for every countertop.
Installation
You can choose from top-mount and undermount variants in farmhouse kitchen sinks. The undermount designs give your countertop a seamless look by snuggling under the surface. You can wipe liquids and crumbs from the countertops to sink directly. However, make sure the countertop and sink merge well when you seal the seam. Otherwise, water can leak from the opening. On the other side, a top-mount apron front sink can go with any countertop. But if yours is a butcherblock, then you don't need to think beyond this choice. It can eliminate any worries associated with the risk of water damage as the forward edge of the countertop is right next to the basin.
In this context, you must note that farmhouse sinks, as mentioned earlier, don't contain holes for taps and faucets. You have to get the fixtures on the wall or the countertop at the back. Also, you may have to change your existing sink cabinet as the depth and protrusion of an apron front sink can be a problem. There can be a few other considerations also that you have to make. Let's dig into them briefly to make your experience with a farmhouse style kitchen sink enjoyable.
Points to Ponder over when Investing in Farmhouse Sinks
Bowl designs
You can find single as well as double bowl designs in this style. However, before deciding which is more convenient for you, look at your cooking and dishwashing habits. If you spend a significant amount of time in preparing food in the sink, you should pick a large single-bowl design. However, if you cook dinner and do your dishes at the same time, then double basin can serve your purpose right.
Countertops
Do you want to include farmhouse basin in your existing kitchen? Then, you should inspect your countertop thoroughly. The apron front sinks are usually deeper and wider in size compared to standard designs. So, the countertop and the cabinets below will need to have more room to accommodate it. Plus, if you are planning to buy stone or porcelain material, then checking the cabinets below is more necessary to ensure they can tolerate the weight. In case you don't have to change old cabinets, make sure you apply touch-up or a paint coat on the fronts to merge the look with a new installation. Since kitchen sink serves both functional and aesthetic roles, you have to be entirely sure of your choice. An apron-front or farmhouse sink can make an ideal selection in every respect if you choose carefully.