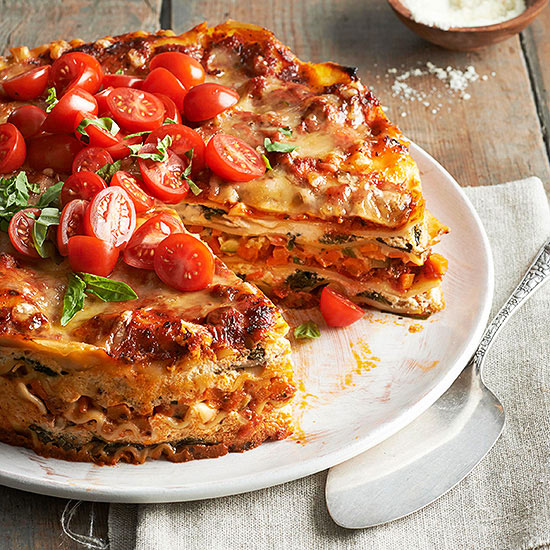 This vegetarian lasagna pie is so delicious and light, you'd never guess that it's meatless!
This vegetarian delight is stacked high with fresh veggies, herbs, 3 kinds of cheese, baby greens, and a delicious tomato-basil sauce. Pair it with an arugula salad and a simple olive oil and balsamic dressing. This lasagna is a no-brainer to put together – it only looks complicated! Impress your guests with this lasagna that they won't soon forget!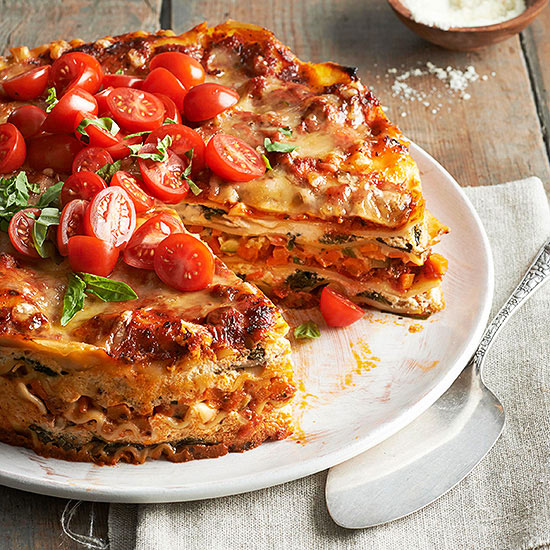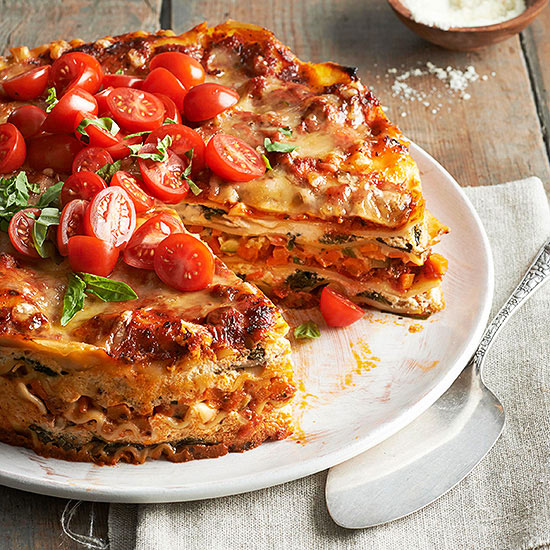 Stacked Vegetarian Lasagna Pie
2014-09-04 12:54:54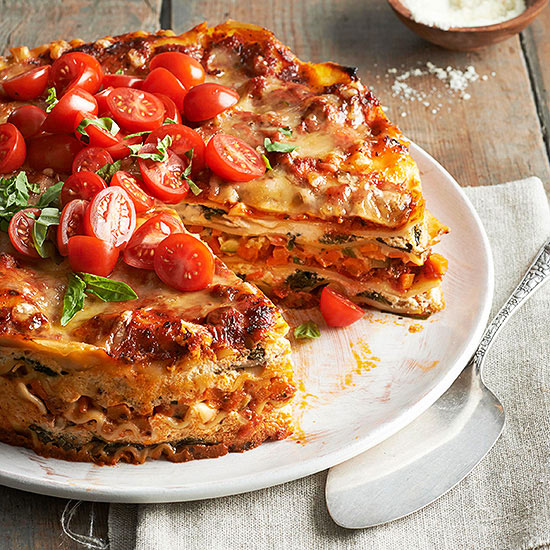 Serves 10
Ingredients
14 dried lasagna noodles
2 tbsp olive oil
1 1/2 cups finely chopped carrots (3 medium carrots)
2 cups finely chopped zucchini (1 medium zucchini)
4 cloves garlic (minced)
3 cups sliced fresh mushrooms (8 ounces)
2 6 ounce packages baby spinach
2 tbsp fresh basil (or dried)
1 egg (beaten)
1 15 ounce carton ricotta cheese
1/3 cup finely shredded Parmesan cheese
1/2 tsp salt
1/4 tsp black pepper
1 26 ounce jar tomato-basil pasta sauce (about 2 1/2 cups)
2 cups shredded Italian Fontina or mozzarella cheese (8 ounces)
Rosemary sprigs (optional)
Instructions
Preheat your oven to 375 degrees F. Cook your lasagna noodles according to package directions. Drain noodles and rinse with cold water. Drain once more and set aside.
In a large skillet, heat 1 tbsp olive oil over medium-high heat. Add in carrots, zucchini, and half of the garlic. Cook for 5 minutes, or until veggies are crisp and tender. Transfer the veggies to a bowl and add the remaining oil to the same skillet and heat again on medium-high heat. Add in mushrooms and remaining garlic. Cook for 5 minutes or until tender. Gradually add in spinach and cook for 1-2 minutes. Transfer the mushroom mixture to a bowl. Stir in basil and set aside.
In a bowl, stir together the egg, ricotta cheese, Parmesan cheese, salt, and pepper. Set aside.
Spread 1/2 cup of the pasta sauce on the bottom of a 9x3 springform pan. Arrange 3-4 cooked noodles over the sauce to create 1 layer. Top the layer with half of the spinach-mushroom mixture. Add half of the ricotta cheese mixture over the spinach mixture. Add another layer of noodles. Spread over half of the remaining tomato sauce. Top with all of the vegetable mixture. Sprinkle half the Fontina cheese over the vegetable mixture. Add another layer of noodles. Layer the remaining spinach-mushroom mixture and remaining ricotta cheese mixture. Top with a layer of noodles and the rest of the sauce.
Place the pan on a baking sheet lined with foil. Bake for 45 minutes. When the time is up, sprinkle with the remaining Fontina cheese and bake 15 minutes more. Take the pie out and cover and allow it to sit for 15 minutes. Remove the side of the pan and cut into wedges. Garnish with rosemary sprigs (optional).
Better HouseKeeper https://betterhousekeeper.com/
Photo and recipe: BHG.