All in One Pot – Try This Deliciously Easy Beef Vegetable Stew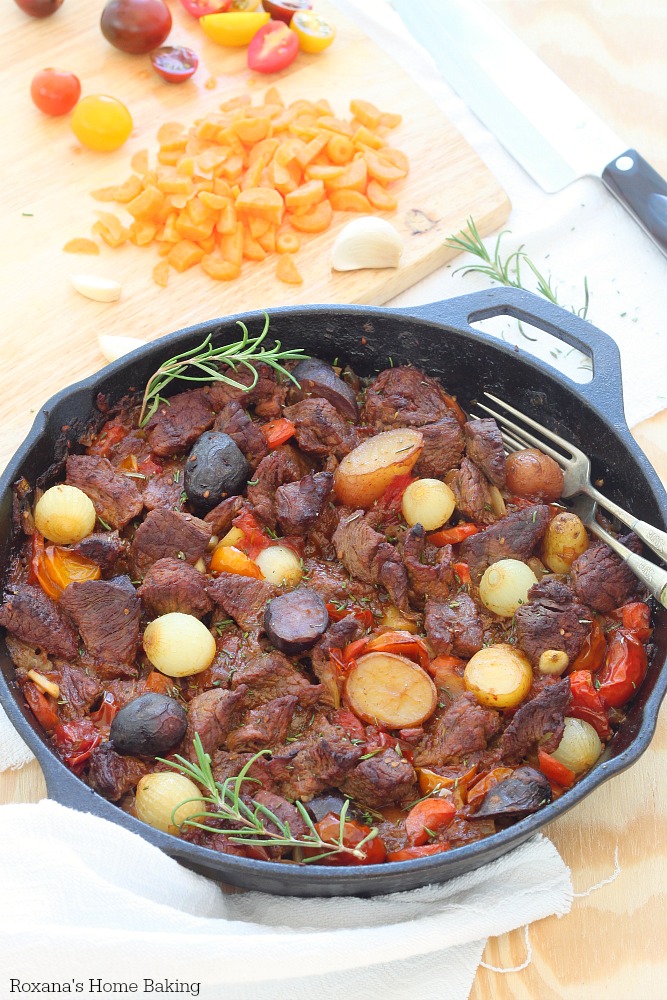 This beef stew is simple enough to make on busy weeknights. Toss all your ingredients in one pot and cook!
We love stews! They're great to make any time of the year, and they're perfect for dinner on weeknights. Tomatoes, carrots, onions, beef, and celery are slow baked in red wine and tomato sauce in this comforting stew. Get out some crusty bread for dipping, and you have a delicious and protein-packed meal that is sure to satisfy your whole family!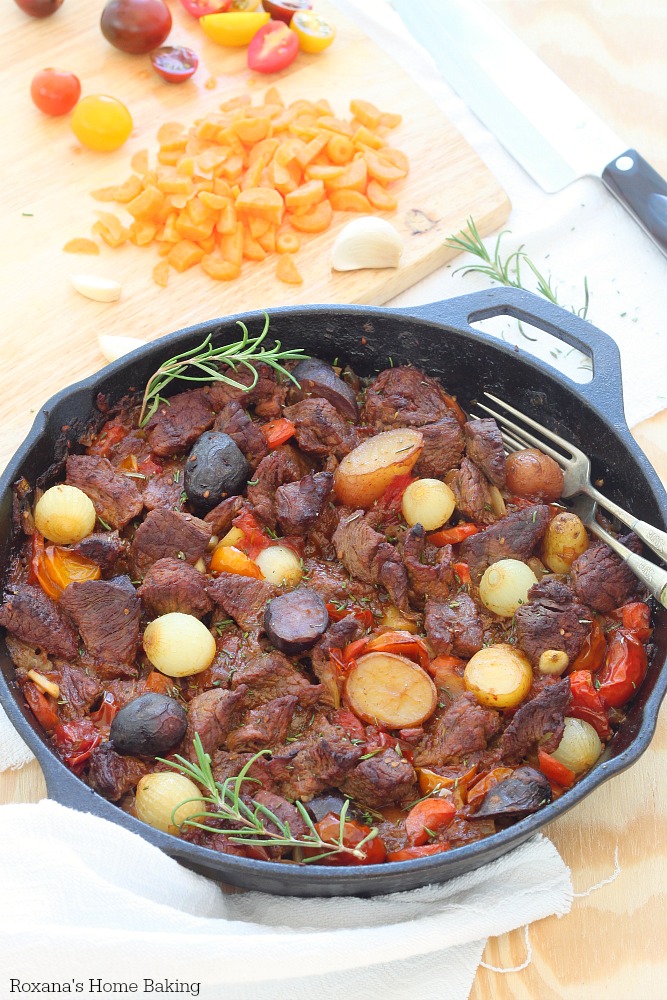 Easy Beef Vegetable Stew
Easy enough to make for weeknight dinners, this beef stew is delicious and packed with protein. Leftovers can be frozen for future emergency dinners.
Ingredients
1 1/2 pounds stew beef
2 tbsp olive oil
1 onion, chopped
2 celery ribs, chopped
1 carrot, chopped
2-3 garlic cloves, minced
10-12 small potatoes, halved
2 cups grape tomatoes, halved
1/2 cup beef stock
1/2 cup dry red wine
10-12 pearl onions
1 tsp minced fresh rosemary
Instructions
Heat your oven to 350 F.
Heat the olive oil in a 10″ cast iron skillet over medium heat. Add beef and cook for 7-8 minutes until the meat is browned on all sides. Season with salt and pepper.
Remove the beef from the skillet and without removing the pan drippings, add the onion, celery, carrot, potatoes, and garlic. Cook over medium heat for 5 minutes.
Stir in the tomatoes, beef stock, and red wine. Continue cooking for 3-5 minutes until slightly reduced. Season again with a pinch more salt and pepper.
Return the beef to the pot, add in the onions and rosemary.
Place the skillet in the oven and cover with aluminum foil. Cook for 20 minutes.
After 20 minutes, remove the foil and bake for an additional
Photos and recipe: Roxana's Home Baking.