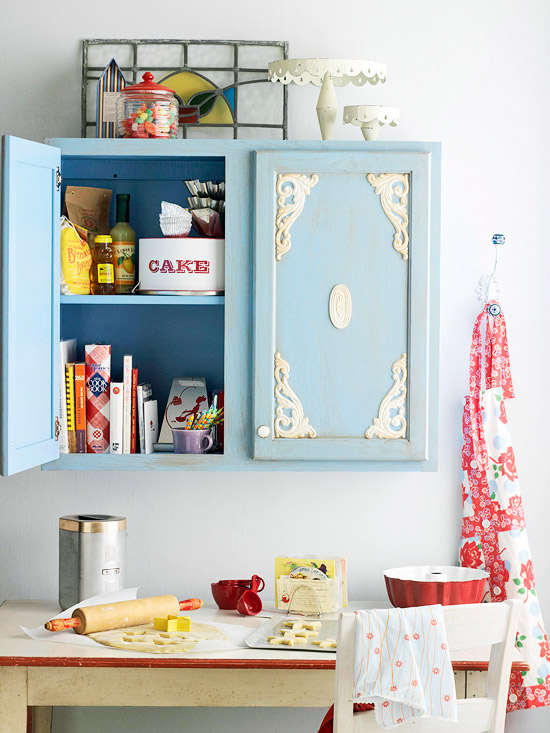 If your kitchen cabinets are looking a bit drab, but you don't have the money to buy new ones, try updating them! We've got 7 ways that you can update your kitchen cabinets on the cheap for a whole new look!
If you're want a new look for your kitchen, try updating your kitchen cabinets! Save money by using paint and new hardware to update your existing cabinets. We've rounded up 7 ideas to get you started!
1. Bright Colors
Add a pop of color by painting the inside of your cabinets and removing the doors. Open cabinets and glass-front cabinets can give your kitchen an open and airy look.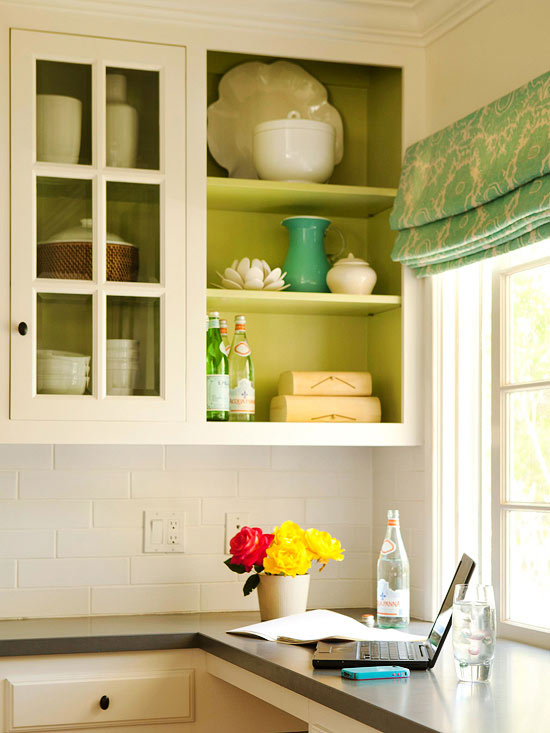 2. Open Shelving
Remove some of your existing cabinets and add shelves. This gives your kitchen more of an open look, and make sure to use shelf brackets that match your kitchen's style.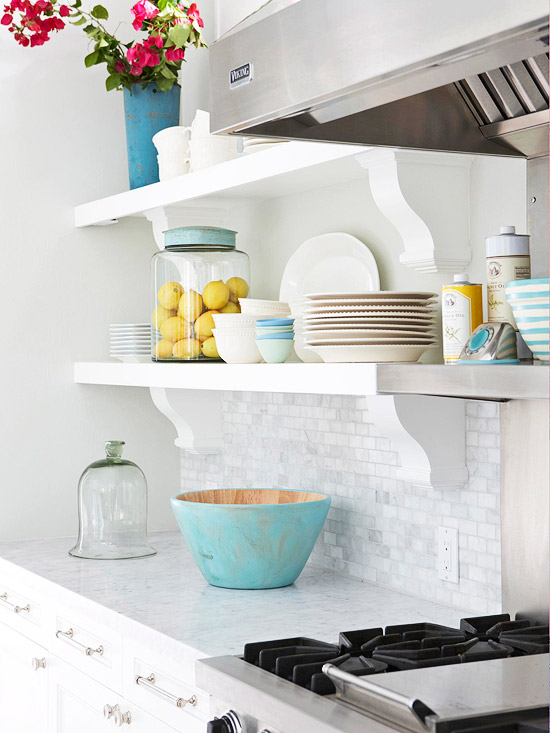 3. Distressed Look
For an aged look, try distressing your cabinets. We love these Victorian-style distressed cabinets!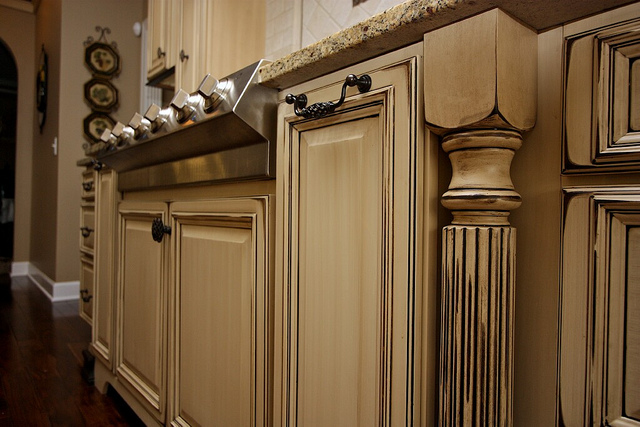 4. Details
These gingerbread appliques are too cute! They come in many different styles and sizes to match your kitchen's look, and you can find them at home centers. Glue them on with wood glue and give your cabinets a coat of burnt umber glaze (wipe off with cloth while still wet) for a vintage look.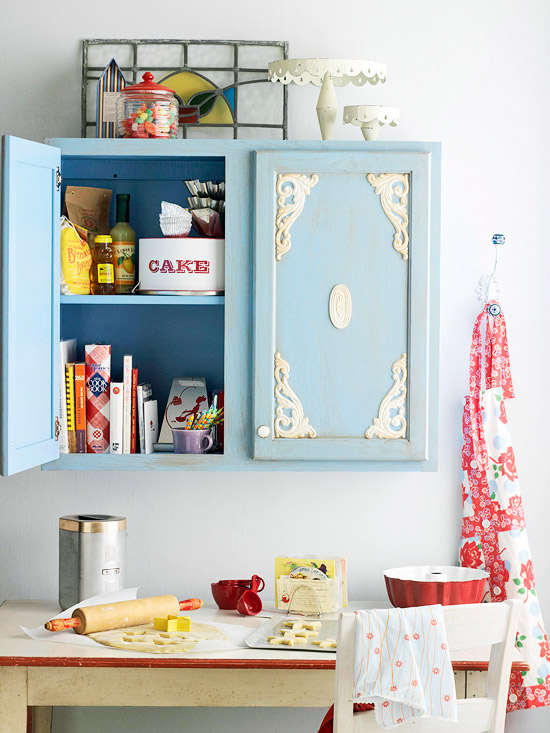 5. Hardware
Change up the hardware on your cabinets for an instant makeover. We're in love with these vintage fork handles!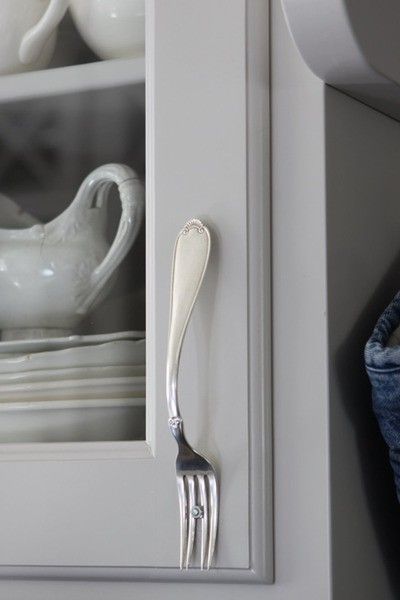 6. Add Feet
Add feet to your kitchen cabinets buy purchasing them at hardware stores, or make your own using scrap wood. We love how these cabinets look like they're built-in, and it was all made on the cheap! Tutorial here.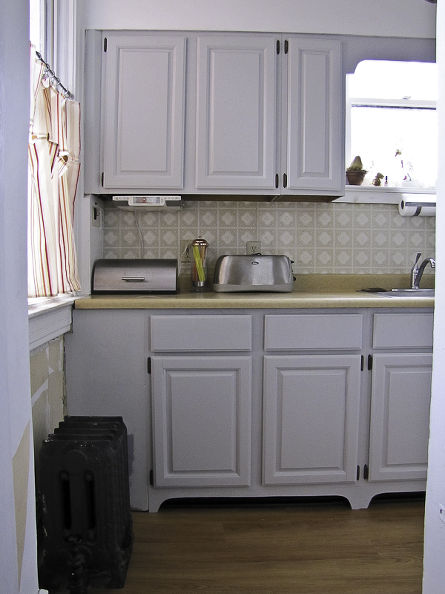 7. Wallpaper
Add wallpaper to the inside of your cabinets to brighten them up. Try a geometric pattern in a color that subtly contrasts with the rest of your kitchen.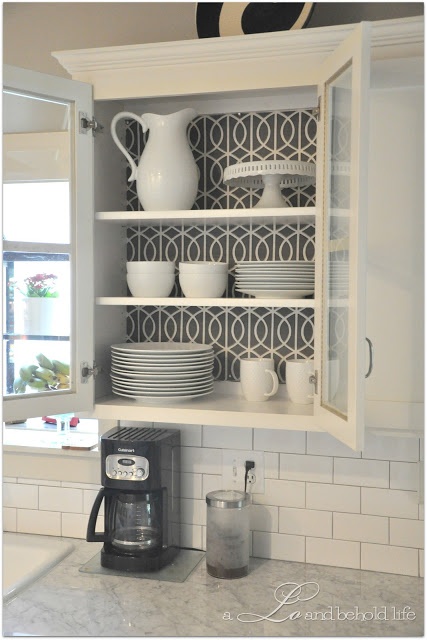 Photos: BHG, Flickr, Ate My Tauntaun, Hometalk, Interior Design Blog.