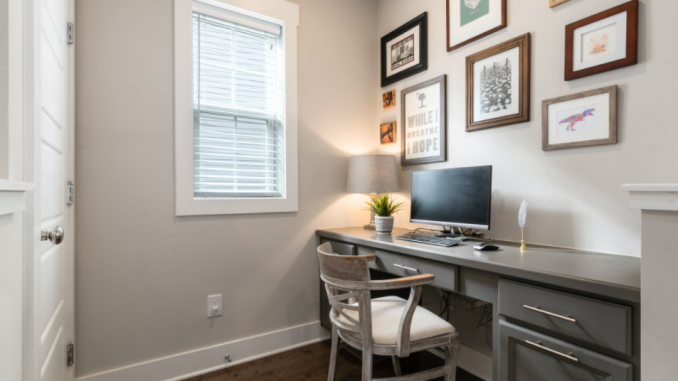 Working from home until further notice? Read this article to learn innovative ways to design your home office!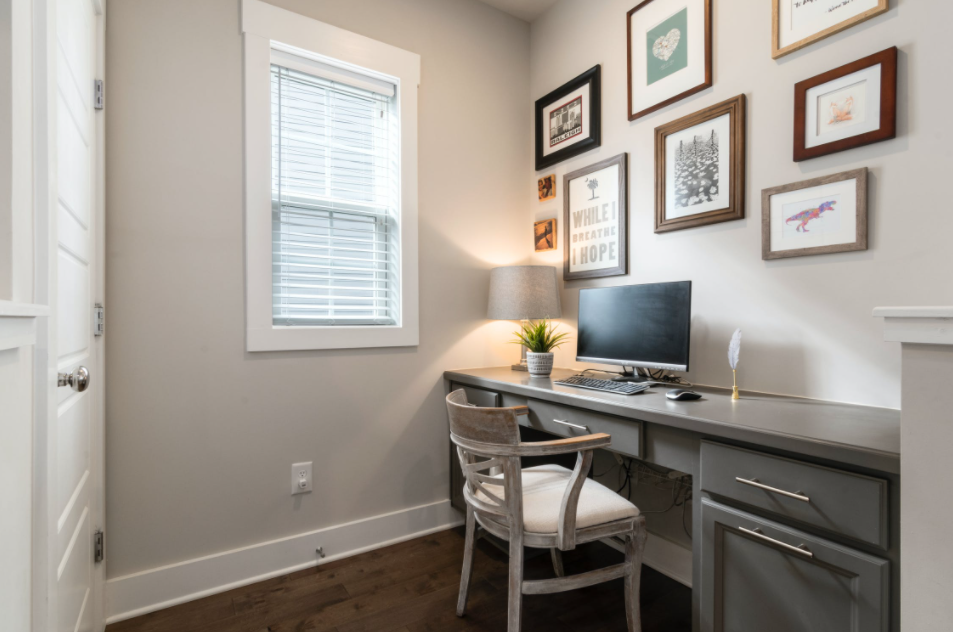 Working from your home is an established modern-day norm, especially due to the tragic spread of Covid-19 since early 2020. Many regular office goers are now locked in their homes, battling multiple obstacles to continue with their work. Hence, making the condition of your home office comfortable and convenient is essential to keep the morale up, and make working more enjoyable. A clean, motivational home office design can go a long way to ensure maximum creativity and efficiency.
One of the biggest advantages of working from home is the ability to decorate and furnish your room according to your desire; something that is impossible in an office, where you are not the owner or in charge of the interior decor. Home offices can be customized and re-modeled as per the homeowners' wishes. This article provides a comprehensive analysis of some innovative ideas for making your home office a place that you are eager to visit every day.
Home Office Design Ideas
Due to the creative nature of these ideas, there are various ways to implement them depending on the homeowner's choice and the availability of resources. Below is a list of 7 exciting home office design ideas, if implemented, will brighten up your mood every time you set foot into your home office.
Office on your Bed
If you own a massive master bed, chances are, you are not constantly using the entire space. If you have luxury bedding, a small portion of it can be used as a temporary home workstation during office hours. Any work requiring a laptop or just paperwork can easily be completed in such setups. This nullifies the need for a dedicated table or a corner of the room. You can directly join online meetings right after waking up and not even leaving the bed. Imagine the convenience!
Mini Cupboard Office
Probably the most compact home office idea on this list, a mini cupboard office can be set up in an empty and available wardrobe or cupboard. The idea is simple: it is a miniature workstation that can serve as the perfect place to work for people not needing a large space for their work.
Make sure you install a small lamp inside the cupboard to provide sufficient lighting and ensure the workstation looks elegant when viewed from afar. The biggest advantage of such an office is the ease of shutting it down. Close the door of the cupboard and your office is safely sealed away from prying eyes.  Keeping the contents of your workstation safe from the snooping eyes of any guest.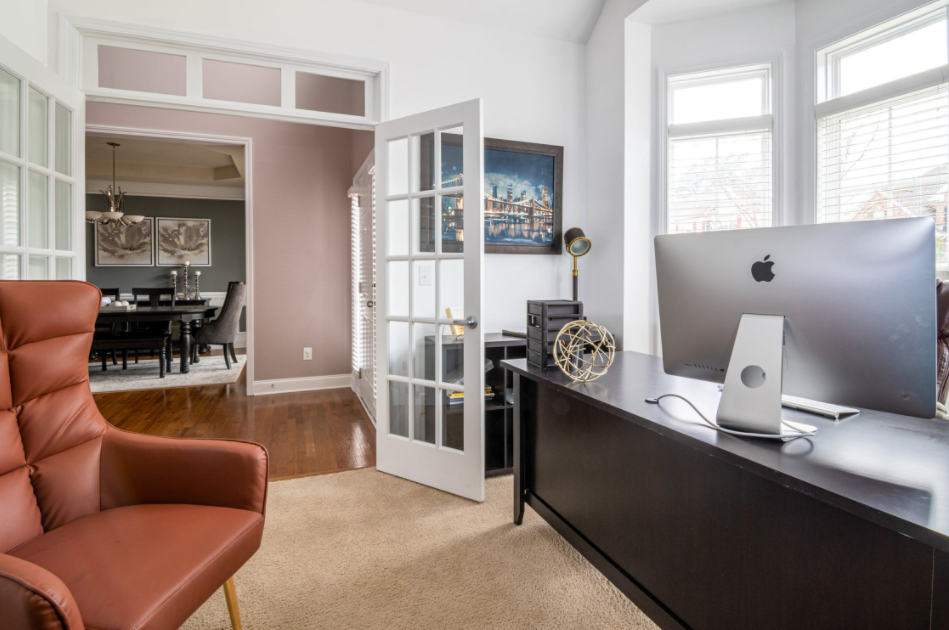 Office Under the Stairs
Harry Potter's iconic summer holiday room under the staircase of the Dursley house can be an inspiration for creating your home office at a similar location. Generally, the spots under staircases are left unused or sparsely used due to the inconvenient shape of the place. Install a table, plug in your computer, start your necessary calculations and chores, and you have yourself a ready workstation. You can make the space more comfortable by covering the floor with a soft carpet that is colored in accordance with the theme.
Kid-friendly Workspace
Children can either barge in on important meetings or simply be an ever-present figure in your home office. You might be reluctant to send them out of the room but may encounter issues due to the chaos they might create if you let them stay. An easy way out is to set up a large table with multiple interesting toys and materials for the kids to keep busy when they are in the room. Make sure you decorate and fill the table with the equipment that the children love to spend time with, in order to keep them occupied and let you finish your work.
Pet-friendly Workspace
Quite similar to children, pets can also be slightly annoying when it comes to doing your office work from home. They can jump up on the tables and ruin your documents, or simply ask for some love while lying on your laptop. Set up a pet-themed office space, including colors that your pet likes. Place treats on the large table, away from your documents, ensuring the pets do not interfere with your work area.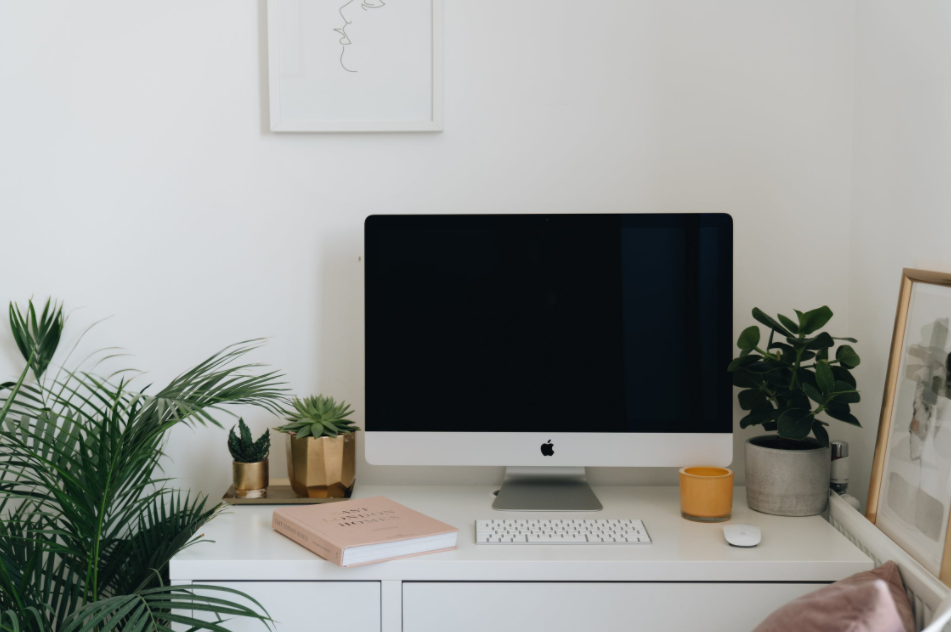 Color Themed Office
Crafting a dedicated working space in your home provides you the opportunity to design according to your choices. Maintaining a consistent color theme can give the room a polished and elegant look. You can benefit greatly from it. Office employees with massive premises can greatly relate to their regular working conditions when they work from spacious rooms in their homes. Pair it with a clean color theme, and you have yourself a modern office right in your bedroom. Similarly, consistent colored walls add to the simplicity of the environment and can contribute to minimalistic approaches by the owner.
Outdoor Office
Infuse yourself into nature by moving all your official documents and equipment out to the backyard, and setting up a home office for work. The added effect of nature can work wonders in keeping you motivated and fresh for long hours. Make sure you have a power connection to keep your electronic devices charged and active. Rain can be a major setback, so we recommend setting up the workstation under a roof to avoid getting drenched.
Final Thoughts
Doing office work from home has become a part of our lives during these troubling times. There is, sadly, no predetermined date for the pandemic to officially end, and lockdowns to be lifted for good. Hence, it is up to us to make our home working conditions congenial and sustain the levels of proficiency we used to show when offices were open.