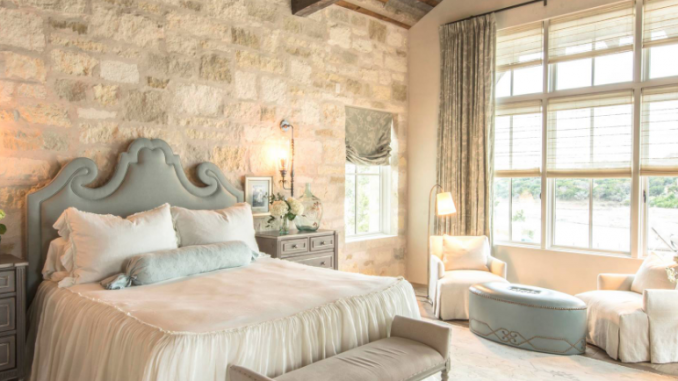 Are you getting ready to totally redo and revamp your bedroom? There are countless options available no matter what style and what your budget!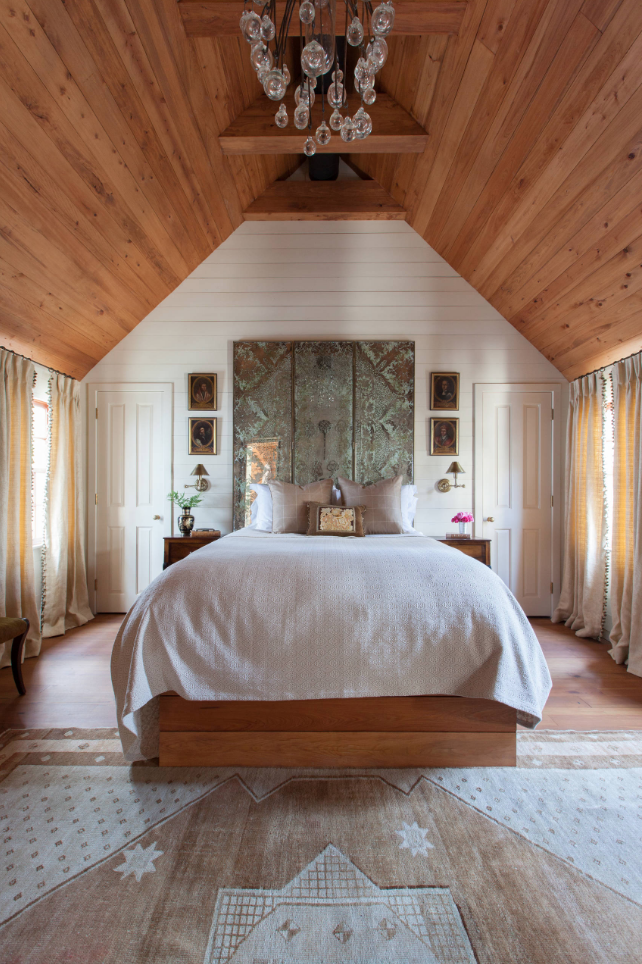 Photo: Cameron Stewart
The farmhouse style is a popular trend that incorporates light pallets of colors and uses refurbished wood and antiques to create stunning focal points. If you're interested in transforming your plain Jane style into something more romantic and sophisticated, give farmhouse glam a try.
Basic Elements for Relaxation
Farmhouse décor is about a light, airy country setting that incorporates a sense of farm life. While decorating is important, keep in mind that you need a relaxing space too. Starting with your bed, choose a mattress that is comforting and accommodating to your sleep needs. Do you get hot at night? Choose a mattress that is cooling while you sleep. Maybe you like a mattress that will adjust to your body type, such as an adjustable foundation bed from a mattress store near you. Pillows and blankets that are down filled give off a country vibe, but they are also accommodating whether you want them to warm you up at night or have a more breathable fabric so you can rest with a cooler body temperature. Add some lavender oil near your bed to help you relax and unwind when you lay down. Candles are another way to create a soft tone to your room. Choose vanilla or lavender scents or if you can, just burn traditional white wax for a more odorless scent.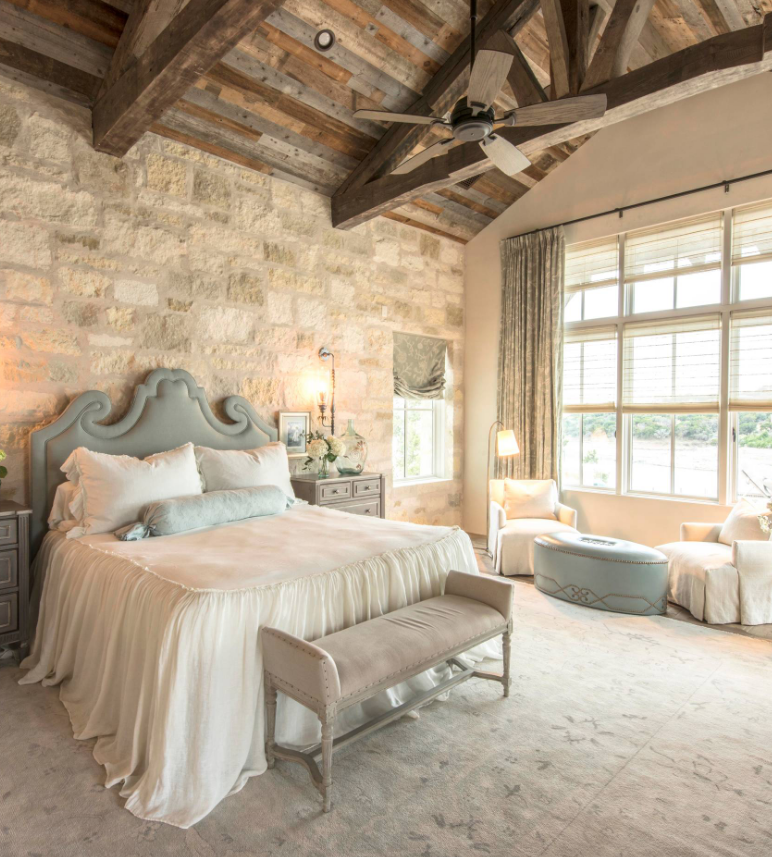 Photo: AE Interiors
Refurbishing Items
After you've painted your room a soft color in either whites or light grays, you can begin to add some of the heavier elements to the room. This starts with the bed. A large antique bed or wooden four-poster bed that is in a light finish is recommended. If the wood is dark or unfinished, consider adding a pale white chalk paint to the surface. This creates a subtle, romantic tone that will carry through the entire space. From there, add dressers, small tables and side tables that are also in a light tone. Accenting with dark pulls gives each piece a contrasting look that will draw attention. Choose used furniture that you can strip and then repaint in a lighter color rather than something that has a veneer finish. Looking for items that you can refurbish will save you money. Light fixtures, upholstered chairs, and couches are items that can be taken apart, redone and used as highlighted farmhouse décor.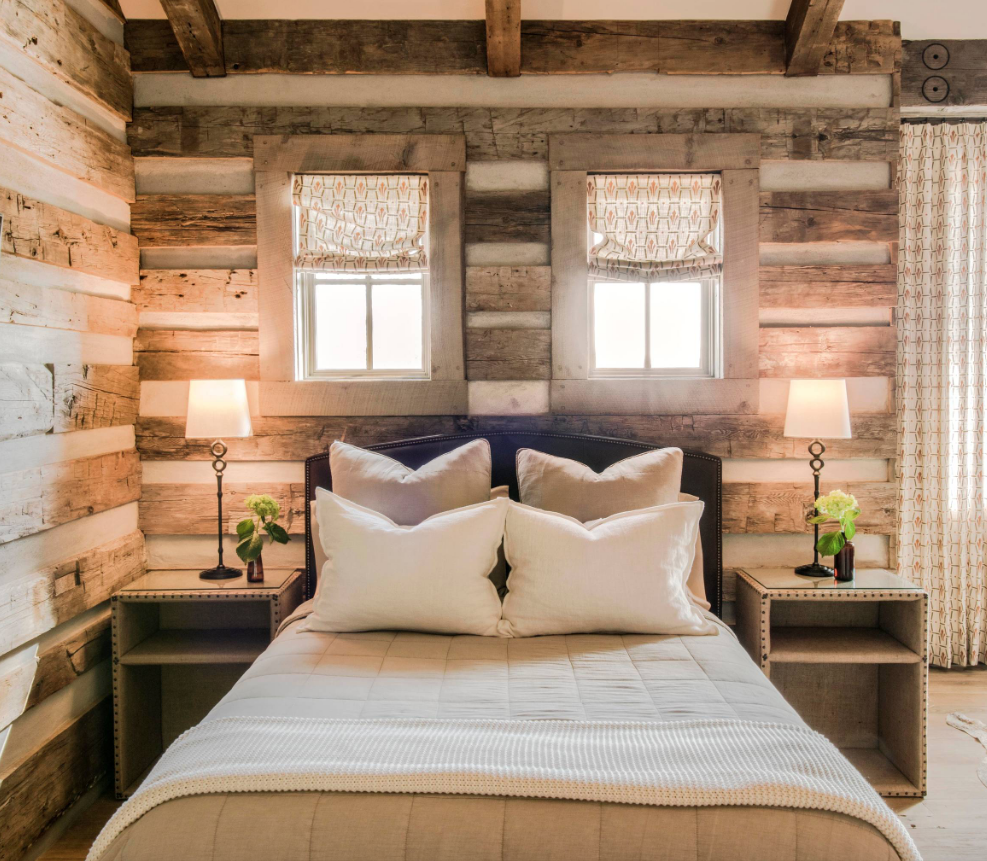 Photo: AE Interiors
Adding Farmhouse Elements
Having specific farmhouse elements in the bedroom creates a country, cozy feel. If the room is a guest room, you'll want to do whatever it takes to make the bedroom comfortable in every way for your guests. Choose drapes that are light in color and accent your windows rather than cover them up. Adding shiplap to the walls also gives it a country vibe. Keep things neutral and off-white so that silver elements will be highlighted. Antique, chippy farmhouse windows can be used to accent walls and provide support for cotton wreaths and dried flowers on display. If your walls are white, create an accent wall with light gray or gray and white stripes to add a sense of farmhouse element to the room. A glass chandelier or an old copper chandelier painted white can add a lot of highlight and dimension to your ceiling. Scour flea markets to add cozy lamps with burlap shades, wicker baskets and tall white wooden lanterns to your decor. This will create a cozy space that you'll love to get lost in.
Photo: The Reclaimed Wood Shop
What to Keep Out of the Room
While there are plenty of things to create the farmhouse element in your bedroom, there are some things you may wish to avoid. To keep on track with the country farmhouse setting, avoid modern electronics. Keep your work desk and television out of the bedroom. Make sure it's a subtle atmosphere, perfect for regaining some peace and quiet. Incorporate your favorite plants to add some fresh, oxygenated air to the room. This is another way to promote a relaxed environment for you. Keep lighting subtle, but add enough efficient light in case you want to read at night.
The farmhouse look is well sought after by designers and weekend DIYers alike. Incorporating what you got by refurbishing wood items and other elements can help you save a lot of money to get expensive looking home décor in lieu of top end high-priced brands.