Devil's Food Reindeer Cupcakes With Peppermint Buttercream Topped With Crushed Candy Canes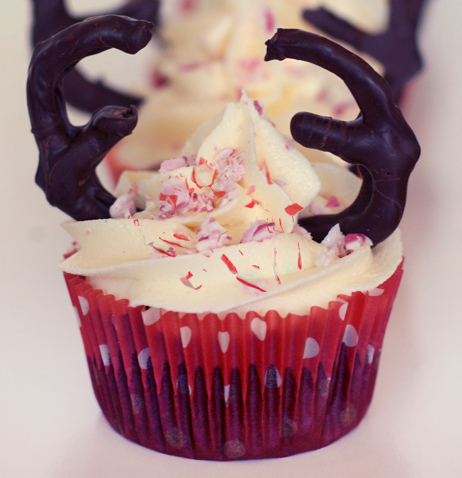 These adorable reindeer cupcakes are a festive must-have for your dessert tray this holiday season!
These reindeer cupcakes are so easy to make, and we're sure your kids would love to help out with making them and eating them of course! You can use a boxed Devil's Food cake mix to save on time, which means the cupcakes will be on the table in no time flat! The reindeer antlers are made from chocolate-covered pretzels, the cupcakes are topped with peppermint buttercream and crushed candy canes.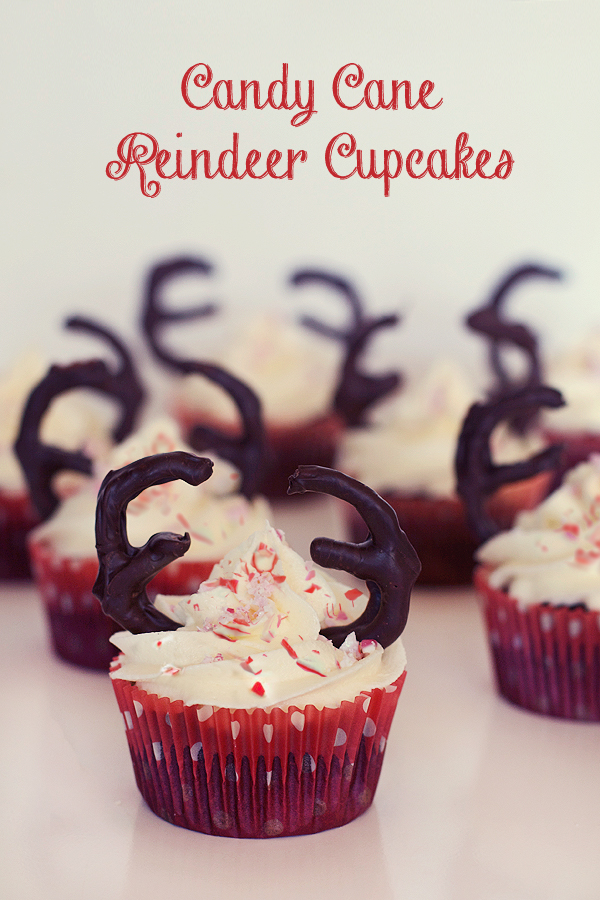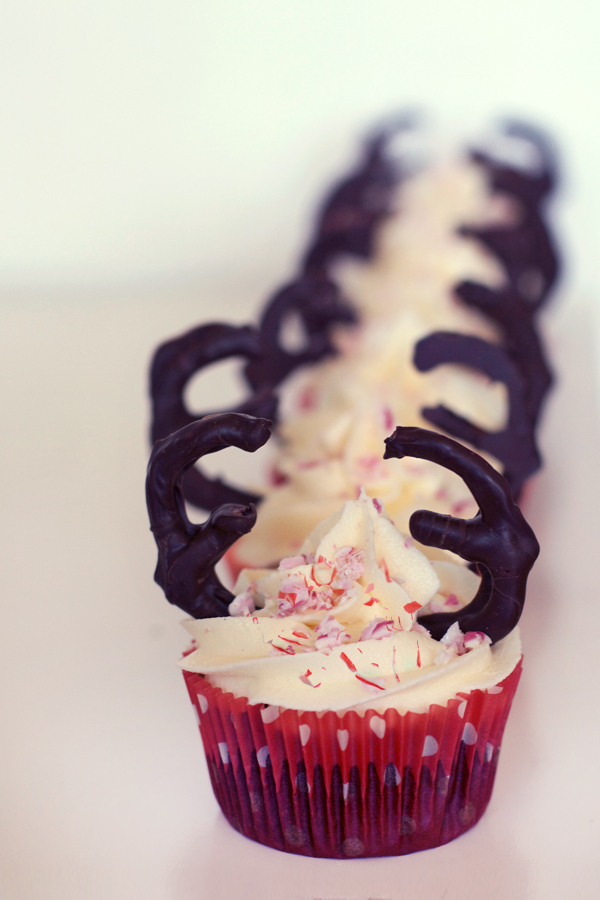 Devil's Food Reindeer Cupcakes With Peppermint Buttercream Topped With Crushed Candy Canes
Serves 18
Delicious cupcakes that will be a hit with the kids this holiday season!
Chocolate Cupcakes Ingredients
7 tbsp cocoa powder
1 tbsp instant coffee powder
½ cup brown sugar
250 ml boiling water
125 g butter (room temperature)
⅔ cup caster sugar
2 tsp vanilla extract
2 eggs (room temperature)
1⅔ cups plain flour
½ tsp baking powder
½ tsp bicarbonate of soda
Peppermint Buttercream Ingredients
160 g butter, softened
4-5 cups icing sugar
1 tsp peppermint extract
a dash of milk if needed
Cupcake Decorations Ingredients
100 g dark chocolate melts
salted pretzels (large)
candy canes
Instructions
Preheat your oven to 180 C and line a 2″x12″ muffin tin with cupcake liners.
Stir cocoa powder, coffee and brown sugar in a bowl. Pour over boiling water and whisk. Set aside.
Cream together butter and sugar until fluffy. Add in vanilla.
Add in eggs one at a time.
Add in flour slowly, along with baking powder.
Pour in coffee/cocoa mixture and mix well.
Spoon mixture into prepared muffin tins and fill approximately ¾ full.
Bake for 18-20 minutes. Cupcakes will spring back when touched when they're finished.
Let the cupcakes cool slightly in the tin before placing them on a wire rack to cool completely.
Place butter in a large bowl and mix until smooth.
Gradually add in icing sugar and mix for 3-5 minutes until smooth.
Add in peppermint extract and a dash of milk. The mixture should be spreadable consistency.
Spoon mixture into icing bag with a nozzle attached (or you can just snip off the corner of the bag) and ice the cupcakes.
Decorations
Melt chocolate in the microwave and stir until smooth.
Dip the broken pretzel pieces into chocolate and allow excess to drip off. Place the pretzels on wax paper so the chocolate can harden.
Crush the candy canes in a plastic bag using a rolling pin.
Stick the pretzels into the cupcakes and sprinkle with crushed candy canes.
Photos: Love Swah.