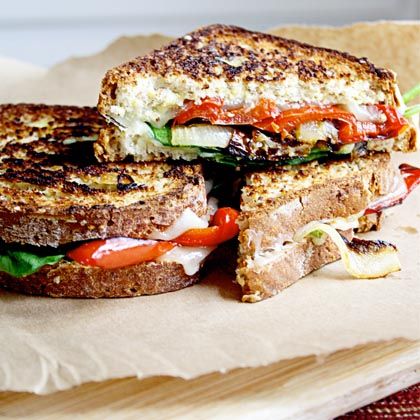 We love to dine al fresco (that means outside), because everything always tastes better when you're enjoying fresh air. Try this veggie-stuffed grilled cheese sandwich at your next outdoor get-together! Make it on the grill for a smokey, rich flavor!
Dining al fresco is when you eat your meal outside. Enjoying the fresh air and sunshine (or under the stars!) always makes food taste way better than when you eat it inside! This simple grilled cheese sandwich is the perfect light food for any outdoor party, or get-together. Melted provolone cheese, bell peppers, onion, and spinach come together in this mouth-watering grilled cheese sandwich. Serve it with a nice, light salad with balsamic vinegar dressing to complete the meal.
Veggie Stuffed Grilled Cheese Sandwich
2014-06-28 15:05:32
This delicious, vegetarian-friendly sandwich is perfect for your next al fresco get-together! Make it in a pan, or make it on the grill for a smokey flavor!
Ingredients
1 red bell pepper
1/2 yellow onion
1/2 tsp olive oil
4 slices bread, thickly sliced
butter, softened
8 slices provolone cheese
1 cup baby spinach
Instructions
Slice pepper and onion into thin slices. Heat oil over medium heat in a saute pan. Saute until soft, about 5 minutes and set aside.
Spread butter on one side of every slice of bread.
Place 4 slices of bread (butter side down) on a large skillet (or over the grill) over medium heat. Place a slice of cheese on each slice of bread and top it with the sautéed bell pepper and onion. Top with spinach and another slice of cheese and another slice of buttered bread (butter side up).
Flip the sandwiches over and grill for 2 minutes more or until bread is golden. Remove and serve.
Better HouseKeeper https://betterhousekeeper.com/
Photos: First Slice, Spoonful.