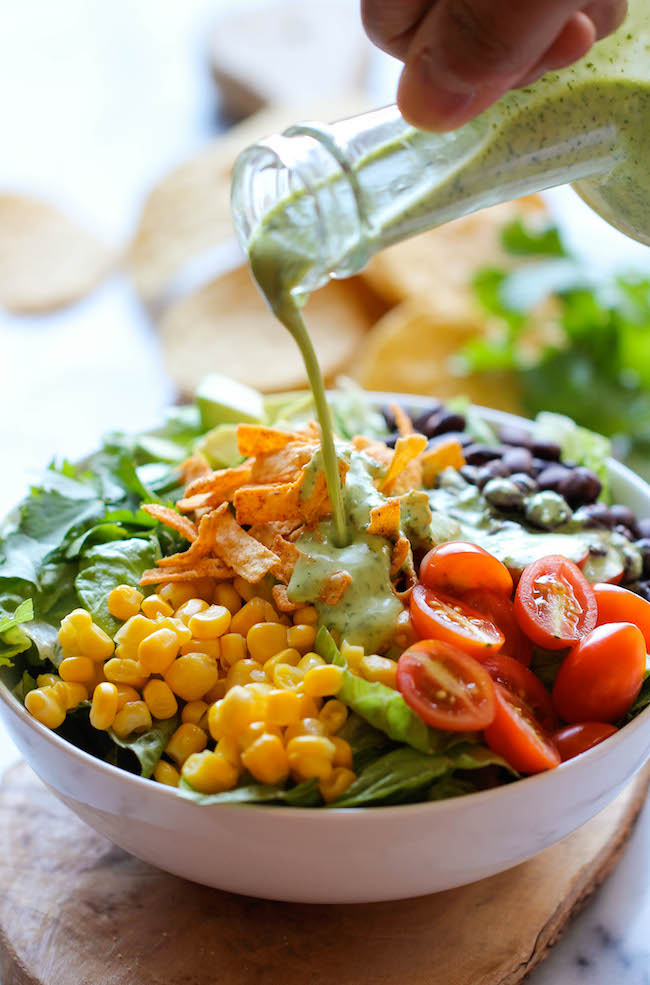 This tasty southwestern salad has become a new summer favorite of ours! Quick to make, this salad makes a great healthy lunch on weekdays, or a last-minute side for a BBQ! Keep reading for the recipe!
Salads are great for summer – they're light, healthy, and easy to put together, as they require no cooking! So, take a break from the stove with this tasty salad! In this Tex-Mex southwestern salad, we used corn, beans, cilantro, avocado, tomatoes, and romaine lettuce. Garnished with tortilla strips, and drizzled with a cilantro-lime dressing, this salad is fresh and light, perfect for the summer heat.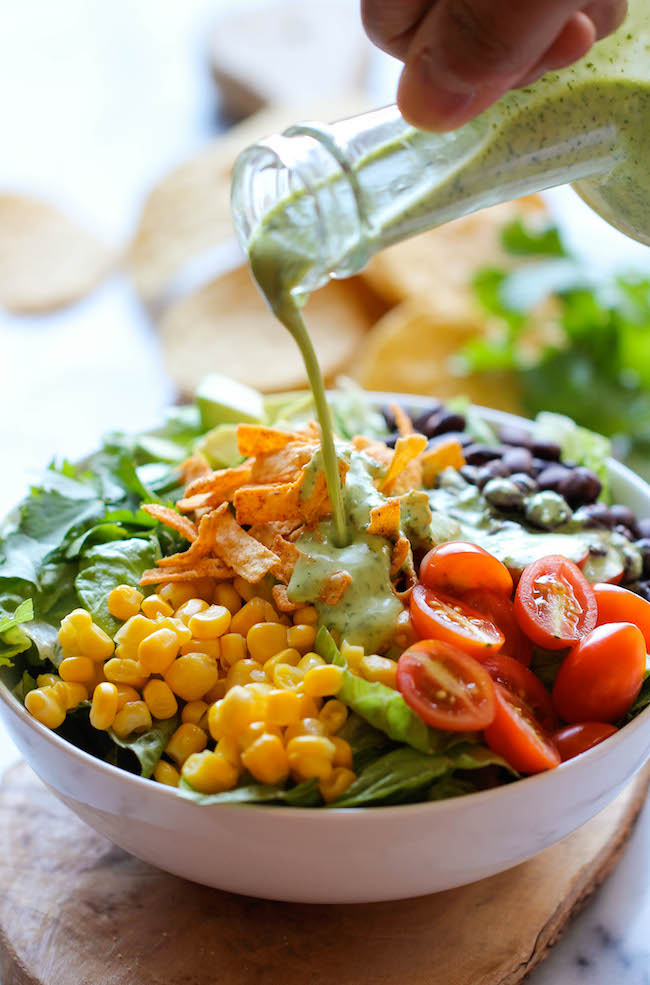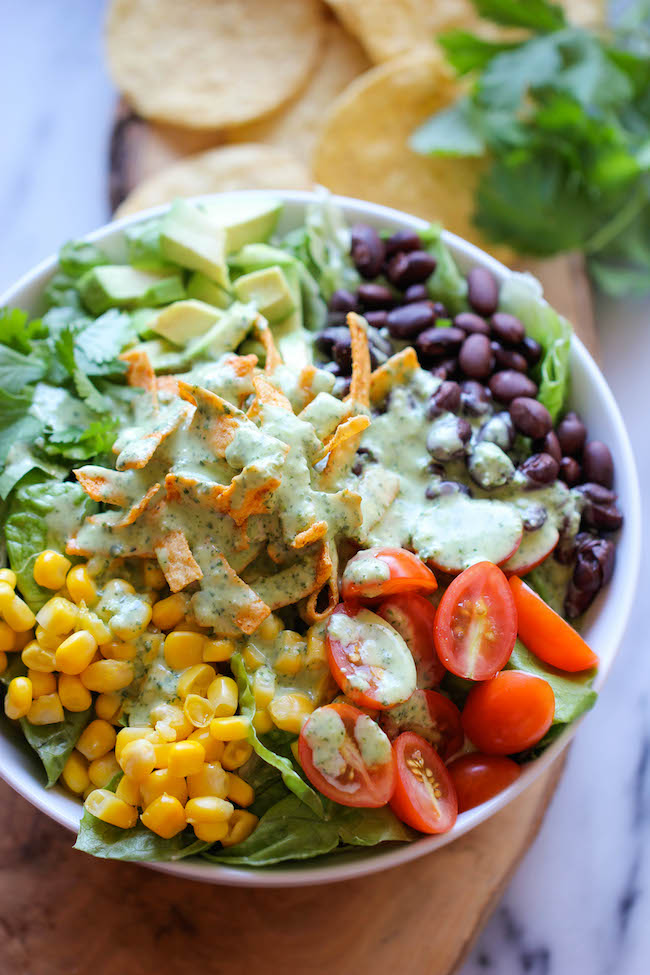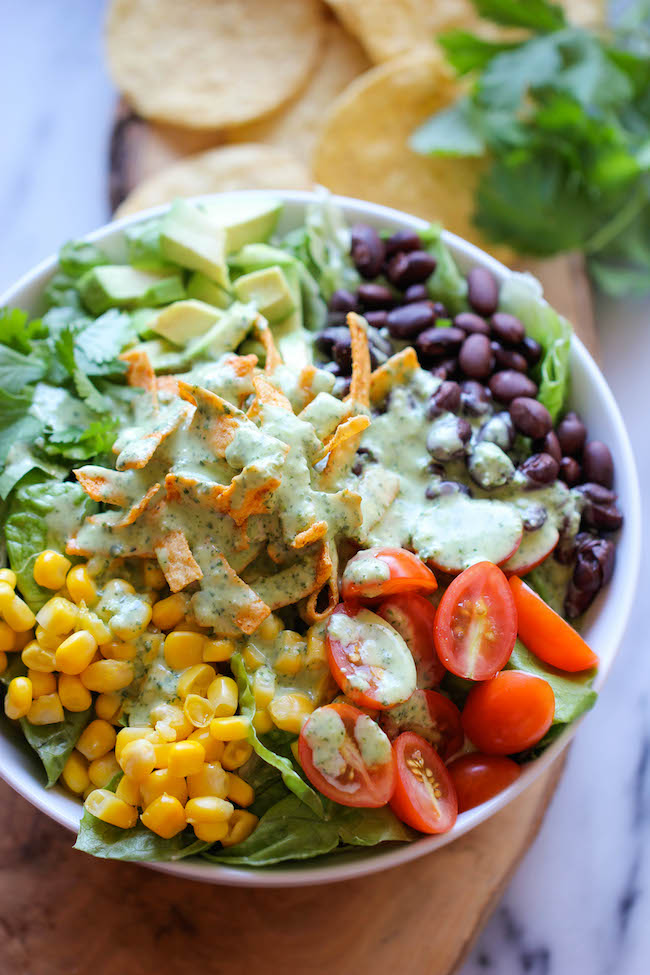 Tex-Mex Southwestern Salad With Cilantro Lime Dressing
2014-06-09 13:10:35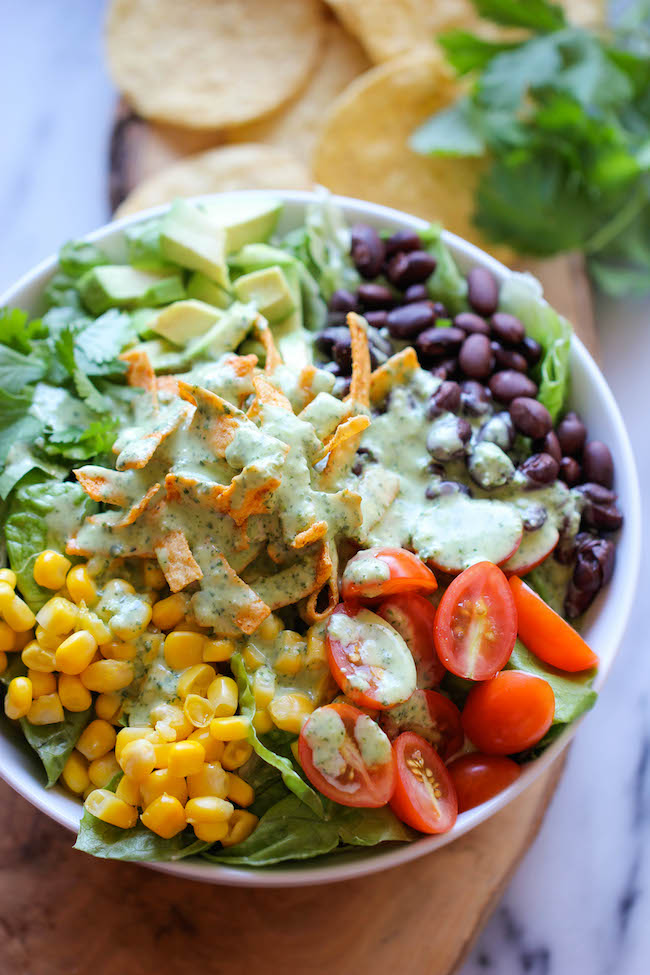 A healthy salad with beans, corn, tomatoes, tortilla strips, and avocados. The dressing is made of cilantro, Greek yogurt, lime, and olive oil. Protein packed, this salad is sure to get the stamp of approval from everyone!
For the salad
5 cups romaine lettuce (chopped)
1/2 cup cherry tomatoes (cut in half)
1/2 cup canned corn kernels (drained)
1/2 cup canned black beans (drained and rinsed)
2 tbsp fresh cilantro leaves (chopped)
1 avocado (halved, seeded, peeled and diced)
1/2 cup tortilla strips
For the dressing
1 cup cilantro (stems removed)
1/2 cup plain Greek yogurt
2 garlic cloves
juice of 1 lime
pinch of salt
1/4 cup olive oil
2 tbsp apple cider vinegar
Instructions
For the dressing, combine cilantro, yogurt, garlic, lime juice and salt in a food processor. Blend well, then add olive oil and vinegar and blend again until smooth.
Place romaine lettuce in a bowl and top with tomatoes, black beans, corn, and cilantro.
Pour dressing on top of the salad and toss gently. Add in avocado and stir.
Serve immediately and garnish with the tortilla strips.
Better HouseKeeper https://betterhousekeeper.com/
Photos: Damn Delicious.