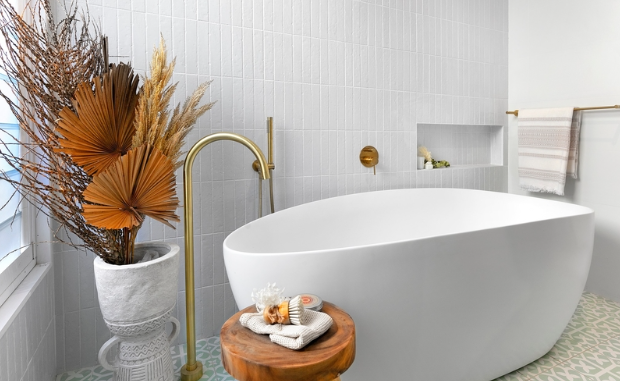 Soaking in a bathtub filled with warm water, salts and essential oils and surrounded by candles is certainly one of the best ways to unwind and relax!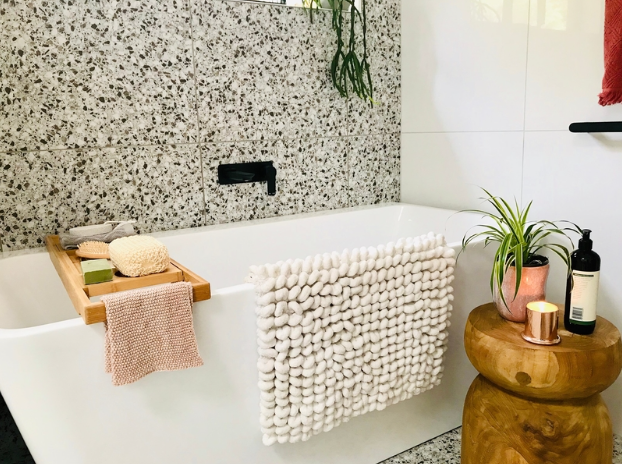 So, if you're designing or remodelling your dream bathroom, a bathtub is an addition you may be looking forward to. In the search for the ideal bathtub for your bathroom, you'll encounter a variety of options. Between hot tubs, built-in tubs, corner tubs and freestanding tubs, it can be difficult to choose the right type to complement your design aesthetic and personal preferences. If you're looking for a practical and innovative approach to give your bathroom the flair and breathing room it needs, baths freestanding models are the way to go. 
Available in many different colours and designs, a freestanding bathtub can surely make your bathroom look unique. Here are some of the reasons why this bathtub style can be the right choice for your space. 
Style, Material and Colour Diversity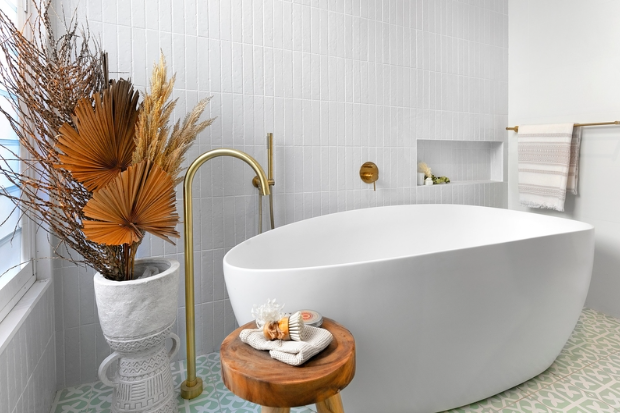 One of the greatest things about this bathtub type is the diversity of styles available. From classic clawfoot to modern rectangular and oval designs, this variety of baths freestanding styles available means you can find just the right one to fit your bathroom decor. 
Freestanding bathtubs also come in different materials to suit different needs. Common materials used in freestanding bathtubs include granite, porcelain, marble, copper and stone resin. Not only each material has its pros and cons, but it can also change the overall feel of the tub, providing you with more diversity in what you find right for their bathroom.
When it comes to colour, most bathtubs are traditionally offered in basic white, which provides a clean look that pairs well with almost any colour scheme. Freestanding bathtubs, on the other hand, come in a wide range of hues, with black, grey, and white being the most common. White bathtubs pair well with bright colours like blue, yellow, and green, while darker tones pair well with grey and black bathtubs, allowing you to adjust the ambience and tone of your bathroom.
Adds a Unique Touch to Your Bathroom
Most of the bathtubs found in homes are built-in. While different built-in tub alternatives are available, nothing beats the originality of a freestanding one. The first thing your guests will notice when they enter your bathroom is your freestanding bathtub. That is because these bathtubs don't usually appear to match the rest of the bathroom and don't hide in a corner or in an alcove. In other words, they're a bold statement.
Greater Flexibility
With a freestanding bathtub, you're offered the freedom to place it wherever you choose. Due to the numerous placement choices, you're allowed to create a bathroom that meets your specific needs without the constraints of an alcove bath, for example. Because freestanding baths don't need to be installed near walls, you can even place yours at the centre of your bathroom, as a centrepiece.
Adds a Sense of Extra Space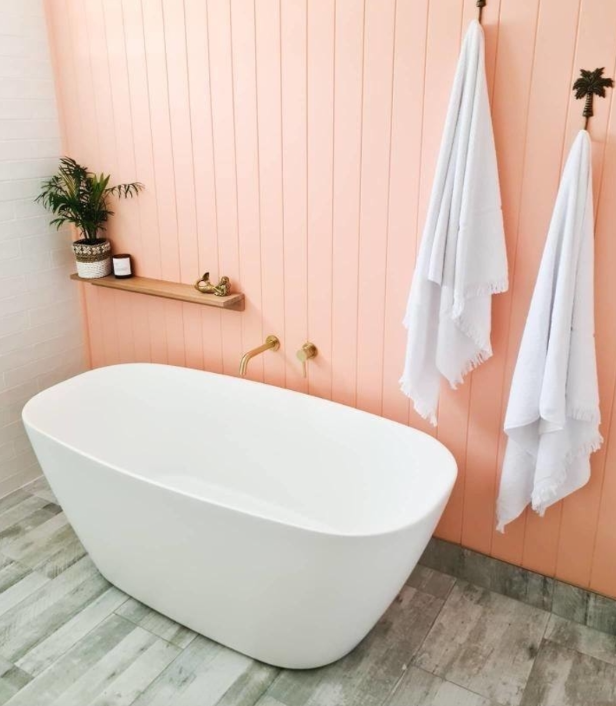 Many will ask: "Are freestanding baths good for small bathrooms?" Although standard freestanding baths need more space in a bathroom, a compact model can actually help make a small bathroom appear larger. The ample space surrounding and beneath this type of bathtub gives the impression of extra room — and, depending on the size and placement, genuine space. 
Unlike alcove tubs, which require a square fit, freestanding bathtubs are oval in shape, allowing for little furnishings around the borders. You may also use open shelves and racks to hang your towels because they don't take up any wall space.
Affordable Options Are Available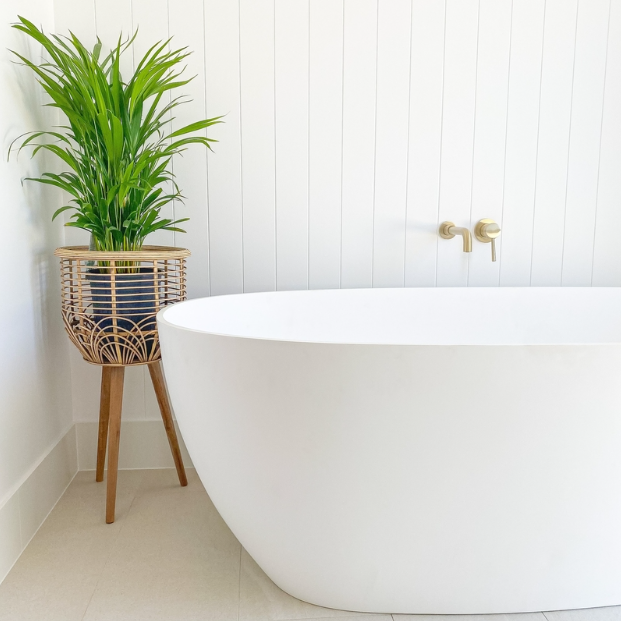 Freestanding bathtubs are often thought to be more costly than other bathtubs on the market. However, freestanding bathtubs have gotten significantly more affordable in recent years due to increased manufacturing efficiency. This means you can get a freestanding bathtub that imitates the look and feel of more costly materials like a genuine stone for a fraction of the price. 
Furthermore, unlike other bathtub models, a freestanding bathtub may be positioned anywhere in your bathroom without any damage to tiles or other surrounding features or a lot of drilling. And this, in turn, helps to minimise the overall installation cost.
How to Choose the Right Freestanding Tub for Your Bathroom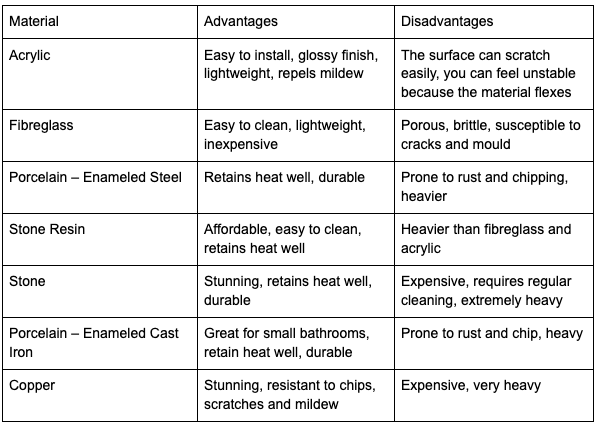 Material
As mentioned, freestanding bathtubs come in different materials, each with its pros and cons. Getting familiar with each one will help you narrow down your choices. 
Size
Traditional freestanding bathtubs are 170cm long and 81 cm wide with a soaking depth of 38 cm. Japanese freestanding tubs have an average depth of 88cm. You should also keep in mind that experts recommend leaving 10cm of space around the perimeter of the tub for easy access. Although the typical length of these tubs is 170 cm, you can also find models ranging between 88cm and 203 cm. Freestanding bathtub widths can also range between 50cm to 150cm, with 81 being the most common. 
One feature of these tubs that attracts many is their extra depth, which can range from 35 to 63 cm with 38cm being the most common. Compared to standard tubs, freestanding tubs offer 30cm of soaking depth. If you're all about deep soaking, a Japanese tub, with its 88cm deep may be the right option for you.
Installation and Placement
Unlike drop-in tubs that require a carved out recess in order to be placed, a freestanding tub doesn't call for any special requirement. This allows for greater creativity in making your bathroom one-of-a-kind. To create a unique aesthetic and add brightness to your bathroom, situate your tub near a large window or near a huge painting or live plants.
When it comes to installation, it's a simple and basic procedure. Because these tubs are one single piece that can stand on their own, you can simply lift it and set it where you need it. However, you must check that the plumbing is in line with the bathtub. When installing really heavy tubs, keep in mind that you may want assistance.
Do I need to tile behind freestanding tub? While it is not required to tile around a standalone tub, you will need to protect the wall from water damage if the tub is against a wall. For that, there are more options than tile including wainscot, glass brick, and mildew-resistant paint.