How Painting Companies Paint the Exterior of your Home?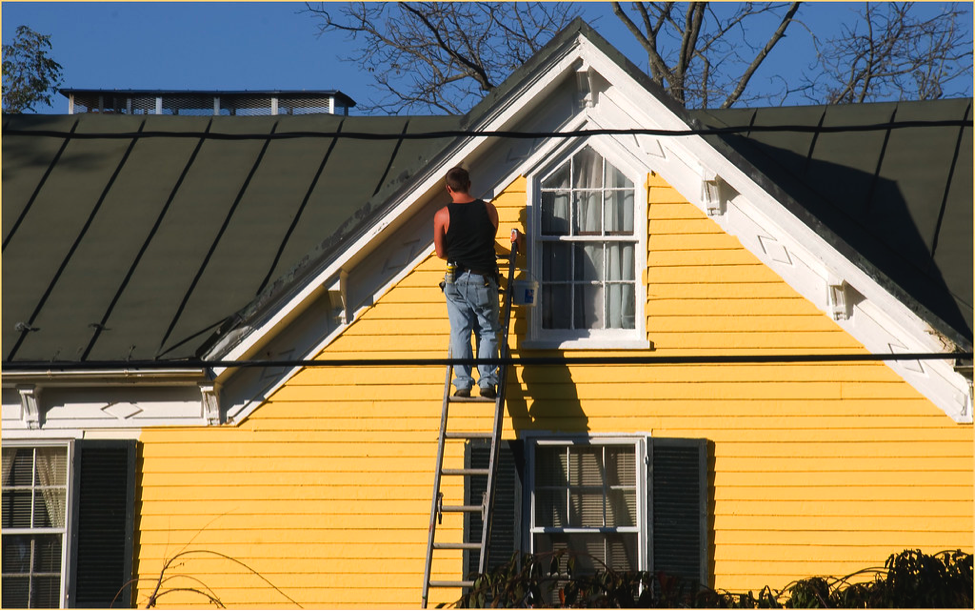 Painting is one of the best ways to renovate your house and improve its captivating charm!
It is most likely to benefit you by increasing the value of the house, its appeal, and your overall satisfaction, making you feel comfortable. Depending upon the necessities, you can paint the interiors, exteriors, or both to enhance the house's appearance.
There are many contractors and companies dedicated to providing great painting-related services. For instance, A perfect finish painting ensures top-notch quality in exterior painting using various equipment, so you do not have to worry about materials, details, and so on. Check out this guide to know the steps most companies take in the process of painting.
Materials used by painting companies to paint your house
All the companies have the materials required for painting, and you do not have to concern yourself with buying tools and paints. Tools such as a pressure washer, measuring tape, protective sheets of cloth and plastic, sanding blocks, painter's tape, and masking tape are used to prepare the space to be painted. On the other hand, putty knives, plastic wood, epoxy filler, caulk and heat gun, ladders, are used for fixing the minor repairs.
While painting, the painter uses a paint spraying machine, paint rollers, roller covers, roller extension poles, paint brushes, primer paint, trim paint, paint sheen, etc., to paint the previously prepared surface. Employing a contractor is better than painting the exteriors yourself, especially if you are a novice. This is because the painting costs for all these tools and materials may be very high unless you know specifically what to buy.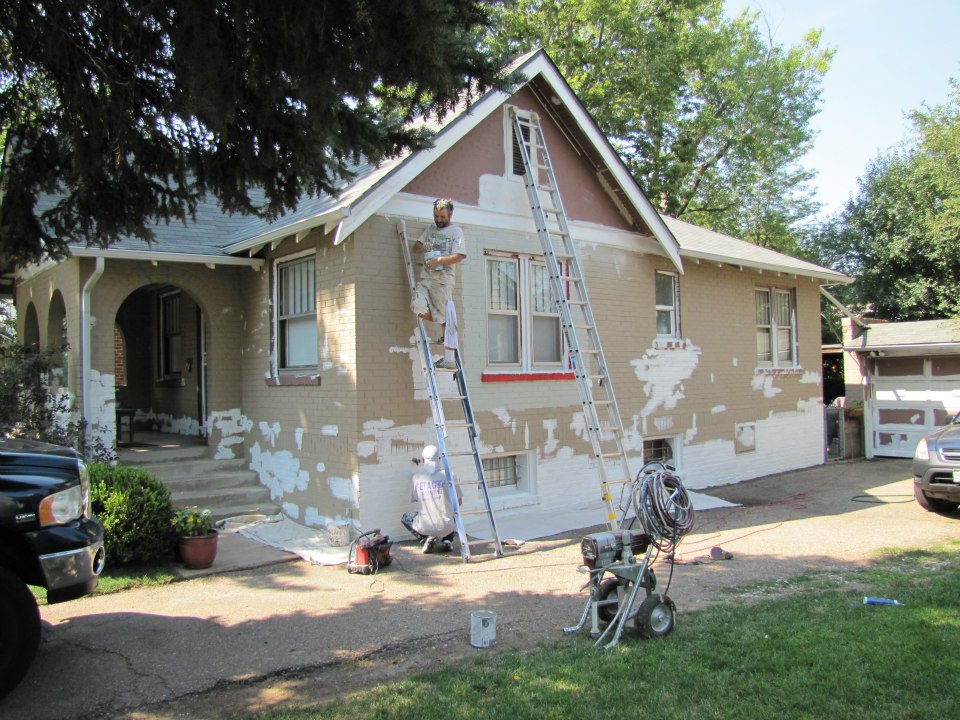 Steps incorporated in the process of painting exteriors
A reliable constructor ensures that the exterior painting process is completed quickly with quality results. The entire process is supervised with minute details to ensure the longevity of painted surfaces. The following steps and followed by most workers while painting the exteriors of a house.
Thorough inspection of the area
Generally, the first step in painting the exteriors is inspecting the surface to be painted. Next, the constructors examine every nook of your house to look for holes and cracks to be repaired, nails and other things to be removed from the walls, etc. In addition, they also take a good measurement of the area to be painted using measuring devices like laser measures and tape measures. Finally, the different paint colors for windows, sidings, walls, etc., are confirmed with you once again.
Preparing the area

All the items residing on the surface of your exterior to be painted are removed. For example, items such as railings, patio plants, chairs, vents, etc., are removed from the surface. Suppose your house was built before the 1970s, the constructor tests for lead paints. 
If the lead paint is found, it is removed from the surface using tools such as HEPA vacuums, masks, and protective suits. The waste materials are disposed of safely according to EPA standards and regulations at a site for hazardous materials.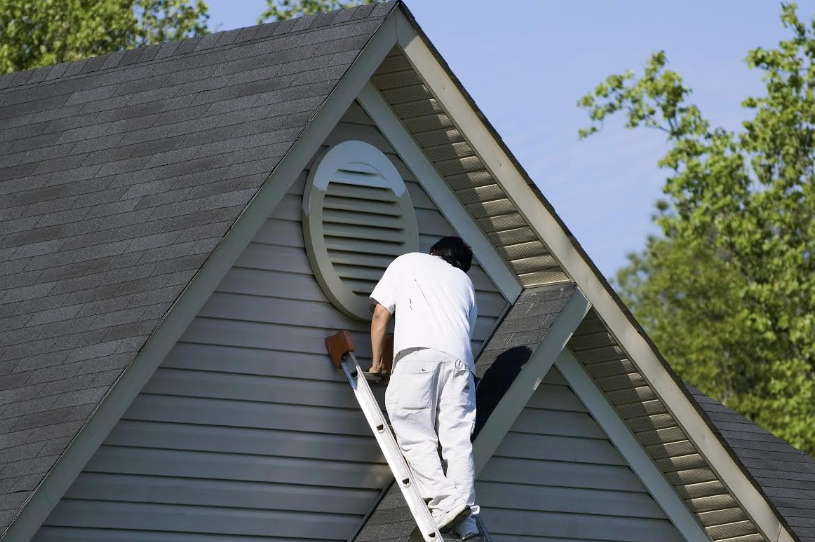 Scraping and sanding
Walls are sanded for old paints, chipped and peeling paints, uneven surfaces, rough spots, and other imperfections. The surface area is also scraped for flaky paint, rusted surfaces on window sills, siding, etc. 
This is done to ensure that the surface is smooth and flat enough to be painted. In addition, the surface area is power washed to remove residual dust, dirt, cobwebs, molds, mildews, etc., using cleaning solutions and tools such as bleach and water solution, putty knives, scrapers, hot air guns, etc. Finally, the washed surface is dried before proceeding with the next step to avoid further moisture buildup on the walls.
Covering the obstructions
The washed and dried surface area is covered using drop clothes made of either plastic or canvas. Window panes, door trims, railings, lights, pipes, surveillance cameras, wood decks, mailboxes, etc., are covered using masking tape and protective sheets. Some objects are difficult to remove from the area, such as door frames, vents, railings, etc. These objects can be covered using drop cloths to prevent the paint from splashing on them.
Repairing the wall marks and spots
Once the nearby surface areas of your house are covered properly, the painters fix imperfections on the walls to be painted. Nail holes, cracks in sidings, chipped door frames, and dents on walls are filled using putty knives, caulking guns, etc. 
In addition, the damaged wooden decks, metal sidings, door frames, fascia boards, stucco trims, and so on are replaced by most constructors if there is no way to restore them. Once the putty is dry, the area is sanded lightly to smoothen the surface area.
Applying base paint  
Most contractors apply primer on the walls and surfaces using paint sprayers before painting with a topcoat. Applying base paint or primer before the topcoat results in a flawless outcome. The topcoat sticks better to the surface, giving a better outlook. In addition, primer removes stains on your exterior walls for consistent color. Generally, the contractors use paints previously mixed with primers to save time and ensure efficient results.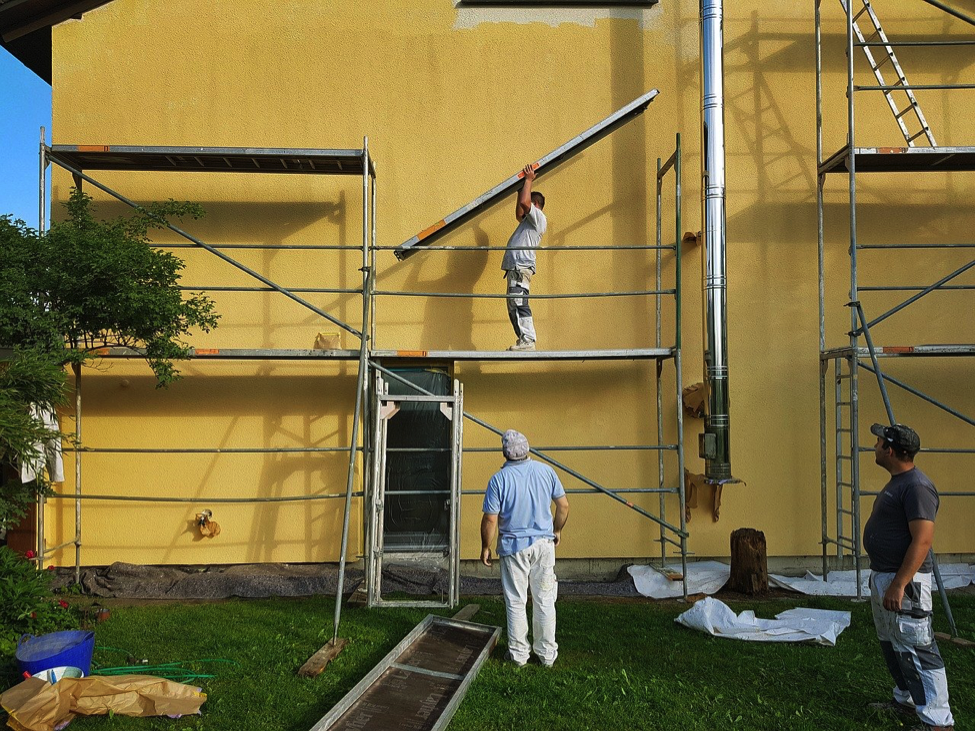 Applying topcoat
Once the primer is applied to your exterior surfaces, the topcoat is applied using suitable exterior paints and tools. Different types of paints are used for different surfaces such as wood decks, metal railings, vinyl sidings, eavestroughs, etc. 
Generally, latex paints and latex primers are used in painting, but sometimes old based primers and paints are used for longevity. Once all the walls are coated with suitable paint, the masking tape and sheets are removed from the door frames, window sills, etc., to paint these surfaces.
Conclusion
Painting exteriors is a difficult job and should be taken seriously. Be for appointing a particular company to paint your exteriors; it is advised to clear any doubts regarding the price range, cost, and other details. 
In addition, decide carefully when to paint your house with the contractor as most of the time, bad weather conditions can affect the quality of the painting. Furthermore, once the process is done, take extra care not to disturb the painted surface until it's completely dry.