A Comprehensive Guide to Natural Stone Paving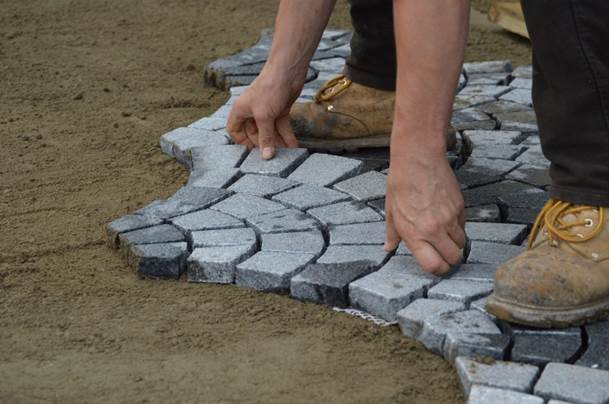 Have you recently decided to transform the look of your patio or driveway? Read this first!
If still looking for paving material, natural stone is unquestionably the best option in the market. It not only provides a timeless look and a stylish finish but also provides homeowners with durability, low maintenance, and sustainability. It stands the test of time by looking even more charming over the years. In comparison to concrete, this paving material is much kinder to the environment. Its elegant appearance is maintained easily, without investing plenty of effort. We hope the following guide answers every question you have about natural stone paving.
What is it?
Natural stone paving stands for a type of outdoor paving used for driveways, patios, and pavements. The materials used in the formation of these pavers aren't manufactured in a plant, like in the case of concrete, but mined at quarries. Such paving slabs consist of various natural stone types, such as marble, granite, sandstone, slate, and limestone. Check out the origin, occurrence, uses, and physical properties of granite.
Once the process of mining is completed, the material is cut to the right shape with the use of special technology. Blocks of natural stone are created in the course of the rock cycle owing to the combination of intense pressure and heat from the core of the earth. These rocks can be ingenious, metamorphic, or sedimentary, corresponding to the different stages of the rock cycle. Usually, the stronger rocks are used in the creation of these pavers.
For instance, granite is a highly preferred choice because of its hard-wearing nature and remarkable integral density and strength. These features contribute to its low maintenance. In contrast, limestone is largely used by paving professionals, as it comes in a range of unique colors. Sandstone, on the other hand, is not only good for patios but also for pavements and back gardens.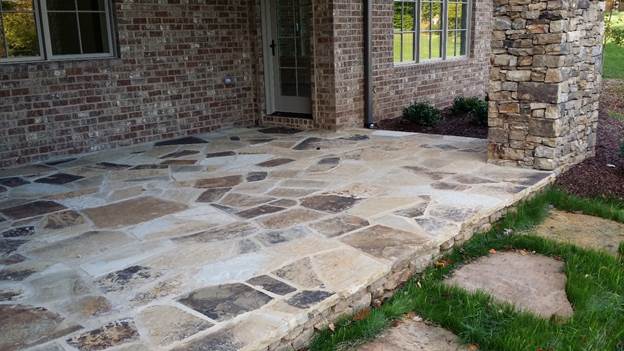 Uses
Due to its high resistance to wear and tear, natural stone paving has a myriad of uses. Its ability to withstand heavy loads makes it suitable for walking on, playing sports, and running. Many homeowners also prefer it as a material for their driveways. It can be used around swimming pools as well, because of its anti-slip properties.
Some pavers are naturally anti-skid, such as slate. Sandstone and limestone, however, come with a thermal finishing, which makes their surface anti-slip and rugged. Consequently, a large number of homeowners opt for natural stone paving around their pools in order to prevent slip and fall accidents when stepping out of the pool. Some homeowners decide to use it for creating mosaic walkways or outdoor fireplaces.
How is it Laid?
As far as the laying of natural stone paving is concerned, homeowners are advised to trust this task in the hands of experienced installers. There are numerous suppliers and installers of natural stone paving, such as https://www.drivewaysbydesign.ie/natural-stone-paving/, offering a vast range of paving options. These professionals start the projects with a planning phase by calculating the number of pavers needed based on the square footage. They always include additional slabs for taking care of the odd spaces and curves.
Furthermore, professional contractors make sure the area is adequately slopped to enable proper drainage and impede puddling. Afterwards, they mark the designated area and excavate it as a preparation step for laying the base material. In general, a base material of four to six inches depth is enough for an area intended for normal foot traffic. The base used by installers consists of coarse gravel, which should be tampered in order to be level. It should be then followed by sand bedding with a thickness of at least 1.5 inches.
Once the base and sand bedding are installed, professionals start installing the slabs. It's normal for some sand to come up in the course of compacting but it can be distributed back with the help of a brush. After laying all the slabs, installers spray them with water before using a sealant. Sealing is absolutely necessary to prevent water from corroding the material.
Maintenance
As previously mentioned, natural stone paving is a favorite of many homeowners because of its low-maintenance character. It requires little time and effort on the part of individuals. You can clean your driveway or patio as often as you like without worrying about scratching the slabs. In case you spot a stain, you can use a hose to eliminate it.
Additionally, such a form of pressure washing is also recommended for the removal of moss, mildew, and mold. Homeowners are also suggested to use a neutral cleaner for the removal of soil left behind by mopping and dusting.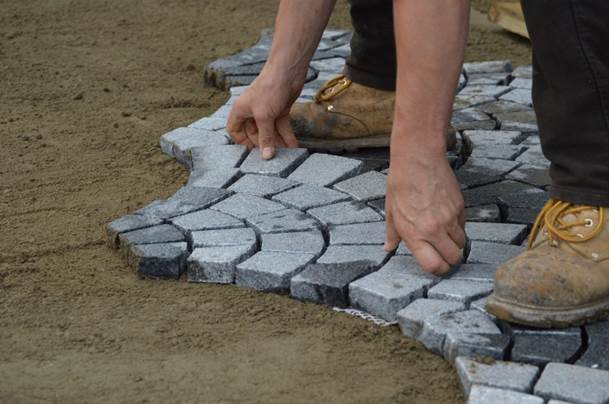 Benefits
The benefits of natural stone paving are innumerable when compared to concrete. These pavers provide timeless elegance, as each piece is unique for its color and texture. You can opt for beige sandstone or dark granite, depending on the feeling you wish to add to your patio, back garden, and overall landscape. In addition, natural stone pavers aren't likely to develop cracks. Even if they do, these slabs can be repaired or replaced easily. Due to the small sand joints, the chances for seed germination are close to none.
Natural stone has an incredibly long lifespan, of as many as a hundred years. Most importantly, it ages beautifully, as colors don't get pigmented like in the case of concrete. The beauty of the slabs is preserved regardless of how much they mature, fade, or age. In terms of style, individuals are offered a wide array of choices. As a result, you won't have problems finding the right material for your landscaping project. Natural stones come in various shapes as well, including diamonds, rectangles, triangles, etc. This paving material is sustainable, eco-friendly, and recyclable. Stone resources are copious, as the process of their regeneration is endless.
A Final Note
Your yard deserves to have an elegant and timeless look.
Natural stone is by far the most amazing choice of paving material!