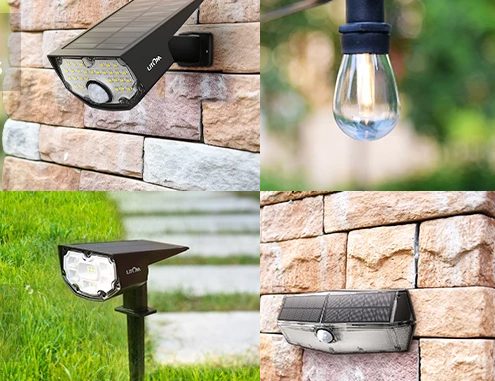 Make your outdoor space brighter with Litom's powerful solar lights. Keep reading to find out why you should consider switching to solar!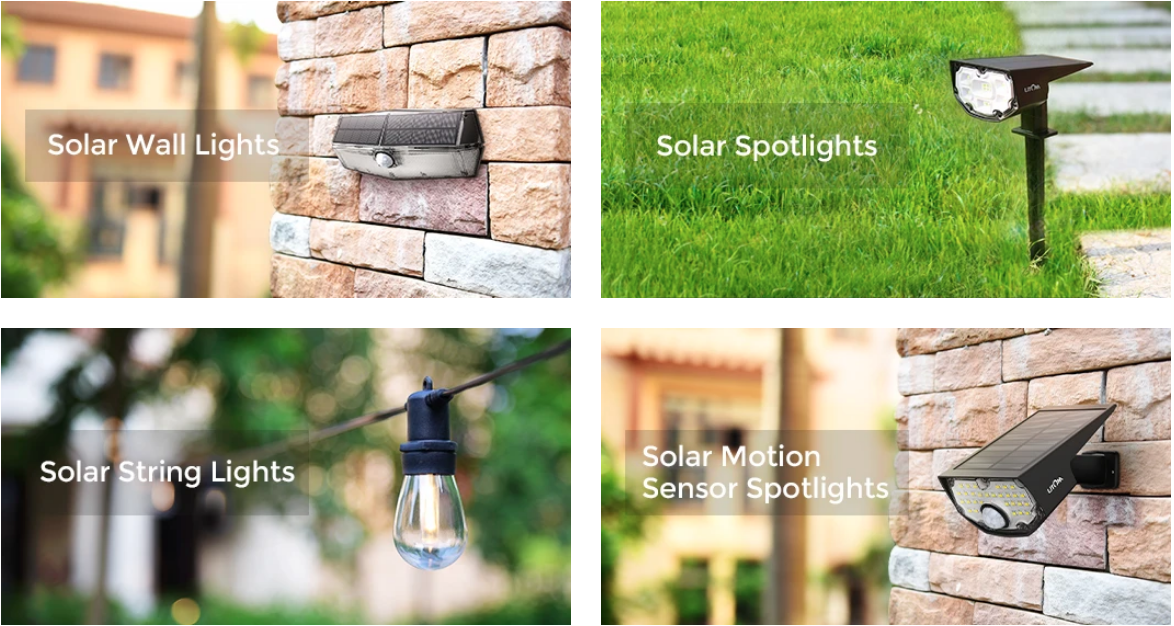 We are always on the look out for new and emerging brands in the home décor niche, and Litom definitely took us by surprise with their selection of stunning and high quality outdoor solar lights. Litom was founded in 2013, and it's main company focus is to use innovation, great design, and high tech products to provide the best lighting experience for their customers. From solar powered led lights, to solar motion sensor outdoor lights, landscape lights, and even solar spotlights, Litom definitely has everything you need to light up your outdoor space.
Lighting up the exterior of your home is just as important as the lighting you use indoors. You would be surprised at what a huge difference good outdoor lighting can do for your home. Not only does it make your home look bigger and more dramatic at night, but it is also a smart way to increase the security of your home. You can use solar lights to light up all the dark corners and areas of your home and yard, giving you peace of mind and making it easier for you to see outside if an intruder is lurking around your home.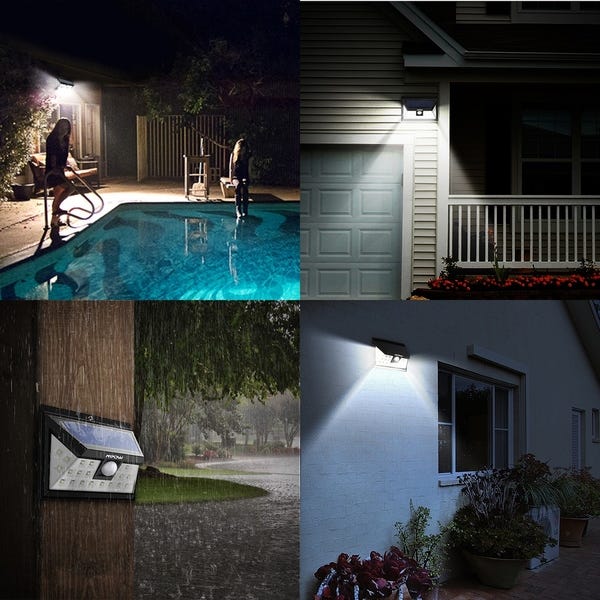 You should consider installing solar motion lights in spaces that you frequently walk during the night like a side entrance to your home, or a walkway to the garage. This will make walking around your home at night easier and safer for you and your family, especially in the winter months when nightfall could be as early as 4 PM.
If you have spent a great deal of money and effort to enhance your front lawn's landscaping, make it stand out even at nighttime with solar spotlights. These lights put your beautiful shrubs and flowers into focus even at nighttime. Not only is it great for showing off your landscaping, but it's also great for putting a spotlight on a house number engraved in rock for example on your front lawn. Get creative and you would be surprised at what a difference you can make with the use of solar lighting and especially spotlights.
Solar Spotlight Pro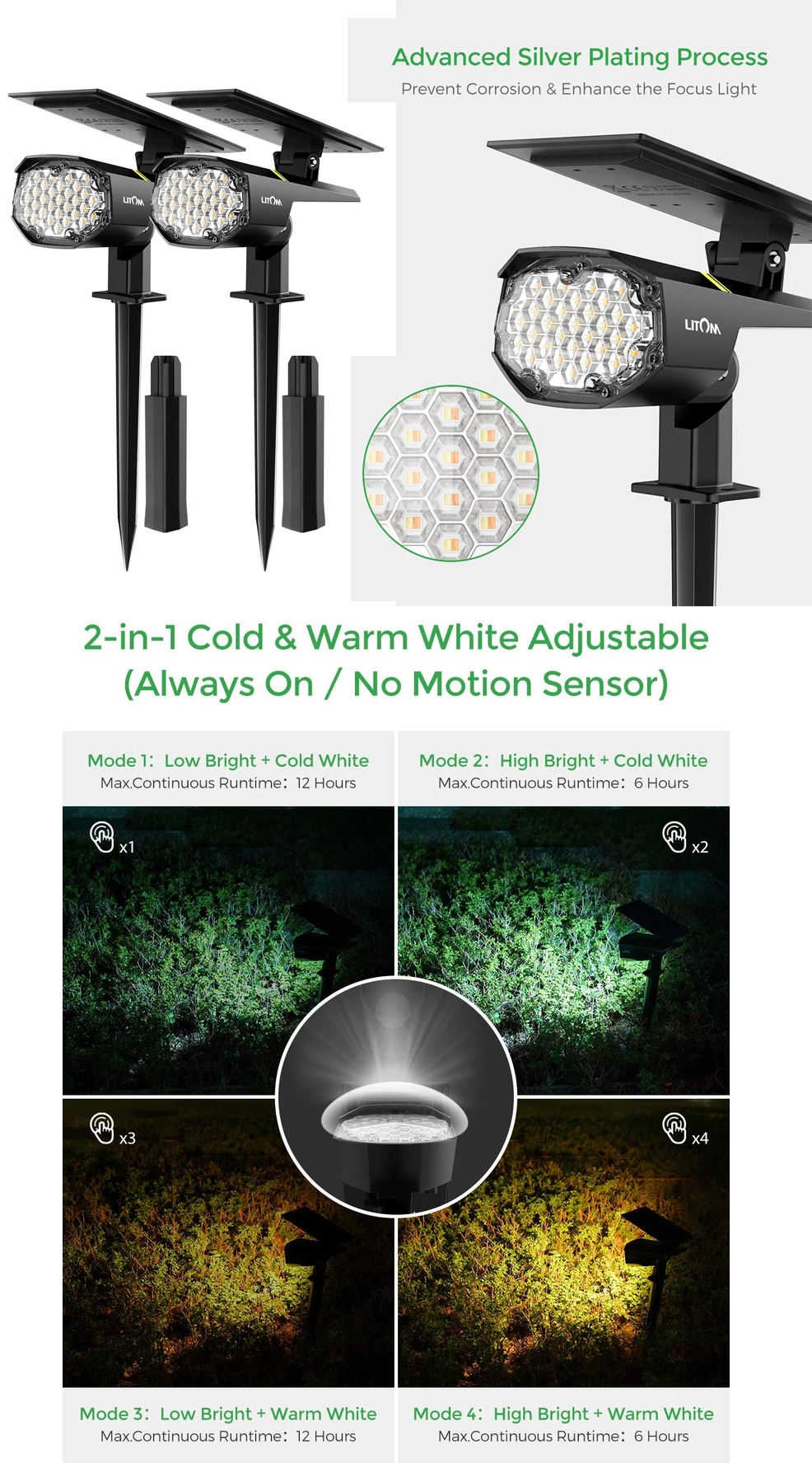 Litom's waterproof solar spotlight pro has a 115 degree adjustable light head and a 45 degree adjustable solar panel, which makes it easy to direct the spotlight wherever you need, and maximize solar absorption with the best angle. It comes with an extension arm, which enables it to extend to a total hight of 46cm which is great if you would like to place it between high shrubs or tall decorative plants. The solar spotlights are extremely bright and have 30 unique led silver lights that increase brightness and also prevent dust from entering. It can light up to 172 square feet to meet all of your lighting needs! If you are a fan of cool light or warm light, the Litom solar spotlight has two settings one of cooler lighting and one for warmer lighting that can be easily switched. The solar spotlights are perfect to stick into the ground with stakes or mount onto your walls where needed (screws included). Perfect for your patio, porch, path, deck, pool, yard, garden, and driveway!
Outdoor Wall Mounted Solar Light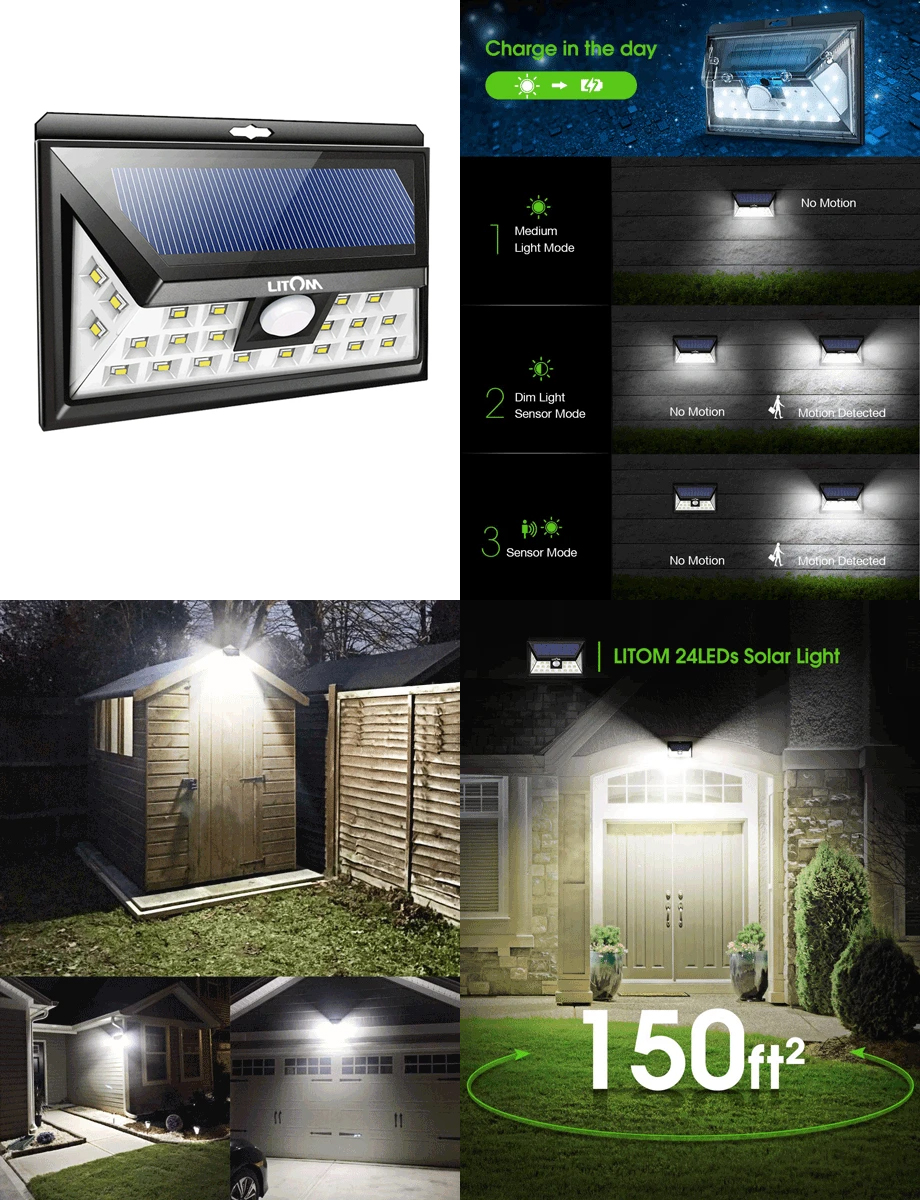 The outdoor wall mounted solar light by Litom is the perfect high efficiency solar light for your front door, pathway, porch, and more! This solar light comes with an indicator light and motion sensor. When there is not enough solar energy, the light turns on to remind you. It has multiple modes like high light mode, medium light mode, and dim light sensor mode. These modes are perfect for when the weather is cloudy and there is not enough light to power your solar lamps, you can switch it to a dimmer mode for longer use. The solar lights are designed with two pieces of monocrystalline solar panels, which shows a huge improvement rate in charging faster during daytime and saving much more energy for night use. This lamp is super easy to install because it comes with pre-drilled mounting holes, and mounting tapes for easy measuring and drilling.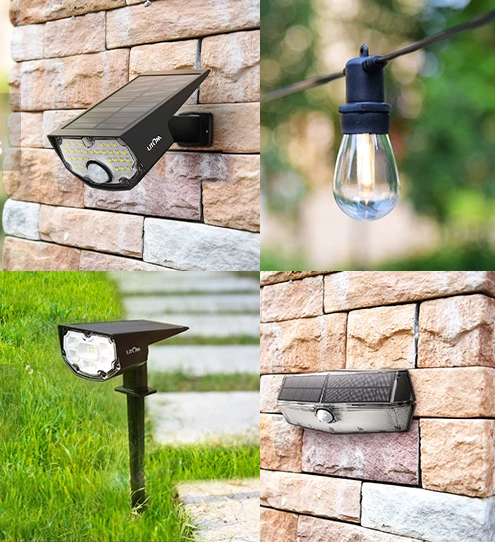 What I love about installing solar lamps around my home is the fact that they will eventually pay for themselves! Once you have installed the solar lamps, it's just a matter of months that the cost of the solar lights and the amount of electricity you saved will be outweighed. In the long run, you will be saving tons on electricity costs and can enjoy the benefits of having your front yard, walkway, and backyard lit up basically for free. It's also a great step toward making your home eco friendly and doing your part to have a cleaner, healthier planet.
So what are you waiting for? To order your solar lamps and start saving money on electricity today, visit Litom.com.
We would love to hear your thoughts and experiences in the comments!