3 Gnocchi Recipes that will Help you Welcome Spring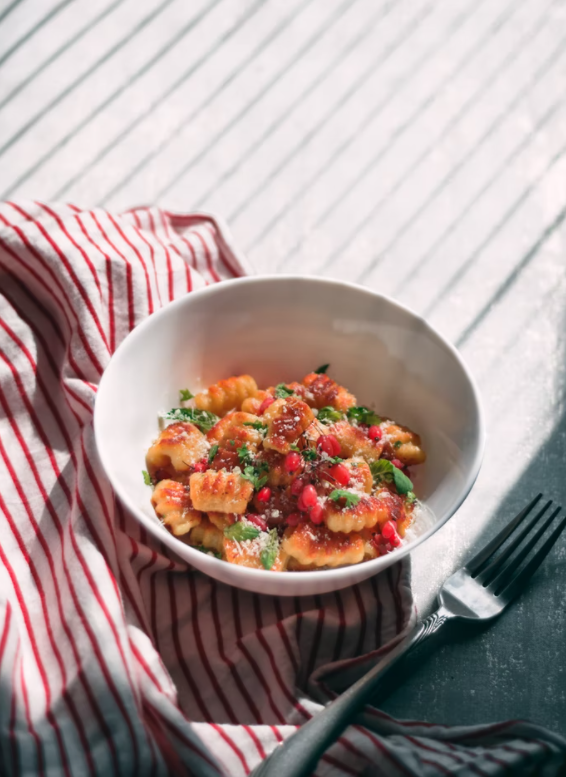 Welcome spring with these delicious gnocchi recipes!
The sun is shining again (well, sort of). Birds are singing. And everyone's suddenly in a great mood. It can only mean one thing — spring is here!
As the season gets underway, many of us are looking to incorporate more fresh vegetables into our diets, and one of the best ways to do that is with a veggie-packed gnocchi recipe. While gnocchi are widely considered to be a pasta dish, these soft dough dumplings are usually made of potato, flour and eggs, as Italian food connoisseurs Pasta Evangelists explain. What's not to like?
If you're like us and you want to welcome springtime with open arms, we've collected a few of our favourite seasonal gnocchi recipes. Before you start anything though, you should know how to nail our star ingredient: Gnocchi should be boiled for around 2-3 minutes in generously salted water. Once gnocchi is cooked, it will float to the top of the water.
So, now that you're fully ready to go, here are our top three dishes for you to try.
1. Spring Vegetable Gnocchi
There's nothing fresher than a bunch of green vegetables, and this recipe has plenty of them. The fried gnocchi, however, is the focal point of the dish, fully complemented by the crunchy vegetables that will fill your mouth with a good dose of springtime. Since this recipe is quite simple, we recommend splashing out on good quality Parmigiano Reggiano, but bog-standard parmesan will also do the trick.
Ingredients
500g fresh gnocchi
1 large courgette, sliced
1 baby leek, sliced
200g asparagus, trimmed and cut into 3cm pieces
200g peas
250g chicken or vegetable stock
Zest of one lemon, and juice of half
40g unsalted butter
8 sage leaves
Parmesan
Method
In a large pan over high heat, add half of the butter and the courgette and fry for two minutes.
Add the leeks, asparagus, peas and a little salt, frying for another 4-5 minutes until the vegetables are tender. Tip out of the pan and set aside.
Return the pan to high heat and add the rest of the butter, gnocchi and sage. Stir for about three  minutes, then pour in the stock.
Let it bubble for a minute, then add the vegetables back into the pan.
Take off the heat and add the zest and cheese. Toss everything together to combine.
Serve immediately with some black pepper, grated parmesan on top and lemon juice squeezed over.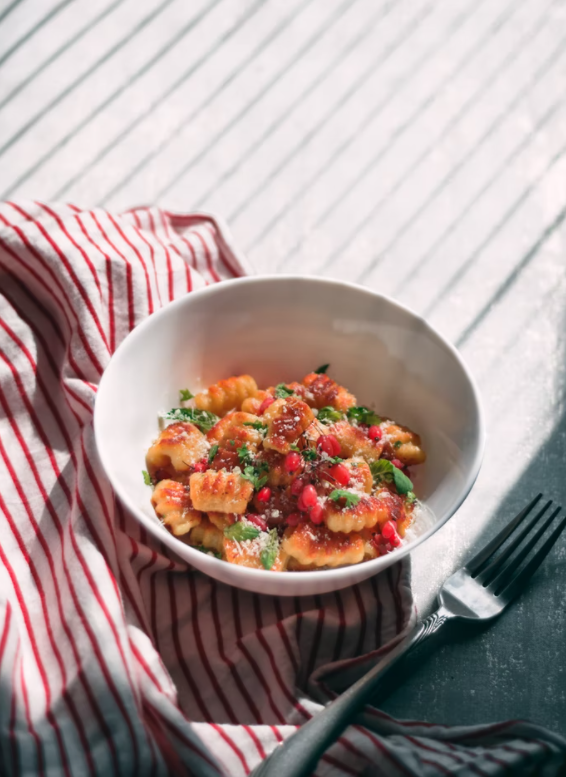 2. Tomato and artichoke gnocchi
These tangy Mediterranean flavours might not necessarily be the most authentic Italian version of a gnocchi dish, but they're definitely delicious and undeniably more-ish. The Greek-inspired recipe relies on the protein of chickpeas together with the sharpness of artichokes and kalamata olives to provide a well-rounded, balanced and delectable plate that will throw you right to the coast.
Ingredients
450g gnocchi
1 small onion, sliced
1 small red bell pepper, diced
4 large cloves garlic, thinly sliced
1 tin chickpeas, rinsed
250g frozen artichoke hearts, thawed and chopped
1 tin chopped tomatoes
8 pitted kalamata olives, sliced
A handful of fresh oregano, chopped
2 tbsp extra virgin olive oil
1 tbsp red wine vinegar
Pepper to taste
Method
In a large skillet over medium-high heat, add 1 tbsp olive oil. When hot, fry the gnocchi, stirring often, until plumped and starting to brown, about five minutes. Tip out of the pan and cover.
Reduce the heat to medium and add the remaining oil. Cook the onion until starting to brown, 2-3 minutes, stirring occasionally.
Add the bell pepper and cook for a further three minutes until tender yet crisp.
Incorporate the garlic and oregano and let them get fragrant, about 30 seconds.
Pour in the tomatoes, chickpeas and artichokes and stir for around three minutes, until hot.
Combine with the olives, vinegar, pepper and gnocchi.
Garnish with oregano and serve hot.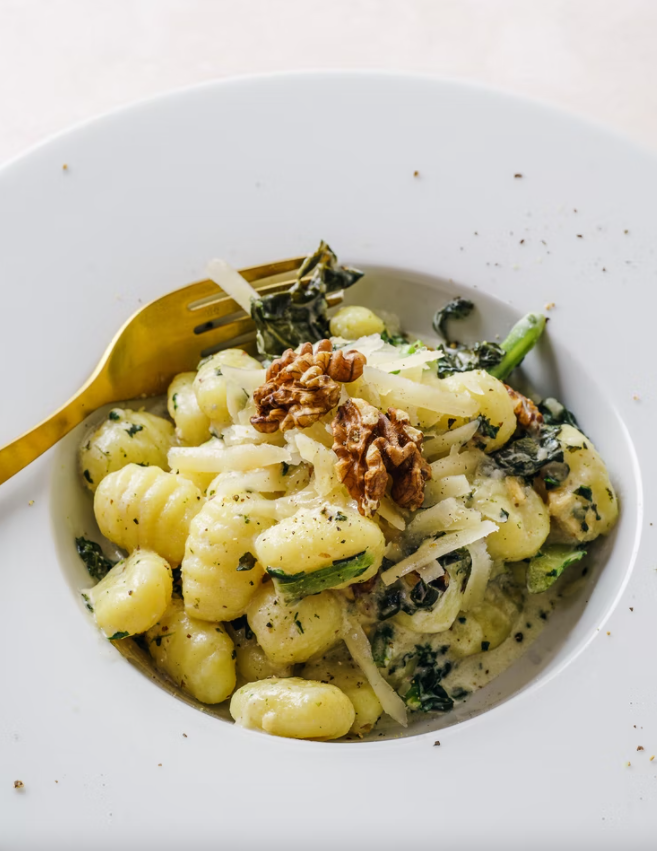 3. Pesto and sugar snap gnocchi
Crunchy and creamy at the same time, this recipe is the perfect midway option for the beginning of spring; when it's still not warm enough to give up the comforts of fatty foods but too sunny to avoid fresh green vegetables. The pesto acts as a herby addition that really pumps this dish full of flavour. If you have a little bit more time on your hands, try making your pesto from scratch — it's actually very simple and will elevate this quick meal immensely.
Ingredients
500g gnocchi
2 bunches asparagus, trimmed and cut into pieces
300g sugar snap peas, halved lengthways
300ml cream
130g basil pesto
Method
While cooking the gnocchi in a large saucepan full of boiling salted water over high heat, add the asparagus and peas. Drain well when gnocchi is ready.
Meanwhile, heat the cream in a large frying pan over high heat, bringing to the boil. Let cook for two minutes until the cream thickens.
Add half of the pesto and stir to combine, then remove from heat.
Incorporate the gnocchi mixture and gently toss until evenly coated.
Serve with a drizzle of the remaining pesto.