Tips and Tricks for Proper Upholstery Fabric Cleaning and Maintenance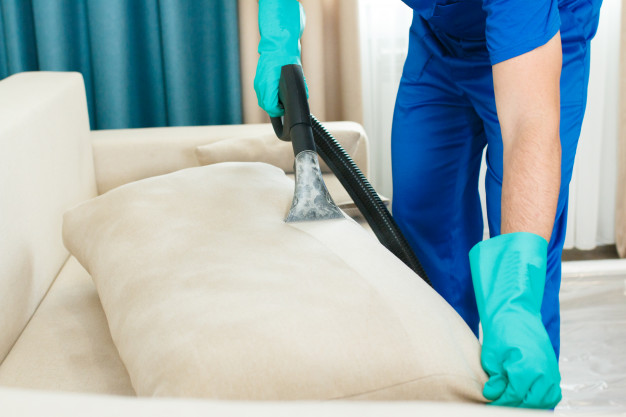 Don't let stubborn stains ruin your style. Use this guide to master fabric upholstery care!
A sofa can last you a decade or longer. However, the occasional takeaway can tarnish its perfect look. So let's not talk about the mess children and pets bring. With a large family of boisterous children and fluffy pets, fabric upholstery care is painful. Unfortunately, couch stains and pet hairs are an inevitable part of life. 
But does that mean you let the stains win? Of course not! Read this article to discover invaluable tips to keep your furniture clean and fresh. 
Maintaining Furniture Upholstery 
Upholstered furniture requires varying levels of maintenance depending on the fabric. Without proper care, your furniture will not last. If you are from Australia, particularly from Perth or nearby locations, you can without a doubt rely on professional services for couch cleaning in Perth. You can avail yourself of services from multiple vendors who specialise in couch, upholstery cleaning, maintenance.
Pro-tip: One tip that applies to all fabrics is to keep your furniture away from direct sunlight. It helps to avoid damage and fading. 
Exposing the upholstery to the sun will make it lose its natural qualities. Moreover, heat from radiators or fireplaces can cause the material to dry. You need to find a cozy, cool spot for your sofa. This area should be away from direct sunlight and other heat sources. It will help to save your upholstery in the long run. If you're looking for something comfortable yet contemporary, a fabric sofa is perfect for you. Some materials lack durability. However, the right approach and maintenance can keep it in peak condition like leather. 
When it comes to leather, be wary of dyed fabric or clothes. The color is likely to transfer onto the leather, especially the lighter colors. A leather couch is comparatively easy to clean than a material like velvet which is trickier to work with. Here's what you can do with leather upholstery: 
Vacuum frequently to get rid of loose dust. 

Use a soft cloth to wipe it. 

Treat it with a leather conditioner every few months. 

Wipe any accidental spills immediately.
On the other hand, velvet sofas require meticulous care. First, you have to preserve its natural sheen. Then, you can use a clothes brush or a specialist velvet brush. This method will help to develop an antiqued 'crushed' appearance. This guide highlights different ways to maintain your upholstery, so continue reading to find out more.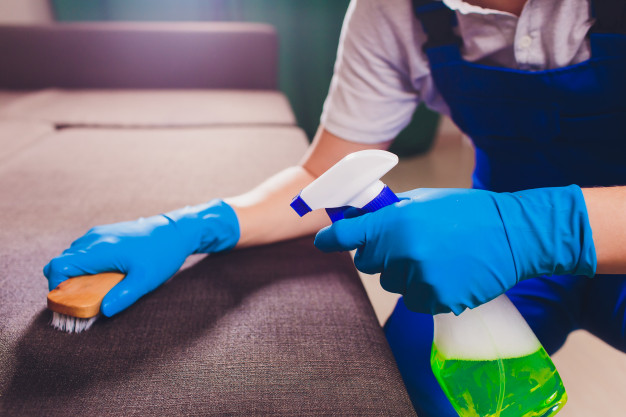 Clean the Fabric Regularly
It's better to wash it regularly to ensure that your couch is always in excellent condition. The fibers in the upholstery collect dirt particles and hide them below surface level. Here's how you can keep them dust and dirt-free. 
1. Vacuum to the Rescue
Vacuuming your sofa's upholstery will suck all the loose dust out. Use a soft brush to prevent scratching or marking the material. For delicate materials like velvet, this step is critical.
2. A Damp Cloth for a Quick Clean 
Dirt and grime are no stranger to Australia's Mediterranean climate, especially in Perth. So, while you're giving your sofa a quick wipe, use a moist towel to clean away any grime. However, it's best to use a cleaning product once or twice a month. It'll provide a deeper cleanse. 
3. Let Nature Do Its Thing 
Leave your sofa to dry naturally after cleaning. This will discourage creases from developing. In summer, open up the windows and doors for smooth airflow and speed up the drying process.
Tackling Loose Sofa Covers
Many sofa upholstery comes with loose, removable covers. These covers need to be taken off separately and cleaned. You get to clean your upholstery thoroughly. Some fabric can be machine washed too. Just check the label to confirm. 

A Little Plumping
A regular cleaning regime isn't enough. You should also clean the cushions on your sofa. Plumping allows it to keep its natural shape. You'll get the optimal level of comfort with this process. 
All you have to do is plump your cushioning after long hours of use. This can be done at the end of each day too. It's an essential task if your sofa is filled with feathers, fibers, or both. These materials aren't as resilient as foam. 
Pro-Tip: You can do the same with your scatter cushions. Why should your sofas get all your attention? 
Dealing with Spills 
Even the most careful person falls victim to a nasty spill. There's a golden rule for this mishap. All you have to do is act quickly. A fast turnaround can make all the difference. Otherwise, the stain will seep into your upholstery. Nobody wants that!
Remove as much liquid as possible. Don't let it soak into the fibers of your sofa fabric. Instead, grab a dry cloth and blot the liquid. Then, use a fresh material to dab at any marks that have appeared. Don't panic if you don't get to the spill in time. There are other ways of cleaning the stain off your upholstery. First, use one of the popular stain removers in the market. Many Australian companies particularly in big cities like- Sydney, Melbourne, Brisbane and Perth have developed unique stain removal products which are readily available.
Washing Fabric Upholstery 
Parents and pet owners encounter the most trouble with furniture. How can they not? They're dealing with hyperactive beings. Spills and dirt are a part of their everyday life. Moreover, spills and stains are a common phenomenon in Perth's suburban areas like Highgate, Ashfield, Mayland among several other areas.
Pets bring a whole set of cleaning and maintaining challenges. Keeping a house clean with a shedding dog is a nightmare! Felines aren't any better either. In such cases, washing the upholstery fabric is ideal. However, you cannot wash all fabrics in machines. So make sure you check the labels. Here's what they say: 
 "W" means that you can use water-based agents only. It's best to brush and vacuum the fabric while dry. 

"S" means that you can use mild solvents and dry-cleaning products. It can be water-free. 

"WS" means you can go either way. You can use either solvent and upholstery shampoo or a mild water-based detergent. 

"X" means the fabric requires delicate care. For example, the upholstery should be vacuumed or professionally cleaned.  
Final Thoughts 
Fluffing the pillows and vacuuming the covers can go a long way. But, keeping your furniture as good as new requires more effort. But, some people manage to keep their furniture clean with ease. If you are having any trouble, you can always rely on professional couch and upholstery cleaning services available in Perth, Ascot, Como, Rivervale, and nearby locations.