Design Considerations When Getting a New TV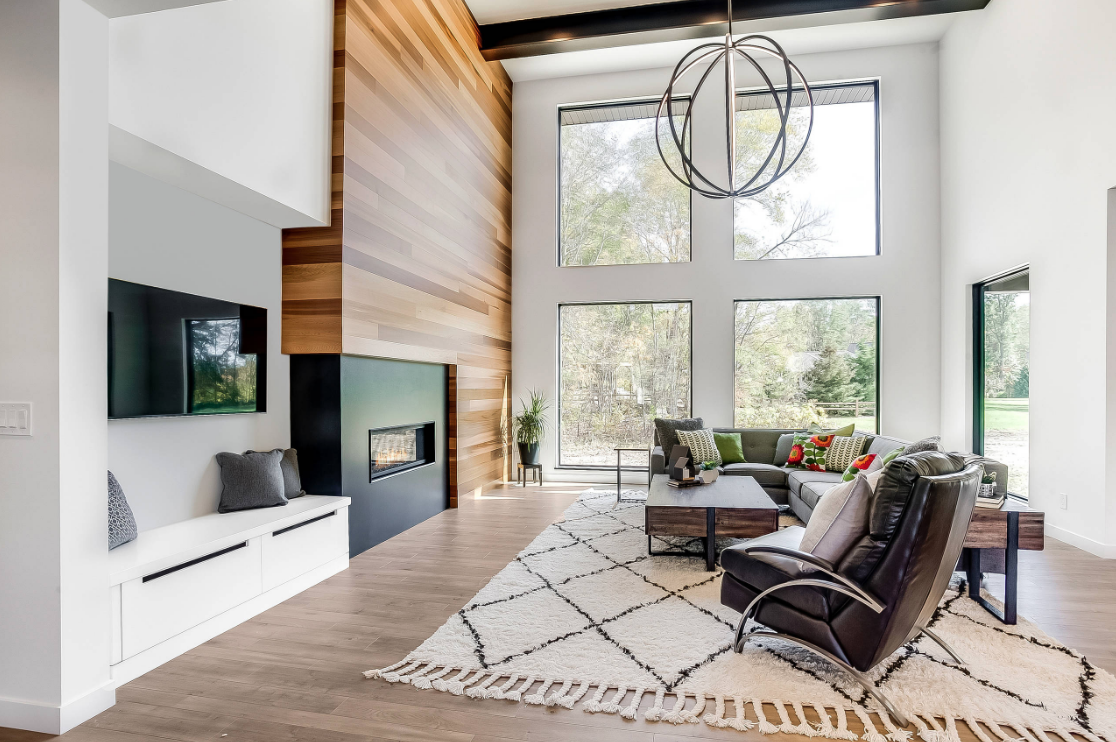 A new TV, especially a television that's going to be one of the centerpieces of your living room, is a major design choice!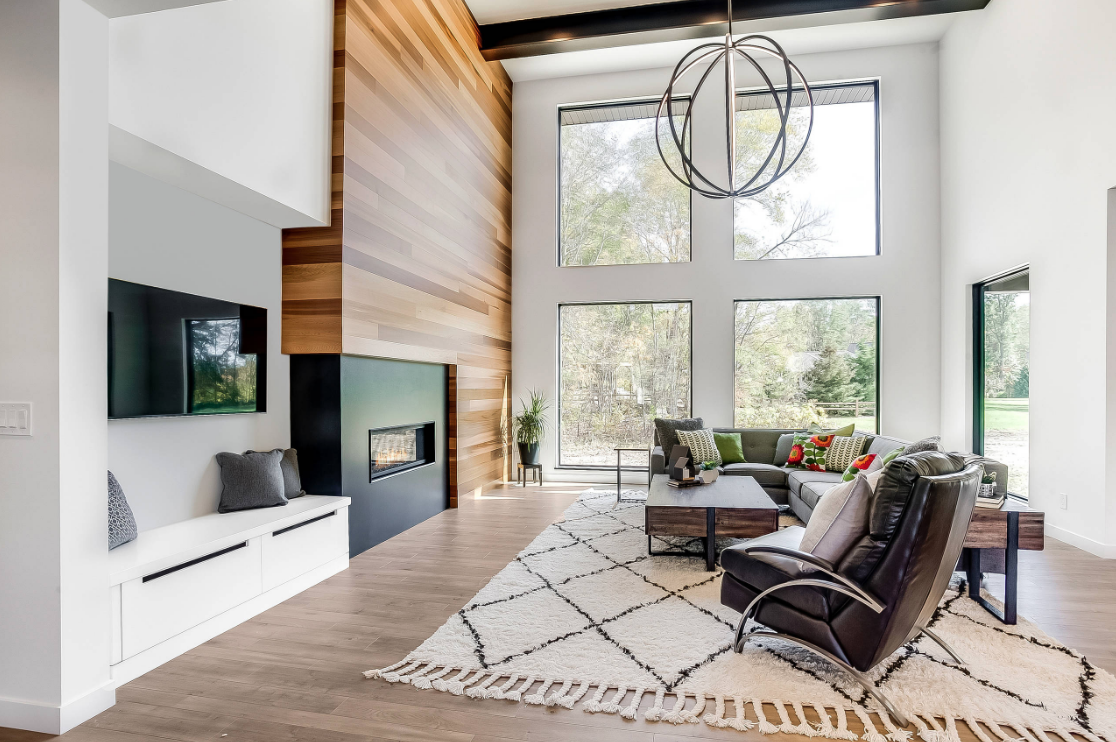 Photo By: Photos By Kaity
And not only for the TV itself. In addition to the set, you also likely have to figure out either how you're going to put it on the wall (and where) or what furniture or or media center you're going to put it in or on. The TV you're interested in might not fit or work with your current setup, and even then, if you're looking to make sure that your home looks fantastic you also need to consider making your technology look great in your home. Like many design choices, this can be a little overwhelming if you think about it all at once. Yet you don't have to, you can take your time, and we're here to help. Here is just about everything you need to think about as you search for a new TV:
What Is the Size of It?
The first thing you might think of when getting a tv, perhaps right before or after the resolution and extra features of the device itself, is how big of a screen it has. Will it fit properly on your wall or in or on your entertainment center? Does the size fit well with the size of the room and the expected distance of the screen from the couch? Similarly, how much is the television going to weigh? How can you properly support it? No matter how it might look, if it could fall over (damaging it and potentially falling on someone), it isn't going to work out. Most TVs will come with stands that will work just fine, but if you plan to mount it on the wall, you'll need to keep in mind that you'll need to fine-tune the design to the needs of the mounting equipment. As another note to help you select your TV and make any related changes, visualization is key here. While there are amazing deals for televisions online, this is one of those times you'll want to visit a store or perhaps a friend's house with a similar TV to see just what you would be working with. Don't make an impulse purchase and take pictures of everything if you need to.
How and How Often Are You Going to Use It?
How often do you plan on using your TV? Are you going to stick with mostly free options and perhaps install something like an OTA DVR? While in the past there was just your television and your cable box, now with streaming, gaming consoles, and other devices, things are a little more complicated, and thus require a bit more forethought before buying the first TV you see online. If you're going to be using certain devices often, you'll want to figure out how to give them a place of prominence without standing out in conjunction with the rest of your TV setup. If you don't plan on using the TV too often, and instead will mostly just turn it on for desks and special occasions, you might want to consider a design scheme that can minimize its impact or hide it away when it's not being used, allow you to draw eyes to other parts of your place or overall design. TV coverup options may vary as will the prices, but it can be something you work towards.
What About Sight Lines and Other Furniture?
Have you ever watched a screen that was out of the resting line of sight for a long time? You don't want to hurt your neck by looking at an odd angle for hours on end, especially in the comfort of your own home. Make sure that you are able to rearrange your furniture if need be in a way that makes using your TV as comfortable as you'd hope. For that reason, you will want to consider the sight lines of the TV, how high up on the wall you place it, and where the couch, coffee table, and other furniture will go before finalizing any design. If you are having trouble, a second set of eyes can help you greatly in this endeavor, and while they're there they can conveniently help you move furniture around to make everything perfect.
Lighting Can Be Key
If you're replacing a TV, then you've probably got this all figured out. As you certainly know, lighting is a major part of having a well-designed and attractive home, and if you don't think ahead when it comes to that lighting, you can be setting yourself up for a poor viewing experience or have quite a bit of undesirable contrast between the lighting in your home and the bright television screen. Worse yet, you could have glare on half the screen making things unwatchable until you turn the lights off. If you're buying a new and large TV for the first time, or are trying an entirely new setup, determining your lighting can be a make or break issue for your living room. Changing light bulbs can be quick and easy, and while you can't change the location of the ceiling light, additional lamps of all types and even candles can enhance a viewing experience or minimize problems at night. Overall, we recommend warmer lighting, and the ability to easily adjust the intensity of that lighting.
What About the Cables?
Cable management can be a nightmare, and poor cable management can ruin the look of an otherwise spectacular living room, whether modern or rustic. Televisions naturally come with at least some necessary cables, and depending on your setup you might have to show them running through the house. This is especially the case if you're cable or power outlet is a bit away from where you intend to place your TV. If you want to improve the appearance of a room, cable management has become simple, cheap, and easy to change at a whim, and some simple tools to that effect are only a $10 (max) order online away. We recommend staying away from the uglier twist ties and opting for some nicer Velcro strips and other options. If you have wires that are too long, then you probably don't need to worry much still, as buying shorter ones will hardly cost you a thing. If you're worried about tripping or wires drooping from your setup, you can also try securing wires along the wall (or in some rare cases the ceiling).
You could also try going the wireless route (as much as one can), which means that while there will be battery costs and potential signal issues (although if everything is in the living room and not blocked this should be a non-concern), you can keep things simple and easily place devices in their proper storage are when you aren't using them. Many wireless products also have a sleek design that can look great in many homes, in addition to generally being more convenient.
Potential Distractions
If you want people (including yourself) to enjoy your new television, then you will want to try and remove potential distractions around the TV area. Anything that shifts, changes colors, is too colorful, or might be highly reflective might not be a good choice to place around your TV, especially a larger or nicer one that really takes over the room. You want the focus to be on the content on the screen. Consider moving those wonderful decorations to another room or have a setup where they don't become distracting. Sometimes a mostly blank wall is a good thing, and a large and impressive television is a great reason to stick to this.
Conclusion
You know your living room and home best, and you know what you can do with the space, so we aren't going to tell you "do this no matter what." Instead, we want you to seriously consider these questions (perhaps make a checklist or at least a page of notes) and have answers ready so you don't have design-related nerves. A television can be an expensive purchase, and not one easily reversible, so we want everything to go off without a hitch and wish you the best of luck with that.