Effective Ways to Address Air Conditioning Problems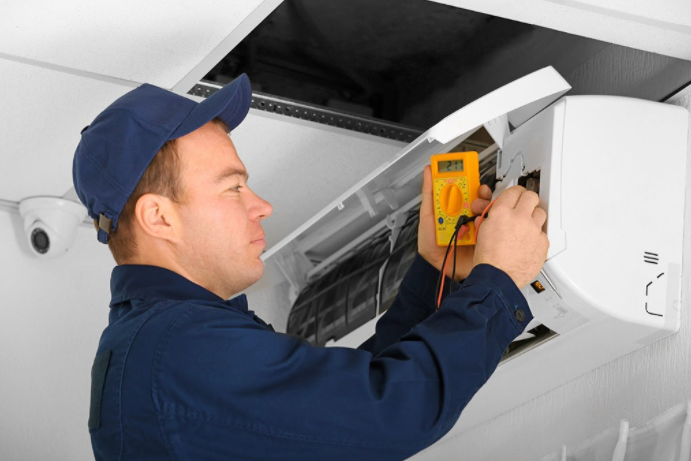 Are you having problems with your air conditioning? You may want to read this!
Air conditioners are integral to the fabric of modern society. From residential to commercial and industrial settings, AC is critical to our ongoing comfort, preservation, and day-to-day function. When these systems and unit's breakdown, serious disruption or discomfort is likely to follow – particularly for those who reside in warm and tropical climates.
Arranging a simple air conditioning service is an excellent way to safeguard your heating and cooling. In the context of offices, agriculture, commercial kitchens, distribution centres and retail, faulty AC is not only inconvenient, but also threatens the viability of business.
Preventative Maintenance
Without knowing it, many of us tend to take our air conditioning for granted. Until something goes wrong, our heating and cooling systems remain low on the list of day-to-day priorities. The emergency repairs or replacement that follow ultimately lead to further costs and expenses down the line.
Regardless of the setting or style of heating and cooling, preventative maintenance can be a lifesaver. Professional air con technicians assess vital functional aspects and determine the appropriate solutions to any errors detected. Whether or not any serious issues are uncovered, this air conditioning service will at least give you peace of mind that everything is working well.
A good way to think about this is in the same vein as a car service, yet ultimately conducted for a fraction of the price.
Organising a Regular Service
Some underlying air con issues will only surface when it's too late. Luckily, there are countless heating and cooling companies that offer regular preventative maintenance services. If you have already dealt with a business for emergency air con repairs, it may be worth contacting them again to set up a regular check-up/tune up. On the other hand, you can always reach out to a new service provider and arrange a free quote.
Preventative maintenance is particularly valuable for heating and cooling systems that operate in the ceiling, roof or below the floor and require professional assessment. This specifically applies to ducted, evaporate, and hydronic setups.
What Will This Process Involve?
Once a time and date are finalist, you can expect the HVAC technician to carry out the following:
– Thorough inspection of the unit (inside and out)
– Thermostat check
– Air filters cleaning/replacement
– Condensate pump clean
– Dust/debris removal
– Remote control check (if applicable)
Of course, each service may vary depending upon whether issues are detected or not.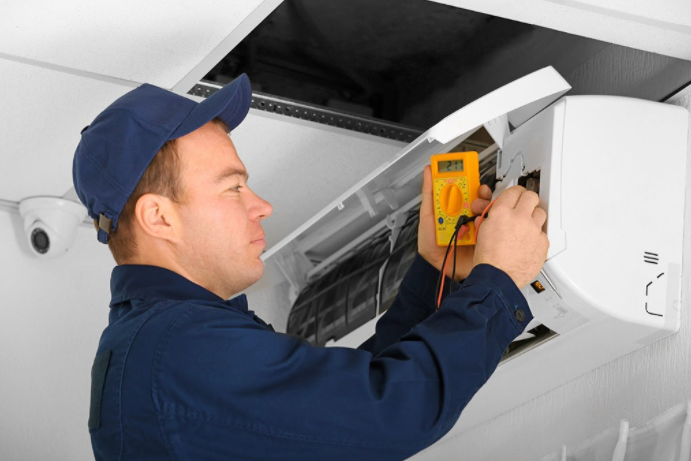 Understand and Identify the Warning Signs
Whether or not you opt for a preventative air conditioning service, it is vital to recognize the various warning signs. Minor issues can quickly turn major and result in serious property damage. For business owners, it is vital to remain vigilant and promptly rectify any air conditioning issues as soon as they arise.
The most common warning signs to look out for include:
– Temperature issues
– Unusual or loud noises
– Skyrocketing power bills
– Leaks
– Low airflow
– Higher humidity
If you notice one or a combination of these signs, we recommend that you contact an HVAC company as soon as possible. 
Emergency Repairs
This leads us to one of the most obvious ways to address air conditioning problems – Emergency repairs. In the case that preventative maintenance could not be arranged, this is your primary solution. Sometimes unexpected weather events or other factors can lead to any one of the warning signs listed above.
Regardless of the root cause, an emergency air conditioning service should be organised as soon as the issue first appears. The longer you wait, the worse the problem is likely to get. In addition, addressing it early should save you money on labour costs.
The Issue with DIY Solutions
Unless the issue surrounds remote control batteries or miscellaneous external factors, DIY solutions are unlikely to achieve anything meaningful. Specific experience, know how, tools, and techniques are all required to conduct an effective air conditioning service. HVAC professionals also operate in accordance with safety regulations and guidelines, with good reason.
Of course, any air con systems that operate above the ceiling, on the roof or below the floor also represent significant logistical challenges – challenges that in the simplest terms, can only be met by trained professionals. 
Time Your Service
If you know that you only need air con over the summer or heating in the winter, time your service to occur in the period beforehand. This will help to prevent any unnecessary costs. In addition, your unit/system will be primed and ready to go throughout the peak season.
A scheduled air conditioning service is best arranged ahead of time. Remember that if the business is popular, they may not have any time slots available soon. The weeks leading up to summer is the most common period for air con servicing and hvac maintenance. Therefore, make sure to reach out to them early and open the lines of communication. You don't want to miss out.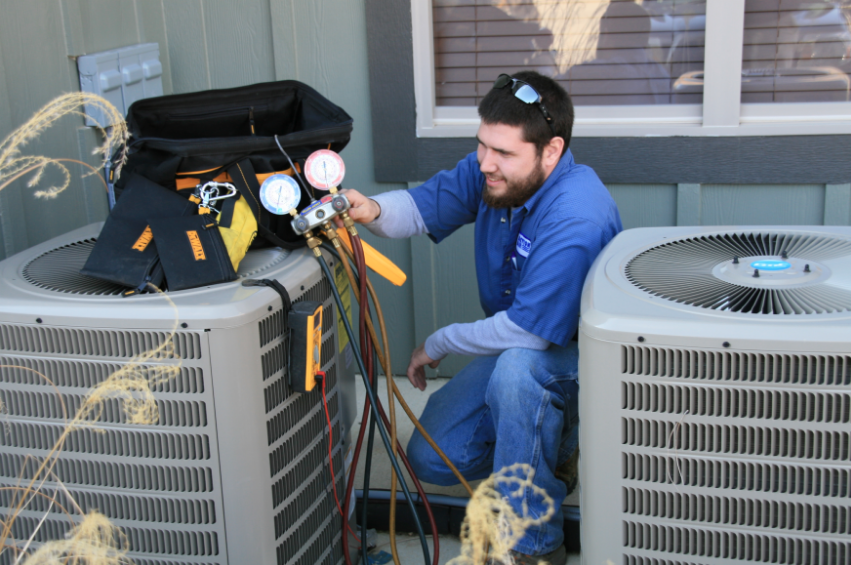 Heating and Cooling
Whether your setup is ducted, reverse cycle or split system, heating and cooling go together. For this reason, any of the topics listed above naturally apply to heating repairs, maintenance, and servicing. HVAC companies should be able to provide services for both sides of the equation and keep your property covered for all weather conditions.
From boiling hot summers to the bitter chill of winter, preventative maintenance and regular servicing is the best way to stay comfortable all-year round.
Reach Out to the Professionals
For any matters related to price, timing, quotes, and warranty, you can always reach out to your local heating and cooling specialists. Their staff should be able to provide you with a rundown of how the air conditioning service works, what's involved and finally, arrange a suitable time.
Finding a trusted and reputable provider is a terrific way to ensure the ongoing condition of heating and cooling systems for many years to come. From the home to the workplace or the warehouse, HVAC professionals can provide regular assistance that saves you a bundle.