4 Beautiful Bird Cages That will Go With Your Home Decor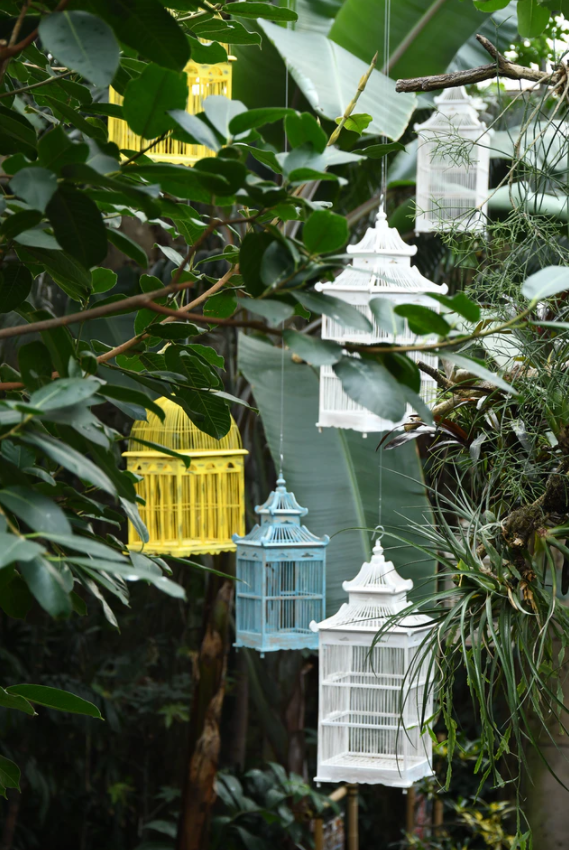 Trying to choose a bird cage? Here are some that will go with your home decor!
So, are you looking to buy a new birdcage but are afraid that you'll have to compromise the stylishness of your home? Well, don't worry, this compromise doesn't need to be made – you just need to know what bird cages you should take a look at. This is exactly why this article is here, to help you find a beautiful birdcage that will not only go with – but elevate your home's decor.
1. A&E Elegant Flight Cage
If you're looking for an elegant design to go with your other decor, this cage is something that you should take a closer look at. The design is sleek and comes in black or a rose-gold color with a non-toxic finish that is safe for your birds. The cage is quite large, ensuring that there is more than enough space for your birds to flap their wings and enjoy their new setting. All in all – this cage will easily integrate into your home's decor while providing functionality at a top-level. 

The cage is equipped with four swing-out doors in addition to a larger front door. This way, you can easily access your birds. The same goes with changing their food and water. Another bonus is the fact that all doors are equipped with bird-resistant latches. This means that you'll be able to relax, knowing that your birdies are safe and sound. Inside the cage, you will find two wooden perches and four cups made out of stainless steel. So, if you have multiple birdies – this is the cage that will ensure comfort for all of them.
2. The Geo Bird Cage
If you are looking for a design that is unique and can act as a standalone decor even in a relatively plain room – the geo birdcage is what you want. At first glance, you can easily see that this isn't your typical cage. In fact, it is a stunning, modern, contemporary design that redefines what a cage can and should look like. The geometric shape creates a dome that is both spacious and safe. This means that your pet is going to have more than enough space not to feel anxious. The reason for this lies in the unique shape of the cage, as it offers more space than other, more traditional cages. 
In the cage, you will find a central feeder, which is quite unique and adds to the uniqueness of the design. The cage is also equipped with two perches, as well as a tray for the debris at the bottom. There are two doors, making access to the inside of the cage easier. When it comes to the color of the cage – you have a lot of options to choose from. The colors of the base come in teal and cream, while the mash can be either gold, black, or white. You can even opt for a bamboo tripod stand to elevate the look of the cage even further.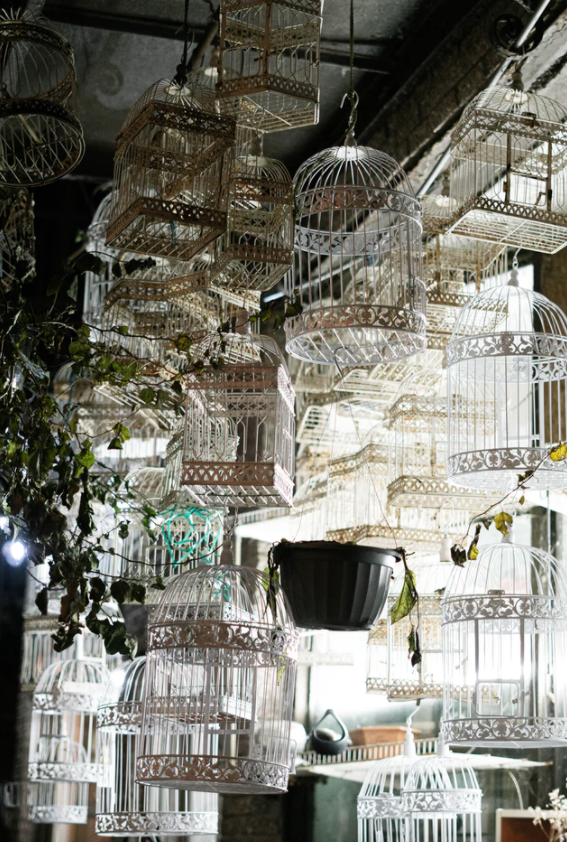 3. Prevue Hendryx Jumbo Scrollwork Cage
For all the vintage decor lovers out there, this cage is the one for you. This cage is made to house small and medium birds, and it incorporates a stunning vintage design that will blend into your decor with ease. It is equipped with two hooded plastic cups, as well as two perches, so you can easily house more birds in it. Additionally, in the cage, you will find a bottom grille, as well as a drawer that makes cleaning less of a tedious task. Since the cage can be cleaned by removing the tray, you don't have to worry about disrupting your birds.
4. Prevue Pet Products Bali Bird Cage
Most of the previously described cages were quite large, but here's something for those looking for a smaller birdcage. This cage, even though it is a bit smaller, comes with a lot of unique features and a beautiful, fun design. In case you have a finch, budgie, or canary – this cage will accommodate your pet perfectly.  In addition – this birdcage is extremely affordable. So, let's see what this cage has to offer. 
First of all, let's address the design and how it can elevate your home's decor. If you love vibrant colors in your decor, you will be happy to hear that this Prevue cage comes in three bright and vibrant colors. No matter whether you choose yellow, blue, or green, you will be able to brighten up your house as soon as you set up the cage. In the cage, you will find a perch with a shape inspired by actual branches. This way, you will ensure that your birdie feels more as in nature. Additionally, there is a front drop-down door, feeders, as well as pull-out trays.
Finally, as you've been able to see – you don't have to compromise your home decor when choosing which birdcage to buy. In fact, there are some beautiful cages out there that will only enhance the stylishness of your home. All that, and your birds get a beautiful new setting to enjoy and explore!