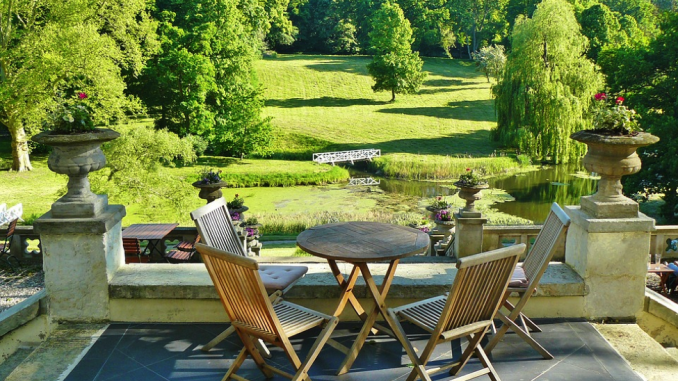 Your house tells a story and designing it is a wonderful way to express yourself!
That being said, one of the most neglected spaces in the house is the backyard patio that essentially makes you feel more relaxed after a long week. It is a way to go out in nature and breathe fresh air without even leaving your home. One of the reasons that the patio is not done right is because of the hassle. Nonetheless, it is an important place in your house and a way to make your house look luxurious. Here are a few hassle-free patio designs.
Organize a Sitting Area
Of course, you would like to have a sitting place in your patio where you can relax. A very simple and hassle-free way to pull this off is to put up a few cozy sofas around a fireplace. This is a simple yet very effective patio design idea. If you want to go over the top then you can add a hammock in your yard too. Make sure it looks like an extension of your indoor but not too much.
Artificial Grass
If you are not about the cement or solid ground for your patio but still don't want to take the hassle and stress of maintaining proper grass on your patio then you are in dire need of artificial grass. These polymer sheets give the best impression of natural grass without ever needing to maintain at all. They will feel like artificial grass on the touch but they don't require any sort of maintenance like watering or mowing. You can enjoy your patio with an artificial yet natural-looking vibe.
Adding Decoration
Decoration can make your patio look more beautiful than it already is. They are very easy to put up and you can do it with your old stuff as well. There are a lot of options that you can choose as decoration. You can DIY or buy from a retail store. Design your patio in a way that it can incorporate the decoration easily. A mellow and natural decoration idea is putting up or hanging plants around the patio.
Light It Up
Good lighting can really spark up a place and patio is no exception. Lights are a very cheap and easy fix for a patio to look lively. They will really show when you have a night party and everyone is sitting around the fireplace with the light creating a very lush environment. If you want to do a little more than putting up modern lighting then you can hang strings of lights from the patio ceiling to make a romantic environment.
Use the Landscape
You must make do with every nook and cranny you can get to make sure that you are maximizing the space for your patio. If you are having trouble with trees or bushes in your way then try to work things with it rather than cutting them down. Use these natural aspects to make your patio more versatile.